Golf Trip Preview: High Sierra Reno to Lake Tahoe
May 30, 2012

Golf Writer Andy Reistetter is heading to the mountains to continue his exclusive "Play-Write" series.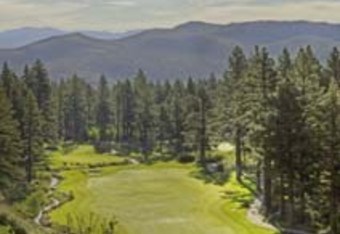 The destination is the Sierra Nevada with stops in and around Reno, Carson City, and Lake Tahoe in Nevada before crossing the state line into California and heading to Truckee and Graeagle on his way into San Francisco for the U.S. Open at The Olympic Club.
Friend Reistetter on Facebook and join in on the experience as he blogs and posts pictures on his GolfWriter59 page.
I think I am about to venture off on the golf trip of my lifetime, and I need your help. The duration of the trip is seven days; the number of golf courses is 19. With the opportunity to play 36 holes each day I can only get to 14 of them. That is if my body is willing. That's 252 holes of golf in one week.
That's ridiculous, but so was Stuart Appleby shooting 59 in the inaugural Greenbrier Classic after playing 11 straight weeks. If I wasn't there to see it, I may not have believed it. Hopefully I will be around to see my 1,120th stroke fall into the hole (based on my handicap) on the last day without having a stroke myself.
Seriously, those of you that have played the High Sierra Mecca of golf please help me out—which golf courses are not to be missed? What are your favorite holes?
Here are the 19 golf courses I am looking at: in Reno we have Montrêux, Wolf Run, Somersett, Wildcreek; and in Carson City/Carson Valley, I may play Dayton Valley, Genoa Lakes both the Lakes and Resort courses and Silver Oak.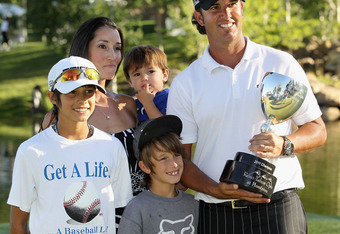 Ezra Shaw/Getty Images
In Lake Tahoe there is Edgewood Tahoe and Incline Village Championship; in Truckee opportunity presents itself at Coyote Moon, Old Greenwood, Gray's Crossing, Schaffer's Mill and Tahoe Donner; and further north in Graeagle have you played Plumas Pines, Whitehawk Ranch, Grizzly Ranch or The Dragon?          
Course Designers include Arnold Palmer and Jack Nicklaus, but no Gary Player in the High Sierra as far as I can tell. Well, at least the Big Three came together for the ceremonial first tee shot at The Masters this year.
Other notable architects include Bob Cupp, Kyle Phillips, Johnny Miller, Robert Trent Jones Sr., Robert Trent Jones Jr., George and Tom Fazio, John Harbottle III, Hale Irwin, Robin Nelson and Peter Jacobsen.
Two courses are no brainers to make the Reistetter Rota next week: Nicklaus' Montreux, which hosts the PGA Tour's Reno-Tahoe Open in early August and Fazio's Edgewood Tahoe, which is set along the beautiful shoreline of Lake Tahoe and has been the home of the American Century Celebrity Golf Championship for the last 21 years.
The course was originally designed by the legendary George Fazio with enhancements by his nephew Tom Fazio, who is now near legendary status himself.                                                                                       
Nevada's own Scott Piercy won for the first time on tour last year with an exciting one-stroke victory over Pat Perez. After shooting a course-record 11-under par 61 on Saturday, Piercy needed a 2-putt for the win and managed to make a 7-footer coming back to become the first Nevadan to win the tournament in its 13-year history.                                                                                                   
Charles Barkley won the premier celebrity golf tournament in 2011. Just kidding, seeing if you were paying attention.
Actually, Jack Wagner won and he is the only non-professional athlete to do so, and he has done it twice (2006) in an exciting event played and televised by NBC Sports since 1990. I wonder if Jack's Dancing with The Stars escapes have helped his golf game, after all it's all balance and timing, right?
So far, receptions and dinners are lined up at The Chocolate Bar (what a way to start on Sunday after playing Monteux), Campo's, The Basil, Ciera Steak + Chophouse and Lone Eagle Grill in Nevada.
First up in California is PJ's at Gray Crossing. Peter Jacobsen designed the course as well, instead of Jake's Take's I am thinking one of Jake's Steaks will be the right play at PJ's. My last dinner will be at Longboard's Bar & Grill, which I hope to ride all the way into The Olympic Club to save gas money.
Since you asked, I will be staying at a lot of great places, including the Atlantis Casino Resort Spa in Reno, Carson Valley Inn, Embassy Suites in Lake Tahoe, Hyatt Incline Village and Chalet View Lodge in Graeagle.
While Reno is known affectionately as The Biggest Little City in the World and Lake Tahoe as the largest alpine lake in North America, I have a feeling the area should be called the Gigantic Golfing Haven on Earth.
Don't worry, I had to look it up—alpine means high elevation, makes sense, you don't ski in Chicago… speaking of looking it up, any old or new friends in the Reno-Tahoe area?
Stay tuned on Bleacher Report for periodic updates next week (even more coverage than the U.S. Open the following week) and find me on Facebook to find out how it's going throughout the day.
Good golfing my friends!   
Andy Reistetter is a freelance golf writer as well as a Research and Broadcast Assistant for the major golf broadcast companies. He spends time on all four major American golf tours- the PGA TOUR, Champions, Nationwide and LPGA Tours. 
Reistetter resides within a couple of miles of the PGA TOUR headquarters and home of The PLAYERS Championship at TPC Sawgrass in Ponte Vedra Beach.
A lifetime golfer, Andy enjoys volunteering at the World Golf Hall of Fame and THE PLAYERS while pursuing his passion for the game of golf and everything associated with it. He can be reached through his website www.GolfWriter59.com, on Facebook and Twitter as GolfWriter59 or by e-mailing him at AndyReistetter@gmail.com