WWE Rumors: Brock Lesnar, SmackDown Spoilers and Wednesday's Top WWE News
May 30, 2012

Jon Kopaloff/Getty Images
With the WWE in full preparation-mode for No Way Out, the company has put all of their efforts and resources into building for this lower-level Pay-Per-View.
SmackDown proved this week that the WWE is ready to start giving CM Punk a bigger shot at being the face of Vince McMahon's brand. It took headlining a secondary show to prove he could do it, though.
As crazy as the world has been over the past day with people getting their faces eaten, the even wilder WWE Universe will have fans standing up in rejoice.
Brock Lesnar Going Back to UFC?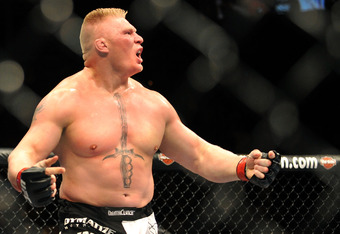 Jon Kopaloff/Getty Images
With the UFC putting on one of their biggest events in history (all heavyweights, get it?), of course WWE superstar Brock Lesnar would show up and make his presence known.
Question on Everybody's Mind: Is this a work?
While my initial feeling was that Lesnar was there as a way to get the WWE Universe to believe he could have really quit, the fact that the appearance wasn't mentioned either means WWE wasn't involved or wanted to keep their involvement hush-hush.
Hype Meter: 5 out of 5 liver kicks
Reports coming out yesterday say that Lesnar and UFC president Dana White had a meeting after the event, but it didn't go so well. No matter why Lesnar was there, it has definitely added intrigue to his story and made people care about him again.
Deeper Dive
Lesnar's UFC Meeting (WrestleZone)
------------------------------------------------------
Jillian Hall Arrested for Domestic Violence
Former WWE diva Jillian Hall was arrested in Orange County, Fla., for attacking her husband Mike Farole and being charged with battery (domestic violence).
Question on Everybody's Mind: Where is Jillian's mole?
With the recent wave of face-eaters and so-called zombie attacks, the fact that Jillian Hall is back in the news years after having her giant face-mole eaten off by The Boogeyman is poetic justice.
Hype Meter: 3 out of 5 eaten face-moles
While it was clear that the WWE had no plans to bring the former diva back, there is no way we will wish this on anyone. Hall said on Twitter that she would be splitting from her husband, so hopefully she gets her life all figured out sooner rather than later.
Deeper Dive
Jillian Hall Arrested for Domestic Violence (Wrestling Inc.)
------------------------------------------------------
Dean Ambrose Gets a Finisher
Dean Ambrose is the best WWE wrestler that most fans haven't heard of yet, but another dark-match appearance proves his debut is coming soon. The new finisher he is doing is amazing.
Question on Everybody's Mind: When is Ambrose going to debut?
With Ambrose using a rear-naked choke chicken wing as his finisher (via Bob Backlund), there is even more excitement over the old-school talent. Very few young stars get as much hype without debut as Ambrose has so far.
Hype Meter: 5 out of 5 classic wrestling moves
It has to be time for the WWE to debut the star that has as much potential as anyone in the company. While the fans love Daniel Bryan and CM Punk, Dean Ambrose will be in their league within a few months on the big stage.
Deeper Dive
Dean Ambrose works ANOTHER dark match (NoDQ)
------------------------------------------------------
****WARNING****
THE FOLLOWING SECTION CONTAINS SPOILERS FROM THIS WEEK'S SMACKDOWN TAPINGS. IF YOU DON'T WANT TO KNOW WHAT HAPPENED, SKIP THIS AREA. YOU HAVE BEEN PROPERLY WARNED.
------------------------------------------------------
Kane Is the Third Wheel in an Amazing Feud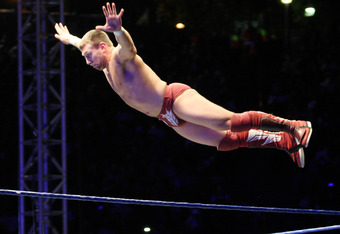 Gallo Images/Getty Images
With the WWE title being defended on SmackDown for the first time in eight or four years (depending on which show you believe; WWE said eight years on Raw and four years on SmackDown), the fans just knew that CM Punk would finally main event a show.
Question on Everybody's Mind: Why interject more Kane?
While the main event between Kane and CM Punk was reportedly slower than the fans liked, the run-in from Daniel Bryan and John Laurinaitis' decision to make it a three-way match at No Way Out for the WWE title make this story interesting to say the least.
Hype Meter: 4 out of 5 hate-embracers
While many WWE fans hate that Kane is involved with this storyline, they need to enjoy the fact that the company is giving them Bryan vs. Punk at all. All Kane does is add another layer to the storyline and makes even more casual fans care. Kane's presence in this feud isn't a bad thing.
Deeper Dive
Complete SmackDown Spoilers (PWMania)
-----------------------------------------------------
Remember wrestling fans, don't miss the best wrestling radio show in the world, Ring Rust Radio. The latest addition featuring new panelist Mike Chiari is now available on ITunes or at the following link. Don't miss the action!
------------------------------------------------------
Check back for more on the World Wrestling Entertainment as it comes, and visit Bleacher Report's Wrestling Page to get your fill of WWE/TNA. For more Wrestling talk, listen to Ring Rust Radio for all of the hot topics you just can't miss (some language NSFW).