NBA Draft Lottery 2012: How Many UNC Prospects Will Land in Lottery If Odds Hold
May 30, 2012

Mike Ehrmann/Getty Images
North Carolina has four starters in the NBA draft, but how many Tar Heels will be lottery picks if the current odds hold?
Tar Heels Tyler Zeller (11), Harrison Barnes (6), John Henson (16) and Kendall Marshall (19) are all rated high on ESPN Insider Chad Ford's NBA prospects list. All four have a great chance to be drafted in the Top 14.
Barnes is the second-best small forward in the NBA draft (behind Kentucky's Michael Kidd-Gilchrist) and could very well fall to the New Orleans Hornets or Sacramento Kings at the No. 4 or 5 pick, respectively. Barnes is a scorer who provides fundamentals and a strong jumper.
The Hornets' Trevor Ariza and Kings' Tyreke Evans/John Salmons (both are natural guards) aren't the long-term solutions at small forward. Barnes is the best choice since Kidd-Gilchrist will be a Top 3 selection.
Zeller is considered the second-best center (behind UConn's Andre Drummond) as there are a few lottery clubs looking for a big man. Zeller can score, rebound and is polished after playing four years at North Carolina. He can go to the Portland Trail Blazers (No. 11), Milwaukee Bucks (No. 12) or Houston Rockets (No. 14).
Zeller can team up with Trail Blazers power forward LaMarcus Aldridge to form one of the NBA's top frontcourts. Or the Bucks (who traded Andrew Bogut to the Warriors) and Rockets (Yao Ming's early retirement) will be looking to replace All-Star-caliber centers.
Henson played three years with the Tar Heels and has length (6'11") coupled with athleticism. Henson's fundamentals, attitude and frame could land him on the Detroit Pistons (No. 9), New Orleans Hornets (No. 10) or Milwaukee Bucks (No. 12)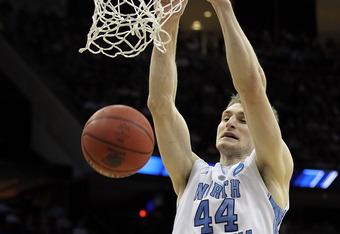 Nick Laham/Getty Images
The Hornets let David West go in free agency. New Orleans could use Henson's offensive and defensive production (13.7 points, 9.9 rebounds last year).
The Pistons' Greg Monroe can't block or alter shots well, so Henson's blocking abilities (2.9 blocks per game last year) will help bolster Detroit's interior defense.
Milwaukee might not re-sign power forward Ersan Ilyasova and Drew Gooden is a role player. Henson would give the Bucks a solid piece to work well with Brandon Jennings and Monta Ellis.
Marshall is considered the best passing point guard of the NBA draft and there are teams that are lottery teams looking for a young point guard. Some include the New Orleans Hornets (No. 10), Portland Trail Blazers (No. 11) and Phoenix Suns (No. 13).
The Hornets traded Chris Paul to the Los Angeles Clippers. Jarrett Jack is a nice player, but he has most likely hit his peak and will be only an average/good player.
The Trail Blazers traded Andre Miller away and obtained Raymond Felton. Felton had a bad year by his standards and will not be re-signed. Portland could use a good distributor to get Aldridge and Nicolas Batum the ball. 
The Suns have a high chance of losing All-Star point guard Steve Nash to free agency. Without Nash, Phoenix would need a player with Nash's playmaking abilities to lead the franchise moving forward. Marshall is a great passer who is the most like Nash in the draft.
Not only do the Tar Heels' four NBA draft prospects fit team needs, they place high on multiple mock drafts and talent rankings. 
North Carolina is a great basketball program that consistently produces top NBA talent (39 first-round picks, 14 lottery picks). The Tar Heels should expect Barnes, Zeller, Henson and Marshall to all be lottery selections.
Bob Bajek is an NBA/Chicago Bulls featured columnist. He is also a freelance reporter and can be followed on Patch.com and Twitter.