Texas Rangers Sign Roy Oswalt: Does It Mean Return to Bullpen for Neftali Feliz?
May 30, 2012

Abelimages/Getty Images
According to Scott Miller of CBS Sports, free-agent right-hander Roy Oswalt has agreed to a one-year, $5 million contract that could be worth another $1 million in incentives.
The 34-year-old right-hander chose to start the season as a free agent after no team was willing to give him a multi-year deal this offseason.
The report stated that the Dodgers, Cardinals and Phillies all gave Oswalt better offers but in the end he chose the Rangers, and why not?
Texas has has the best record in the American League entering play today at 31-19, and while that is 1.5 games behind the aforementioned Dodgers for the best record in baseball, there is little question the Rangers are the more complete team.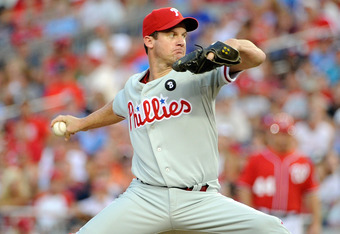 Greg Fiume/Getty Images
With an offense that ranks first in runs scored and team batting average, Oswalt should get plenty of run support, and as far as fifth starters go he immediately ranks as one of the best in baseball.
As a member of the Phillies last season, Oswalt went 9-10 with a 3.69 ERA. He recorded 93 strikeouts in 139 innings pitched, as back problems limited him to just 23 starts and were the main reason teams were hesitant to make a significant commitment to him this offseason.
Even with that risk in mind, the move makes sense for the Rangers as closer-turned-starter Neftali Feliz is currently on the disabled list with elbow inflammation. Meanwhile, Scott Feldman allowed five runs in 4.1 innings of work last time out starting in his place.
While he will likely represent an upgrade over Feldman for the time being, there is the unavoidable question of what happens once Feliz returns from the disabled list.
The rest of the Rangers' rotation have all pitched well enough to retain their spots, as Colby Lewis (4-3, 3.58 ERA), Derek Holland (4-3, 4.05 ERA) and Yu Darvish (7-2, 3.25 ERA) are locks to stay in the rotation.
Matt Harrison (6-3, 4.41 ERA) could be a possibility to move to the bullpen, a spot where he spent most of the 2010 season, and that would give the Rangers a second left-hander alongside rookie Robbie Ross in the 'pen.
However, it seems like moving Feliz to the bullpen would make the most sense, given his history as a reliever and the team's concern with protecting its young stud.
In eight games this season (seven starts), he has gone 3-1 with a 3.16 ERA and is averaging just under six innings per start.
A return to the bullpen would not mean a return to the closer's role for Feliz, however, despite him saving 72 games over the past two seasons and winning the 2010 AL Rookie of the Year as a closer.
That role is currently held, and will continue to be held, by former Twins closer Joe Nathan, who has converted 11-of-12 save chances and posted a 2.18 ERA as a potential Comeback Player of the Year candidate.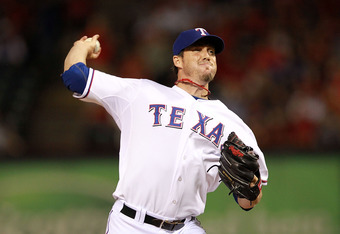 Ronald Martinez/Getty Images
Feliz would likely slide into a setup role alongside another reliever-turned-starter-turned-reliever-again, Alexi Ogando (1.65 ERA, 6 holds), and along with Matt Adams (2.08 ERA, 8 holds), it would give the Rangers one of the most lethal back ends of a bullpen in baseball history.
If the starting pitcher could get six innings each time out, the Rangers would be able to trot out some combination of those four guys and significantly shorten the window in which the other team's offense can hope to score.
It is certainly a compelling argument as to what role Feliz would be best served in now that Oswalt is in the fold, but his combination of relief experience and the team's concern over his arm injury could very well mean a move back to the bullpen.
One thing is for sure: The rich just got richer, and it is hard to imagine the Rangers not repeating as AL champs. There is still a lot of baseball to be played, though.