WWE No Way Out 2004: Top 10 Moments from Eddie Guerrero's Big Night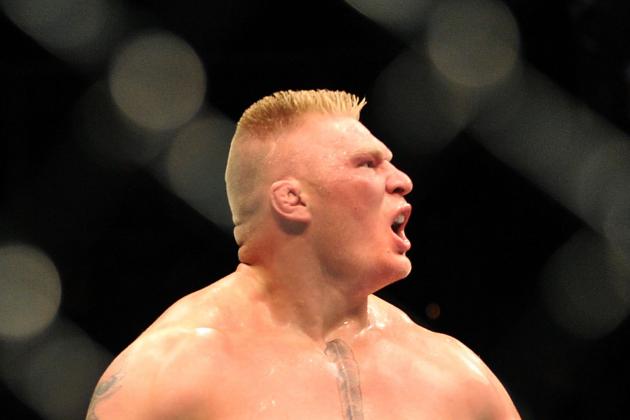 Jon Kopaloff/Getty Images

In early 2004, Smackdown presented their own exclusive pay-per-view. With Paul Heyman as General Manager, the Blue Brand had a very weak looking show set. The hype didn't do much for me.

Even with that, everyone delivered a solid effort. While I would grade this event in the C- range, the main event more than made up for the previous matches. It was a night fans will never forget.

What were the highlights? Let's find out!
Begin Slideshow

»
The previous month, Hardcore Holly was in the WWE Championship match at the Royal Rumble. His opponent was Brock Lesnar.

In February, Holly was facing Rhyno at No Way Out.

He picked up the win.

Nobody cared.
Charlie Haas and Shelton Benjamin were the World's Greatest Tag Team. It was a pretty straight-forward name that stuck.

At No Way Out, they took on the APA.

The two teams had a good match, but it meant nothing. Both would get title matches the following month anyways. A few months after that, Bradshaw was JBL as WWE Champion.

On this night, Benjamin won the pin fall.
Rikishi and Scotty 2 Hotty defended their tag team titles against the Basham Brothers and Shaniqua in a two on three match. It was an interesting choice to do this.

First, it featured man vs. violence in WWE. Considering another match on this show, it was wrong.

Secondly, a handicap title match is always a risky move.

In the end, it did not matter much. The champions retained and held the gold a little bit longer.


This was the end of the road for her WWE career.

She had won Tough Enough 2 as Linda Miles. She also had a few matches on Raw. However, most remember her as Shaniqua on Smackdown.

Honestly, I did not mind her. It was not a big deal when she left. I just think so many fans have higher expectations for Tough Enough winners than others.

It is the same deal with American Idol. Some winners will be huge stars. Others will bomb big time, and some eliminated early will be even more successful than some winners. That's life.
How many times have we seen Rey Mysterio vs. Chavo Guerrero?

I have lost count. At No Way Out, Mr. 619 defended the Cruiserweight title against him. The match had some nice hype and was actually one of the top matches on the show.

There were some outside distractions, but that was fine. Rey and Chavo know exactly what to do when they are wrestling each other.

Going well over 15 minutes, the two came through once again. While they have feuded many times, the two never disappointed.

In a twist of irony, Chavo cheated to win the title.
Rey Mysterio sang the theme song for No Way Out in 2004. It was not a very good song, but I understood the promotion for WWE's upcoming record.

The crowd was a bright spot for this event. California audiences for WWE are always hit or miss. However, they were ready on this night.

Finally, the entrance stage was nicely set up. We rarely see such huge set-ups used today, but this was great to see eight years ago.
Bill Goldberg was sitting in the front row. Of course, he was a Raw Superstar. That made it very interesting to see what he would do.

Most assumed he would confront Brock Lesnar (current WWE champion) during the pay-per-view. They were feuding a little bit, so it made sense right before WrestleMania.

Thankfully, WWE got wise to this. In the middle of the event, the company went right to the Lesnar-Goldberg brawl. Instead of waiting all night, fans got what they wanted to see.

Goldberg attacked Lesnar and was "arrested" for his actions.
Another big match at No Way Out was Jamie Noble vs. Nidia in a blindfold match. Yes, this show was filled with classics!

I am not big on men facing women in WWE, but it can be done right in rare cases. This was one of those rare cases.

Having Shaniqua in the earlier tag match really took away from seeing this spectacle.

Either way, Noble battling his former girlfriend was well done. WWE played it exactly how they should have. Noble looked like a masterful heel and defeated Nidia.
The winner would receive a WWE Championship match at Wrestle Mania XX.

Kurt Angle vs. Big Show vs. John Cena was the battle here for a future title shot. All three men were great choices, but only one made sense.

Cena was in no position to main event just yet. Thus, he was not winning just yet. His time to break out in the main event scene was still a year away.

Big Show was United States Champion in early 2004. He ended up feuding with Cena after this.

Kurt Angle was still at the top of his game. He was teasing a heel turn with the Guerrero feuding a few weeks earlier, so there was a story already set. Also, the man needed to get back in the title picture.

In the end, Angle made Cena tap out to the Ankle Lock. Yes, he tapped out in the middle of the ring. That ending may never happen again.
Brock Lesnar was the reigning WWE Champion. He had been as dominant as you can be.

His next challenger was Eddie Guerrero. He had won a special Smackdown Royal Rumble a few weeks earlier, and there was major momentum on his side.

Even heading into the night, logic pointed to a title chance. Sense told the fans we would see a new champion. It was written out as clearly as possible.

However, many still doubted it would happen. Eddie had done many things in his life, but winning the title always seemed out his reach.

At No Way Out, he got his redemption.

With an assist from a returning Goldberg and a great frog splash, the pin fall seemed like a moment in time. Eddie Guerrero was WWE Champion, and the live audience loved every second of his celebration.

With Michael Cole (and Tazz) having the call of his life time, a classic moment was made. Everything about the final few minutes was perfect story telling. Years later, you can still watch this with a smile on your face.

Follow Justin Watry on Twitter!