Power Ranking the Top 10 Players on the Pittsburgh Steelers' Roster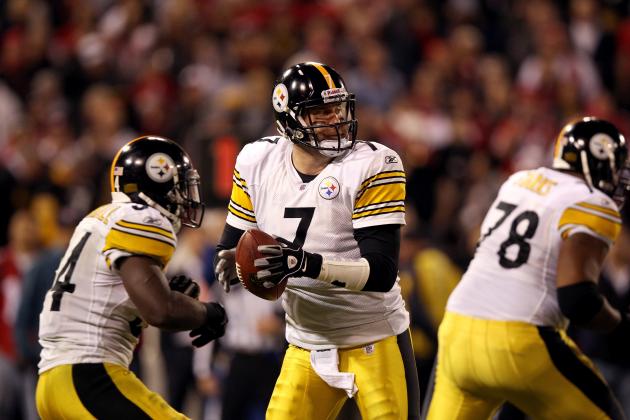 Ezra Shaw/Getty Images

The Pittsburgh Steelers have a long, rich history of great players. That hasn't changed with the 2012 edition of the team. While there's a lot of trimming left to go on a roster, that's almost twice normal size, the talent pool is as deep as ever in the Steel City.
Here's a look at how I'd rank the top 10 players on this roster. I'm grading them on overall importance, ability and performance projections.
Begin Slideshow

»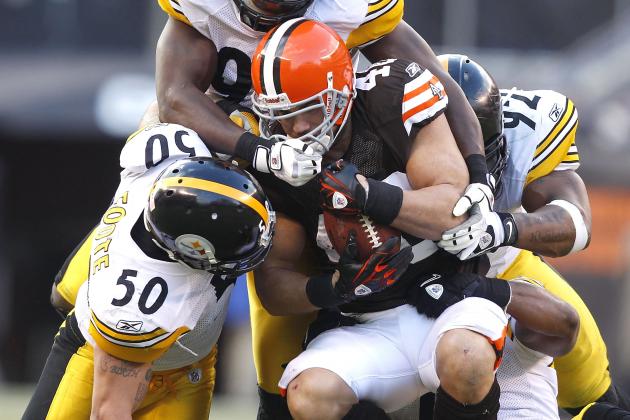 Matt Sullivan/Getty Images

Too low? I don't think so. Next year, I'll likely be singing a different tune, but for right now, there's still a lot of work to be done.
Let's say this about Timmons in 2011. He did a very good job and acquitted himself well, but he didn't have the breakout year I was expecting, and he didn't vault himself into the category of indispensable players at his position.
There's still room for improvement against the pass. He could stand to be more consistent. He will have to step it up because there will be a new and potentially inexperienced starter next to him. He was hurt by moving to the outside last year, but that actually put him ahead of the guy I'd have placed here otherwise (Maurkice Pouncey) because it showed versatility and talent.
Now, Timmons is still young in a football frame of mind. Is 2012 his breakout year?
He has no shadow to hide in, so this year better be phenomenal, or he may have some issues next offseason.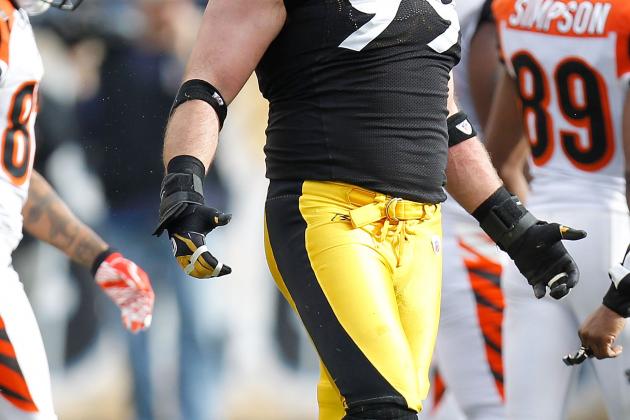 Gregory Shamus/Getty Images

Here's a guy who might get to take over the unsung hero award from his former linemate, Aaron Smith. I never hear his name mentioned when they talk about defensive ends.
The reality is that this guy is one of the best in the business, but he plays on a team that doesn't ask their ends to make a ton of big plays. This isn't Dwight Freeney's old Colts defense where he was the master. This is the Steelers' 3-4, where defensive linemen open up the holes.
But Keisel finds ways to do more. He gets sacks, he pressures and he gets into the backfield at the beginning of the play. I'd say he enables a lot of what James Harrison does so well simply because he can't be held back either.
Keisel, like many Pittsburgh ends before him, may never get the proper credit, but for now, I'll give him his props.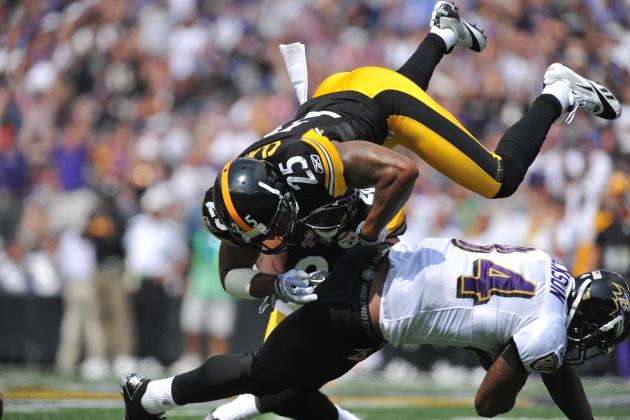 Larry French/Getty Images

I think Clark gets entirely too little credit for the work he does. He really is one of the players who makes the entire defense work. I'm not sure how well this team would handle him being gone for a long period, although they have found ways to fill his spot.
Clark is a fierce hitter, and he can take away the middle of the field. That's become big in a conference and sport that suddenly values tight ends and slot receivers as essential offensive weapons. When Clark is on the prowl, it's much harder for those guys to be effective. That hurts teams like New England.
Clark also covers a lot of territory. That's huge when you consider how often Troy Polamalu abandons his coverage area to do something unique. If it doesn't work, and in 2011, it often didn't, that puts Clark on an island unless he can get corner help. Sometimes, he just doesn't need it.
Clark needs to get more Pro Bowl votes, but because he plays next to this generation's greatest safety, he's always getting buried.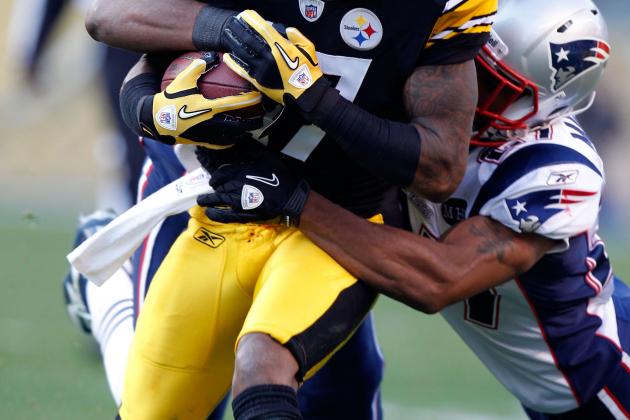 Gregory Shamus/Getty Images

If you're surprised he's here instead of higher, you should have been reading my articles all along. You'd know that I think Wallace's celebrity, such as it is and through no fault of his own, is greater than his actual worth and talent.
The money he's asking? I'd give it to Antonio Brown. I wouldn't give it to him—not until he proves that he's more than just a speedy deep threat. The cruel truth is that you can train anyone who's fast with good hands to do what he does.
Wallace just doesn't go over the middle well, doesn't do particularly good on short or intermediate routes and isn't good after contact. He's a speed guy. That's where it ends right now. This year should be the year he puts that to rest. Until he does, he can dream on about that big contract number.
Now that I've said all of that, I like the guy. He's an important piece of this offense, and I think he'll figure in well in Todd Haley's system. The trick is for him to keep proving he's the home run threat. No one else on this team besides Brown can really claim that.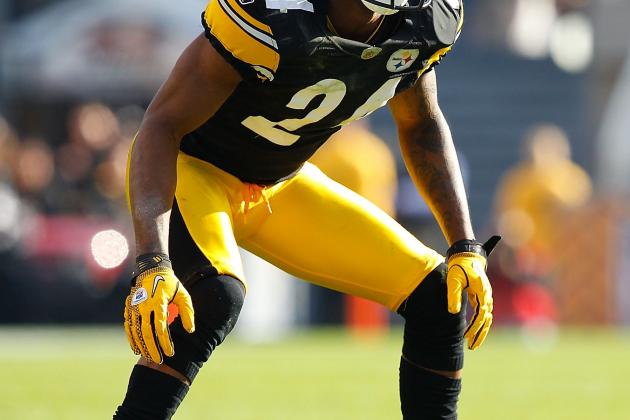 Jared Wickerham/Getty Images

To think that Ike Taylor had a career year last year and still didn't make the Pro Bowl is interesting. If he plays any closer to whatever a Pro Bowl-level might be, he's going to make wide receivers across the conference bawl.
Despite a couple of gaffes in the playoff game in Denver, I think Taylor finally fulfilled every ounce of potential the Steelers ever saw in him. That's a great feeling, and it puts him squarely in the middle of our list.
Now, the task is not just to repeat 2011. It's also to improve on 2011 in some fashion. For Taylor, that could come from making interceptions or increasing his effectiveness on the blitz. He will have to shoulder a heavy burden as the team breaks in a new starter on the opposite side.
Taylor still has some good years left, and he could sneak another spot or two up the list with a huge year. He seemed poised last year to make his first trip to the Pro Bowl. We'll have to see if he can put himself there in 2012.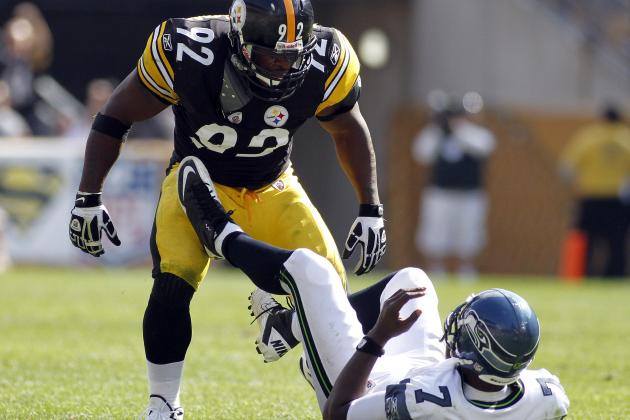 Justin K. Aller/Getty Images

Harrison slipped a bit from where I'd put him last year. I think one of the reasons he makes plays that are deemed questionable is that he sometimes struggles to break free and then makes whatever play he can. Sometimes, that's the wrong play.
He's still a Pro Bowl linebacker, and he's moving into Ray Lewis territory for excellence. He's feared I think, partly because of the perception that he's a dirty player and partly because he hits the life out of people.
I can't put Harrison lower because he's one of the best players in the league. He's probably one of the best outside linebackers of this era, and he's overcome a lot to get there. He has to get some credit for the journey he made to be a starter at this level.
Can he move up these ranks? Yes. He's still plenty young, especially from an experience standpoint. He's been on the field less than most people his age because it took him a while to get started. That means, he still might have some monster years ahead. 2012 seems like one of those years in the making.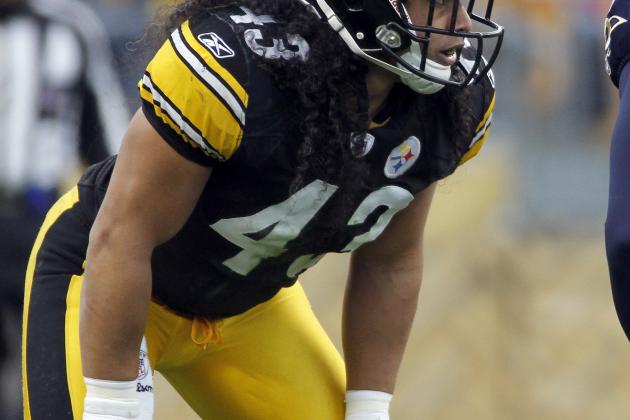 Justin K. Aller/Getty Images

In 2008, he'd have been either first or second. In 2010, he'd have been the top defensive player (hint: he isn't now). Unfortunately, it's 2012, so he's making his entrance a little earlier than most people probably will like.
Polamalu is the best safety of this generation. He and Baltimore's Ed Reed have revolutionized the way safeties are viewed, evaluated and coached. The two of them share that distinction, and both should go into the Hall of Fame when they hang up their cleats.
That said, he's showing some chinks in his armor the same way Reed is. They've both become injury-prone. Polamalu had a relatively healthy 2011, but he didn't always look like the disruptive force of a year or two before.
He also has been figured out to some degree. Polamalu guesses a lot on his rushes. He seems to have a lot of freedom to play as he likes, but in 2011, he guessed wrong or was neutralized a bunch of times. That's a player who's either declining or tipping his hand. Either way, it moves you down the ranks a bit.
This will be a big year for Polamalu. He needs to prove he can get back to 2008 or 2010 and really turn his game up a notch.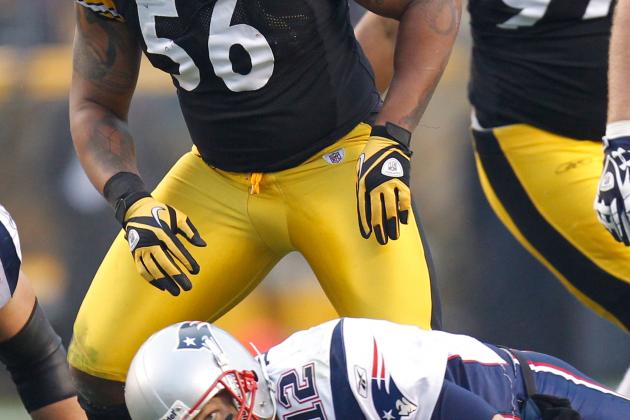 Gregory Shamus/Getty Images

Yes, there's a defensive player on this roster better than Troy Polamalu. I won't ever say he's overrated, but I will say that there's one player who scares me more than he does. That's Woodley.
I know James Harrison is there too, and we've already talked about him, but Harrison does some things wrong. Sometimes, he is almost too concerned with making the big-hit play. I'm not insinuating that he's dirty or trying to be, but he loves the big play. I've seen him end up out of position or beaten.
Woodley is smart and steady. He doesn't make mistakes, and he's a monster in both the running and passing games.
I would like to poll quarterbacks as to which player they like facing less. From a point of view of which linebacker disrupts an offense more, I can't think of anyone besides Woodley.
One of the most amazing things is that, while Harrison gets held often, Woodley almost never is successfully held up in any way. He's right where he needs to be on almost every single play.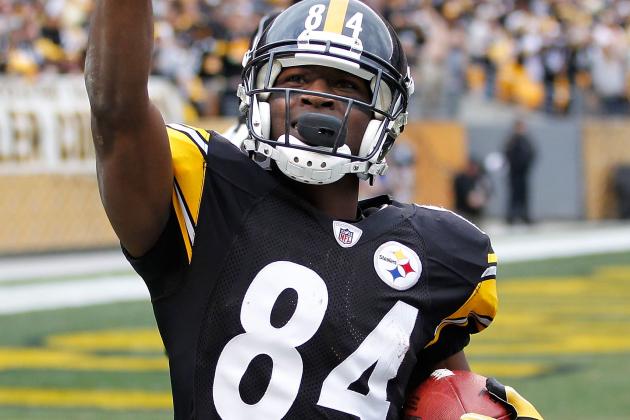 Gregory Shamus/Getty Images

I debated a lot. It's hard to rank a player so young among so many experienced, important veterans. But I feel like this is the right choice for right now.
One of the big criteria when you rank players is simply what they bring to the table. Brown is a dynamic, talented player who last season made the offense and special teams go in a huge way. He's already better than Mike Wallace, and he might be one of the top receivers in the AFC and even the NFL.
Now to the roster itself. Taking Brown off the field is another way to judge his impact. You remove a lot when you do. He was the money receiver last season, the guy who made almost all the big catches. He's also a return genius—something he may surrender this year.
So I have to put him this high. There's one guy ahead of him, and you already know who he is. He's the guy who makes Brown's career possible.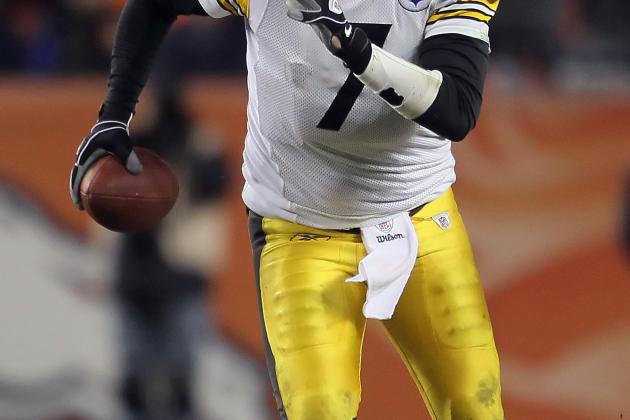 Jeff Gross/Getty Images

Quarterback is the most important position on the field. He's the guy who makes the whole offense tick. Fortunately for the Steelers, their best player plays at that position.
OK, in reality, you could make a few cases for best player. But the reality also is that nobody is as valuable and important to the team as Roethlisberger. If you doubt that, take a look at the tape at the end of 2011 when a hobbled Roethlisberger could barely play.
Do you think that this team would fold if he was off the field completely for a long time, let alone the playoffs?
Now find another player who couldn't be at least adequately replaced if he was out. I don't think there's one. This team made the playoffs without their top two linebackers for large chunks of the year, with their strong safety getting outguessed regularly and with wide receivers who, for all their talent, weren't going to be nearly as productive without their quarterback.
Roethlisberger makes this team tick. This year, he'll also have to become a leader, something he seems primed to do.