Euro 2012: 8 Predictions and Likely Storylines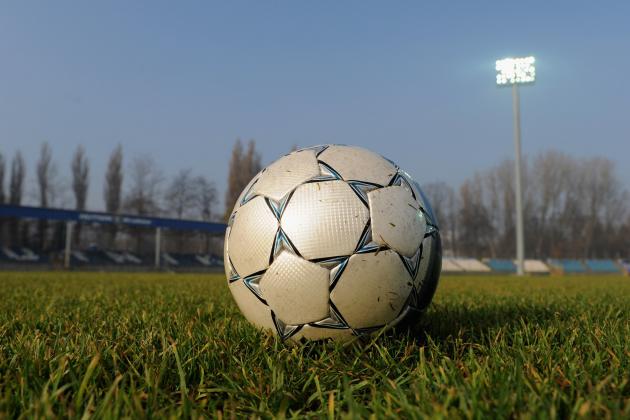 Michael Regan/Getty Images

Since the floodlights went out in Vienna as Spain were crowned European champions in 2008, the entire continent has been patiently awaiting the coming of the next Euro.
In only one week, that patience will have paid off for 16 nations. All of them will be vying to take the crown back from Spain.
So, what exactly will football fans look forward to seeing this summer?
Begin Slideshow

»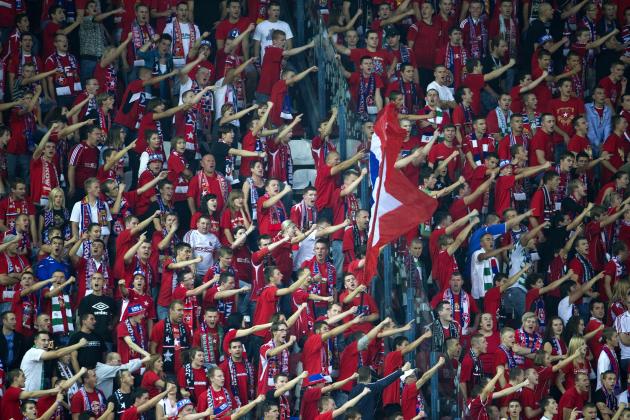 EuroFootball/Getty Images
Polish Football Fans
It has been no secret that hooligans have long been the downfall of Polish football. With such a big tournament gracing the nation, it provides exactly the kind of atmosphere for Polish football supporters to either further dampen their reputation around the globe or show that they are finally getting the barbarity in the country's stadiums under control.
Aside from hooligans and stadium safety, with such high-profile English footballers as Sol Campbell and Theo Walcott publicly stating that it might not be the safest decision to attend the events in either host nations and Ukraine's racism issues especially becoming harder to bury, it will further tarnish UEFA's reputation if an incident of racial discrimination does occur at the tournament.
Certainly everyone is hoping that things do keep in order. However, with protests from FEMEN in Ukraine, various footballers in England and even Michel Platini coming out to complain at times about the run-up to Euro 212, the situation does seem daunting.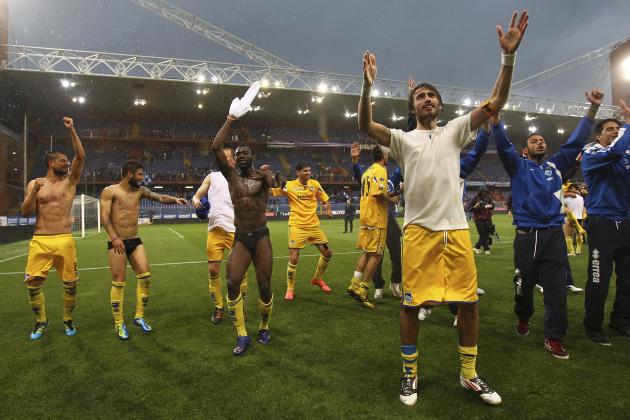 Marco Luzzani/Getty Images

Most football lovers have grown somewhat tired of Serie A and Italian footballers for understandable reasons. Aside from the tactical defensiveness, fanciful diving and corruption, there is something monotonous about Italians playing with other Italians.
Of course, many who disagree will point to the recent successes of Napoli and the usual domination of the three juggernauts Juventus, AC Milan and Internazionale. However, much of their achievement has come as a result of foreign imports who have lifted and changed the play of their respective teams (arguably, Juventus has mostly relied on the best Italian players that they have picked out from the league's lesser clubs).
Napoli would be nowhere without Edinson Cavani (Uruguay), Ezequiel Lavezzi (Argentina) and Marek Hamsik (Slovakia). Similarly, Milan owe much to their Swedish striker Zlatan Ibrahimovic, and Inter have for years been blessed with an abundance of Argentine talent from Javier Zanetti and Esteban Cambiasso to Diego Milito and Ricardo Alvarez.
Nevertheless, there should be the sense that Italy will surprise this tournament with so much controversy surrounding a team that has lost one player to the match-fixing scandal and has another, Leonardo Bonucci, under investigation.
With such crazy circumstances, this squad could bring much hope to their grieved nation and show that there are still numerous Italian players that can light up any pitch if they can pick apart Spain in their opening game and make it out of the group.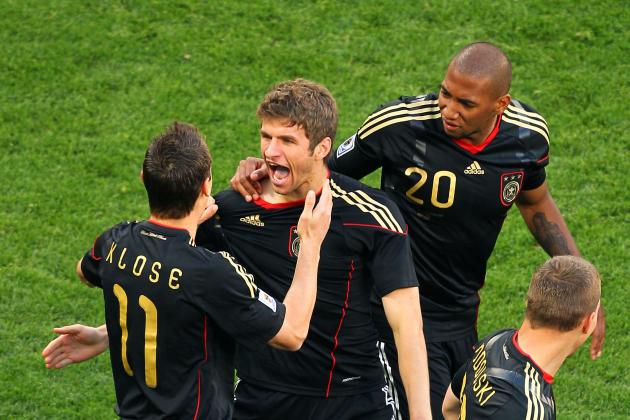 Clive Rose/Getty Images
Thomas Müller Scores in the 2010 World Cup
Like Spain, the Germans did not drop a single point in qualifiers. In fact, they dominated in such a manner that each of their home games reaped at least three goals, with two occasions ending in six-goal demolitions of their opponents.
While the team has underperformed in their recent friendlies—especially a 5-3 loss to Switzerland—they did reach the final in 2008 and make a strong case for returning again this year.
Bolstered by an impressive attacking duo of Mario Gomez and Miroslav Klose, as well as the creativity and consistency of Mesut Özil, Mario Götze and Phillip Lahm, the German blitzkrieg should be as dominant as ever.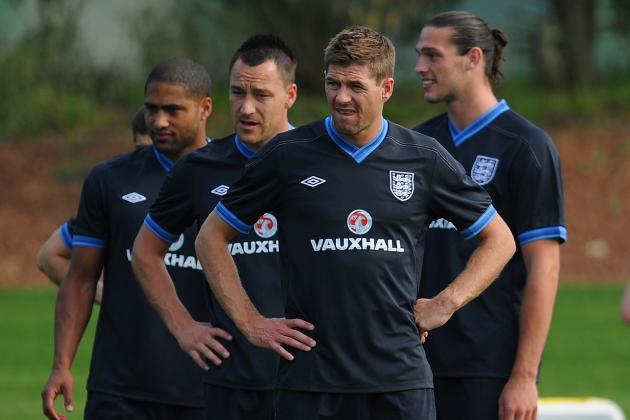 Michael Regan/Getty Images
New England Captain: Steven Gerrard
A lot has been made of England's "Golden Generation" without too many rewards in return. That being said, this England side may not be as typical as many expected. Although John Terry, Steven Gerrard and Frank Lampard will be there, they are joined by newer faces such as Gary Cahill, Danny Welbeck, Andy Carroll and Alex Oxlade-Chamberlain.
Regardless, Wayne Rooney's suspension will be too much for the team to overcome in the group stage, and it is unlikely they have the fire to drive them through the elimination rounds. Roy Hodgson may take the blame for the team's likely underperformance, but the overreliance on players too old, tired and raggedy for years, as well as the preference of Big Club letdowns like Carroll, Stewart Downing and James Milner to more in-form candidates at smaller clubs, will leave the usually pessimistic English in much of the same boat they have been in following the 2010 World Cup.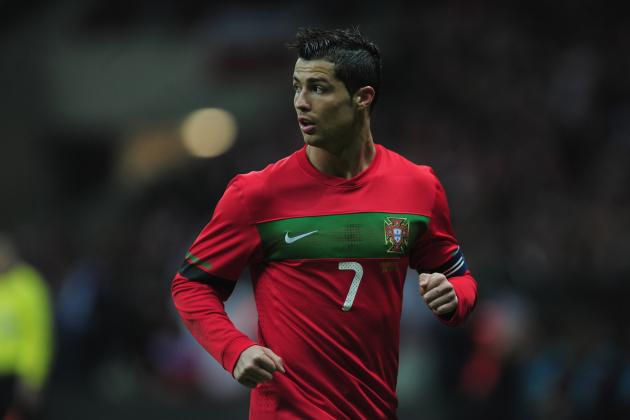 Jamie McDonald/Getty Images

When international tournaments come around, everyone loves to make their arguments for exactly which teams will compose the Group of Death. It seems like most journalists have already designated Group B to be the most deadly of this tournament. Yet, while Germany and the Netherlands were some of the most imposing teams in qualifying, and both Denmark and Portugal thoroughly impressed in Group H, this one will be harder to call as the tournament commences.
Portugal has a tremendous ability to underperform on the big stage despite having some of the most creative players in world football. Similarly, Denmark did not even manage to qualify for the tournament in 2008 and boast very disappointing losses to Russia and Brazil in their previous two friendlies.
Despite what many may assume about Croatia and the Republic of Ireland's chances, Group C includes the 2006 and 2010 World Cup winners, the team with one of the breakout strikers of the English Premier League in Nikica Jelavic and an Ireland team that only conceded seven goals in 10 qualifiers and is coming off a shutout win against Bosnia and Herzegovina.
Unsurprisingly, Group C is very likely to produce at least one of the finalists.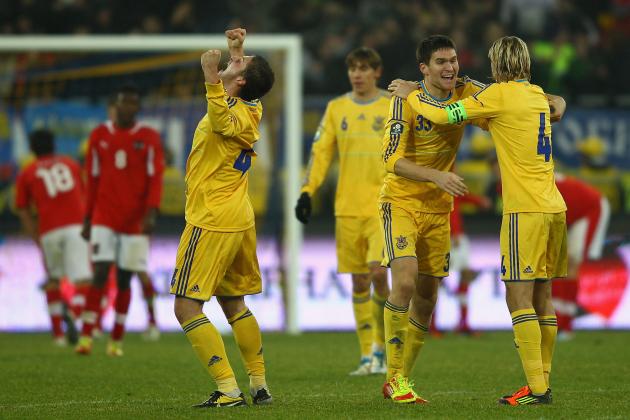 Richard Heathcote/Getty Images

Sure, there has been, and will continue to be, a lot of negative press justifiably aimed at both the host nations throughout the tournament. And, while the racism and crime may flow, so too will the goals.
In 2008, both Switzerland and Austria floundered and were eliminated in the group stage. This time around it should be different for both Poland the Ukraine. The former are blessed with a mediocre group that really only boasts Russia as a threat and a striker in Robert Lewandowski who scores in bunches. And, the latter have been playing magnificent attacking football that has torn apart lesser opponents such as Estonia and Israel, even earning them a draw with Germany.
Surprises are in the air, my friends.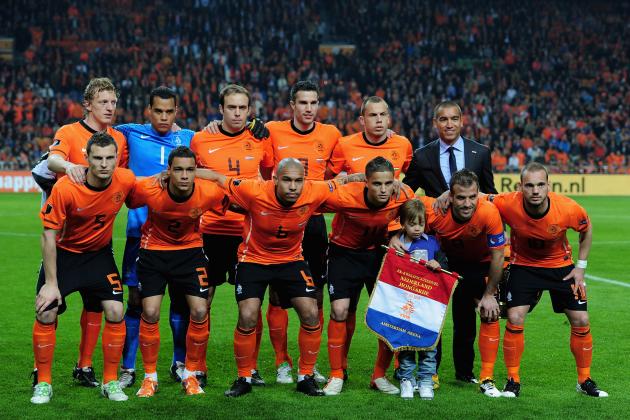 Jamie McDonald/Getty Images

Everyone will remember the Dutchmen of Euro 2008. After steamrolling Italy and France in the group stage, they bowed out limply to a Russian side that would eventually be whooped 3-0 by Spain in the quarterfinals.
Like the Holland of the previous tournament, this team has the talent, creativity and clinical finishing to destroy any side on their day. In qualifying they scored 37 goals and only dropped points in an enthralling game to a rejuvenated Sweden. And, with Robin van Persie, Klaas-Jan Huntelaar, Arjen Robben, Wesley Sneijder and so many more big names in their squad, one would assume they are potential champions.
That is, if they can manage to avoid the type of implosion that occurred in both the Russia game four years ago, as well as the 2010 World Cup Final. Unfortunately, the ghosts of those defeats may haunt the Dutch to such an extent that another final appearance is improbable.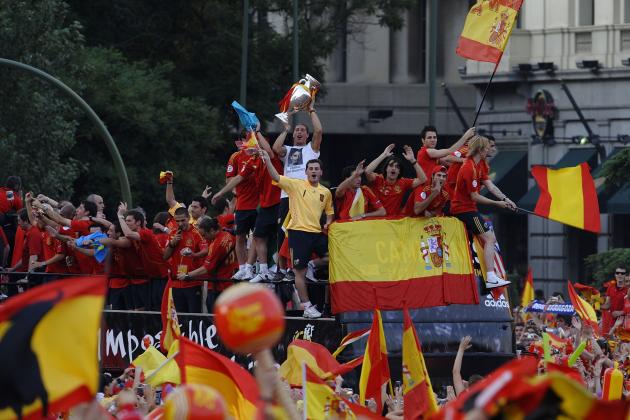 Denis Doyle/Getty Images
Repeating History?
Since the 2010 World Cup, Spain surely has not been as convincing as they would like to be. In the previous two years, they have conceded four against both Argentina and Portugal and lost to typically powerhouse nations Italy and England in other friendlies.
However, they did manage to come through qualifying unscathed, and it would seem that progression through the group stage is a guarantee for La Furia Roja.
Although they will be without David Villa and Carles Puyol, it would not be surprising to see Spain make another run to the final as they look to defend their European crown.