Manchester United Transfer: 4 Reasons Shinji Kagawa Can Help Eden Hazard Snub
May 31, 2012

Mike Hewitt/Getty Images
Not all is lost for Manchester United after Eden Hazard made his announcement that he will be playing for Chelsea next year. Here are four reasons a signing of Shinji Kagawa may work out even better for the Red Devils.
1. Shinji Kagawa Can Score and Assist
Shinji Kagawa had 17 goals and 13 assists this season. That is not far off from Eden Hazard, who had 20 goals and 15 assists.  
This is important because his 17 goals are more than any Manchester United player has scored all season, with the exception of Wayne Rooney. And his 13 assists are better than all United players with the exception of Nani, so adding Kagawa can automatically be an improvement. 
You can't forget that a player who plays well for his country says alot about how he can play in big games, such as the Champions League. Shinji Kagawa has 30 appearances and 10 goals for Japan while Eden Hazard has 27 appearances and only two goals. Kagawa will bring the creativity to the midfield that was missing last season. 
2. Money Saved For Other Transfers
I think that with the media frenzy surrounding Hazard, we forget that there were many other players who have been rumored to be heading to Old Trafford. Of the players rumored, most are just as promising.
Hazard would have cost at least £32 million. Signing Kagawa, who plays as an attacking midfielder like Hazard, saves United around £20 million.
With a savings of £20 million, Fergie is free to pursue one of the other midfielders that he has been looking to bring to Old Trafford.
Some people believe that Sir Alex was looking to sign both Kagawa and Hazard. If this is so, losing Hazard to Chelsea will  make him go for one of his other creative midfield targets. 
Porto's James Rodriguez, Athletic Bilbao wunderkind Iker Muniain, Benfica ace Nicolas Gaitan, and of course Tottenham's Luka Modric, to name a few, are all players that Sir Alex will feel would be a good fit to add to a midfield that is looking to add more creativity.
If Sir Alex was looking to sign both Kagawa and Hazard, he can sleep easier knowing that any of these signings, with the exception of Modric, could be signed for less than the cost of Hazard.  Don't be surprised to see Real Madrid's Nuri Sahin make the move to Old Trafford.  
3. Manchester United Still Have Fergie
Sir Alex knows what he is doing, he has rebuilt his team over and over. The problem that United are trying to fix is the aging midfield. Scholes, Giggs and Park need to be replaced soon. Signing Kagawa is the first step to changing from the old guard to the new. 
Having a player not want to come to Old Trafford is not going to hurt his rebuilding process. Fergie's team have won four of the last six Premiere League titles. That does not happen by mistake—it happens because Manchester United have a manager that is very good at what he does.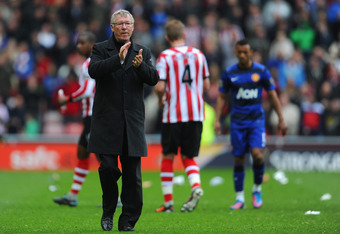 Michael Regan/Getty Images
There are many other players that have been on his radar, and he has already turned his attention to these other players. Using Anderson or Berbatov as a make weight for a transfer to be feasible is not out of the question.
Transfers have just begun, and Sir Alex knows that signing Kagawa, who helped Borussia Dortmund seal the team's first domestic double in team history, is a great start.
4. Dodged the Hazard of Eden's Ego
Eden Hazard is a great player, there is no doubt about that. He will be great for Chelsea and will make a name for himself there. Should he decide to stay at Stamford Bridge for the bulk of his career, he may go down as one of their best.
But one thing anyone who has been following the Hazard saga can tell you is that he wants the attention. 
He decided to reveal that he had decided on which team he will go to, but he did not want to say which team until Tottenham Hotspur striker Luis Saha spoiled his surprise.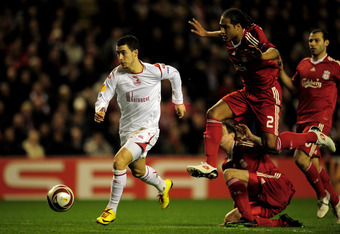 Shaun Botterill/Getty Images
This story was very similar to The Decision, when LeBron James was deciding what NBA team he would be playing for in the new season. He decided to have an hour-long special about his "Decision," and it was looked upon as tasteless.
The same could be said about the way Hazard decided to announce his choice. Besides that, Hazard is only 21, and he is not truly a proven player. Playing in France is very different than playing in England, and he has not done this yet.
He still has a lot to prove, and if he does not do well at the beginning, Chelsea could be looking at another Fernando Torres problem.
What people forget is that at the beginning of the year, Eden Hazard was not the hottest prospect in Europe—it was Mario Goetze. Goetze was linked with Manchester United, Arsenal and Barcelona at the age of 18, but he signed a contract extension that made talks of a move die down. 
In Conclusion
Hazard would have been great to have, but getting Kagawa is in no way a consolation prize. Kagawa may prove to be a more important player next season than Hazard. Kagawa took the place of injured Mario Goetze, and Borussia Dortmund sealed a double. That is the kind of player United need.
There are lots of pieces left to get in the transfer market, with many great players who would love to go to Old Trafford and play under Sir Alex. Eden Hazard is a great talent, but Shinji Kagawa is a key player who will help Manchester United get the league title back.