USMNT vs. Brazil: 6 Predictions for the Matchup in DC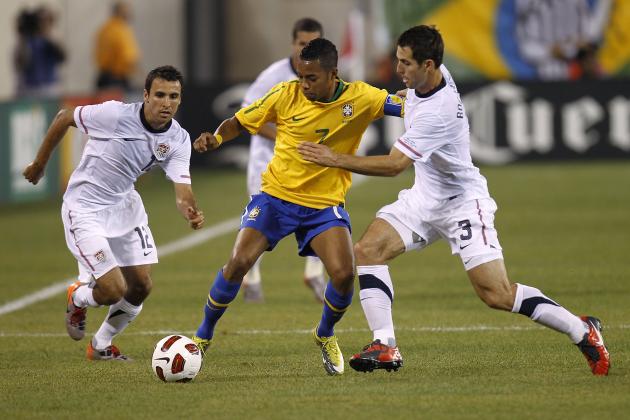 Jeff Zelevansky/Getty Images

It is finally here! After months of anticipation and excitement the USMNT's rematch with Brazil in America has finally arrived and it could not have come at a more exciting time. After a bumpy start to the Klinsmann era, the USMNT has been on a roll as of late winning its last five games and starting 2012 off undefeated. Clint Dempsey has also emerged as one of the best goal-scorers in the Premier League and is coming off arguably the greatest season by a US outfielder ever.
On the other side, Neymar looks to lead Brazil to its second victory in three years on American soil and extend the squad's undefeated streak to 10 games. If one thing is for sure, it is that this Wednesday night showdown is going to be an absolute can't miss! Here are six predictions for the intercontinental matchup at Fedex Field. Enjoy!
Begin Slideshow

»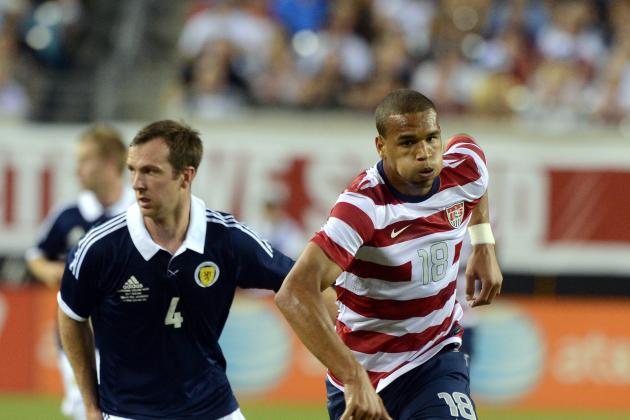 Gary Bogdon/Getty Images

Possibly the biggest bright spot of the USMNT's 5-1 thrashing of Scotland on Saturday was the breakout performance by young-gun Terrence Boyd. The Dortmund product was excellent at creating space for teammates and moving off the ball to help the flow of the offense. I can't even remember the last time I saw the USMNT attack run so smoothly and a lot of that is due to Boyd's fantastic movement off the ball. Expect Boyd's runs to cause at least a pair of scoring chances for the Yanks on Wednesday.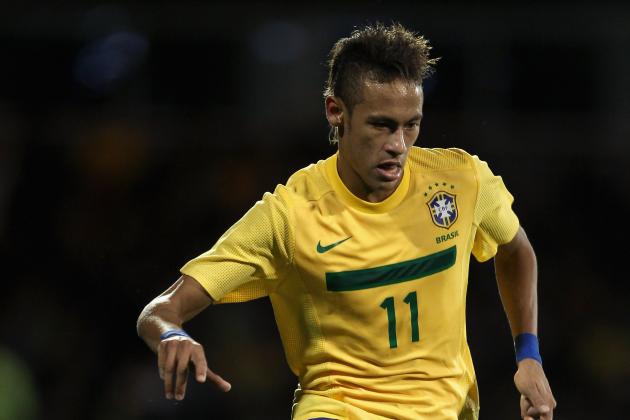 Clive Rose/Getty Images

What do you get when you have a matchup between some of the most talented wingers in the world against fullbacks who aren't great at defending one-on-one? A Brazilian field day on the wings!
Surely, Brazil knows of their massive advantage on the wings and will feed the likes of Neymar and Hulk on the side as much as possible to maximize scoring opportunities. In fact, that seemed to be Brazil's exact game plan when the two sides faced off in 2010 at the New Meadowlands: feed the wings. It won't be any different Wednesday night.
This will be the game where Lucas Moura finally makes himself a household name. Much like Neymar two years ago, Moura is coming into the US game with a lot of momentum and interest from big clubs yet still is relatively unknown in the world of football. Wednesday will be his moment to finally perform on a big stage and show the world what he has got. Dare I say it, Wednesday will be the day where Lucas' own Neymar-esque transfer saga begins.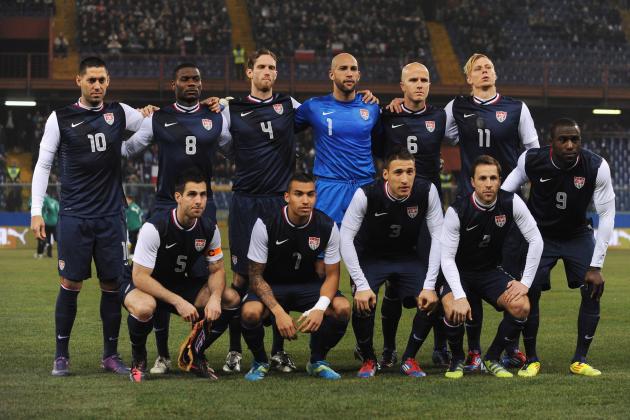 Valerio Pennicino/Getty Images

Klinsmann should live by the phrase "If it ain't broke, why fix it" when deciding his lineup on Wednesday night. When looking back on player performances from the Scotland game, not one player distinctly played himself out of a starting spot for the Brazil clash tonight. Also with Dempsey (injury) and Altidore (joined camp late) both likely to be used as subs, the first XI should be identical to that of the Scottish contest.
The only real change that I can see Klinsmann making is Onyewu for Cameron, not because Cameron played poorly, but to help grow Gooch's confidence and because he has more experience in big games like these than the Houston Dynamo centre-back. Other than that, expect a very similar formation and lineup from JK against Brazil.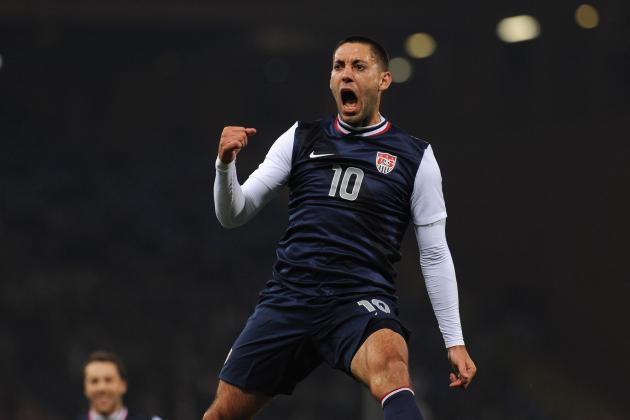 Valerio Pennicino/Getty Images

While Dempsey may not be getting the start Wednesday night, don't be surprised if we still see flashes of the "Super-Deuce" we have been so accustomed to the last 12 months. From Jurgen Klinsmann's latest interview, it seems as though Dempsey's injury is completely healed and it is only fitness that will be preventing the American star from going 100 percent for 90 minutes. That being said, do expect Clint to make the most of his brief appearance tomorrow night, as big games always seem to inspire the Texan.
Note: Since 2009, Dempsey has scored against Spain, Brazil, England and Italy. The bigger the stage, the bigger the performance from Deuce.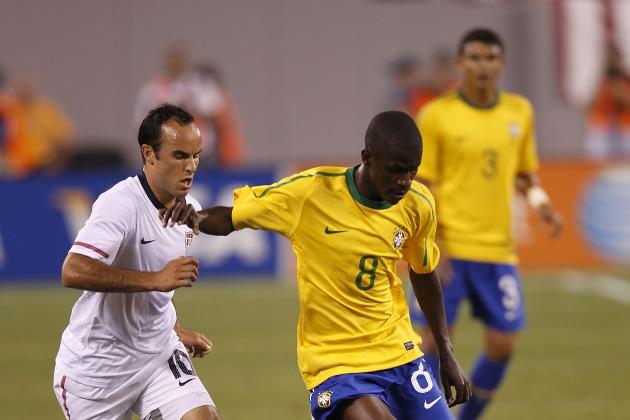 Jeff Zelevansky/Getty Images

With the USMNT playing with so much confidence and momentum, it would be unwise to bet against a Yanks goal. The USMNT is averaging over two goals a game dating back to last November and most of those games were played without the likes of Donovan, Dempsey, and Altidore.
However, the USMNT defense will be prone to getting exposed by Brazil's plethora of talented wingers and ultimately will concede too many goals to earn a draw. The USMNT's winning streak will come to an end, but not before the team holds its own against one of the best teams on the planet in DC Wednesday night.