Odds Each Dallas Cowboys' Undrafted Free Agent Makes the 53-Man Roster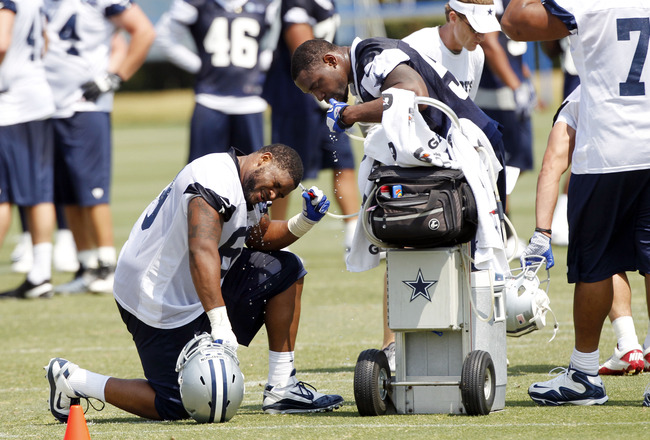 Layne Murdoch/Getty Images
Soon after the draft was over, the Dallas Cowboys continued to improve their team by adding a number of undrafted free agents. It is no secret that Dallas lacked depth at many key positions and needed an extra boost after free agency and the draft.
There are more than a few rookies who went undrafted that Dallas chose to sign who have a great shot at making the team. There is an offensive lineman who has the eye of team owner Jerry Jones, a wide receiver from an unknown college and a tackle from the southwest.
Here are the odds that each undrafted free agent will make the final roster.
Jeff Adams, OT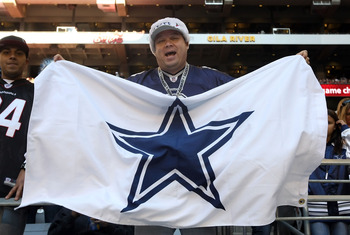 Christian Petersen/Getty Images
Adams is a pretty big guy, as he stands at 6'6" and 306 pounds. While he isn't the guard that many fans were on the look out for, he does bring a physical nature, talent, and skill to the tackle position.
Adams was a three-time first team All-Ivy League player and was once named Columbia's best lineman. So the ability is there—it's just a matter of Adams being molded.
Odds: 55 percent chance
Ron Leary, G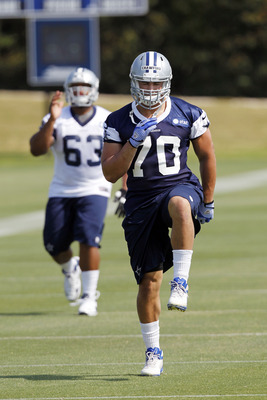 Layne Murdoch/Getty Images
Leary is the toast of the undrafted free agent town. Jerry Jones had nothing but praise for the young lineman.
I liked the way he moved out there. He's not my pet cat, but it sounds like it. But I did like the way he moved.
Leary is a pretty good lineman, but his knee condition is what scared most teams away. He has OCD, or osteochondritis dissecans, which is a degenerative condition that will eventually require career-ending surgery.
The window on his career is short, but if the Cowboys are able to get a few good years out of him, I say he's worth the gamble.
Odds: 70 percent chance
Cole Beasley, WR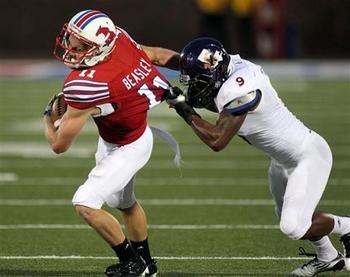 statesman.com
My honest thought on Beasley is that he has a 50 percent chance of making the team. The third receiver slot is wide open and Cowboys fifth-round pick, receiver Danny Coale, broke his foot.
If Beasley can prove himself on special teams and work like a crazy man during OTA's and training camp, he will have an outside shot.
Odds: 50 percent chance
Levy Adcock, OT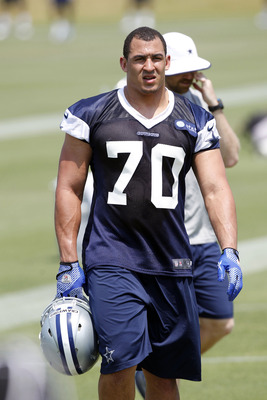 Layne Murdoch/Getty Images
Adcock has pretty good pass blocking skills, as he earned First-Team All-Big 12 in 2011 and held his own in Oklahoma State's spread system.
He does need time to mature and grow, but because he is a superb run blocker with good leverage and great balance, he should have a good chance at making the final roster.
Odds: 45 percent chance
Taylor Dever, OT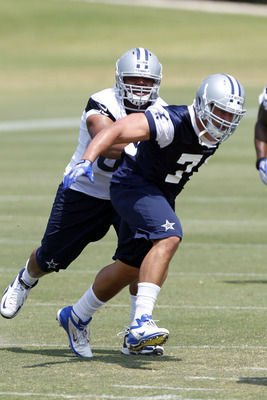 Layne Murdoch/Getty Images
Dever was a back-up to former Cowboys tackle Sam Young, who was cut last year.
He's not that fast, and if the Cowboys got rid of Young, I don't see them signing his back-up.
Odds: 10 percent chance
Harland Gunn, OG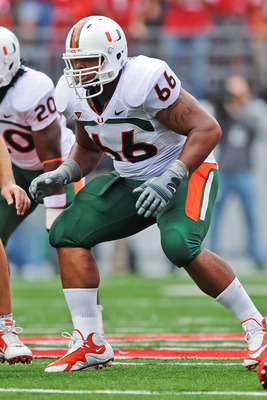 Jamie Sabau/Getty Images
Gunn is only 6'2" but weighs 319 pounds. He'll get a good look at guard and center as the Cowboys need help at both positions.
He has super-human type strength, benching 500 pounds, and is a blue collar type of player.
If Gunn is able to show and prove during OTA's and training camp that he's a fast learner with an ability to work within the system, he has a decent shot at making it.
Odds: 45 percent chance
Tyrone Novikoff, OT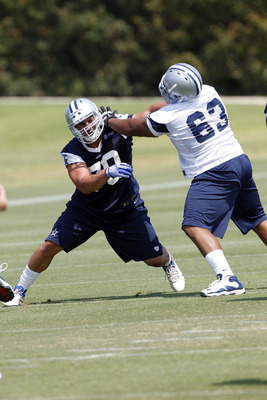 Layne Murdoch/Getty Images
Noticing a theme here? The Cowboys were obviously concerned with their options on the offensive line and did all they could to improve it.
Novikoff has an outside chance of making the team, as he needs a lot of development and lacks focus on the field.
Odds: 15 percent chance
Tim Benford, WR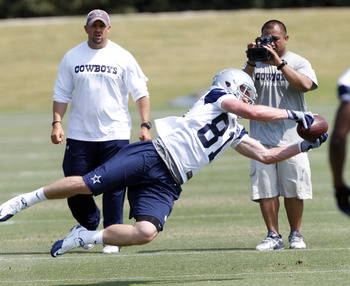 Layne Murdoch/Getty Images
Benford's chances of making the team—and not just the practice squad—have increased due to Danny Coale's broken foot.
He impressed during OTA's and has caught the eye of some coaches. If he continues to impress and perform, who knows what may happen on cut down day.
Odds: 45 percent chance
Donavon Kemp, WR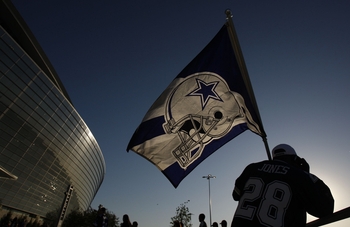 Ronald Martinez/Getty Images
The key for Kemp will be special teams. There is a bottleneck for the third receiver slot, as a number of players are competing for the slot position.
Kemp hasn't done anything that makes coaches and pundits heads turn, so he'll have to show himself on special teams.
Odds: 30 percent chance
Saalim Hakim, WR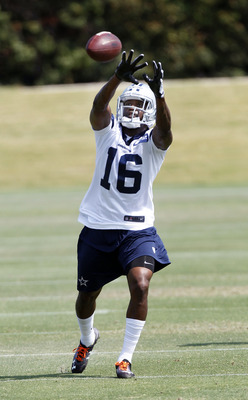 Layne Murdoch/Getty Images
Hakim has a pretty decent shot at making the team. He has really good speed, and if anything he'll make a pretty good gunner.
He's made headlines since joining the Cowboys, and Dallas is opening up the competition at the slot.
Odds: 45 percent chance
George Bryan, TE
Layne Murdoch/Getty Images
Bryan has little to no chance of making the team. His chances of "making the team" are with the practice squad.
Oklahoma's James Hanna has the line on the third tight end spot unless Bryan comes in and shows the team something that Hanna can't.
Odds: 10 percent chance
Andrew Szczerba, TE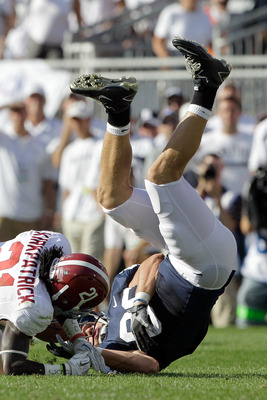 Rob Carr/Getty Images
Another little-to-no-chance player.
He'll get the opportunity to showcase his talents for others teams to see and for the practice squad, but he's not going to make the team.
Odds: 10 percent chance
Lance Dunbar, RB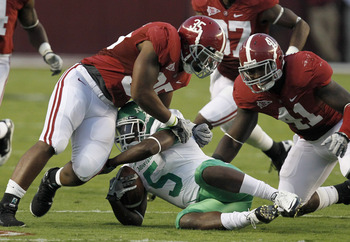 Butch Dill/Getty Images
The top two running back slots are set with Felix Jones and DeMarco Murray. What's left is the battle that will be between Dunbar and Phillip Tanner.
Tanner has the edge because he's been with the team the longest and has shown what he's capable of doing. But Dunbar has to continue to work hard and never lose focus. If Tanner or any of the other runners go down with an injury, it will be his time to shine.
Odds: 45 percent chance
Darrell Scott, RB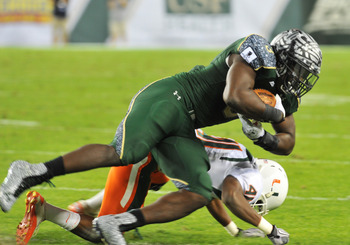 Al Messerschmidt/Getty Images
Another running back who has an outside chance of making it.
I hope that the Cowboys leave training camp without any significant injuries to any players, but if they do, Scott has a chance to make the team.
Special teams and the practice squad will be in his wheelhouse, and he will most likely miss the final roster.
Odds: 30 percent
Lionel Smith, CB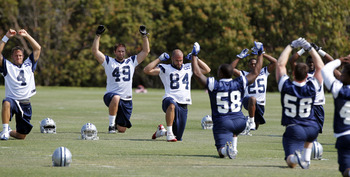 Layne Murdoch/Getty Images
The good thing that I like about the number of free agents the Cowboys signed is that it encourages competition. Smith will have his chance to prove himself amid a number of cornerbacks attempting to do the same thing: make the team.
Dallas needs help in the secondary and allowing a guy like Smith to compete is good for the team.
But in the end, I do not believe Smith will make the team as he needs to much development.
Odds: 10 percent chance
Isaac Madison, CB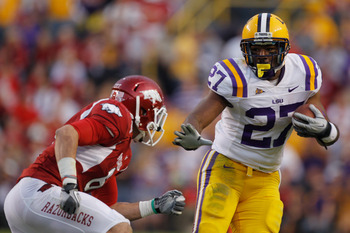 Chris Graythen/Getty Images
What I like about Madison is his speed—4.48 in the 40-yard dash—and he's almost six-foot in stature.
He'll have to fight to make a roster spot, but if he shows enough discipline and isn't stiff in his hips, I think he has a great shot. I still believe he'll be a practice squad player, but stranger things have happened.
Odds: 20 percent
Adrian Hamilton, DE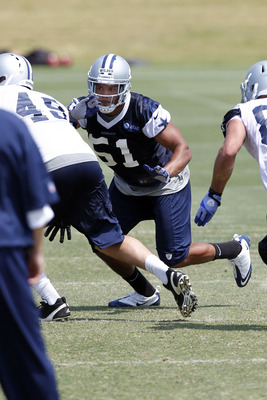 Layne Murdoch/Getty Images
The pass rush will be vital for Dallas in 2012. DeMarcus Ware will continue to be the man when it comes to bringing down the quarterback, but he needs a Robin.
Will that player turn out to be Hamilton, or will Anthony Spencer finally step-up? Either way, the Cowboys need someone else to make some noise besides Ware.
Hamilton has the eyes of the coaches because they are on the lookout for a new pass rusher.
Odds: 20 percent
Aston Whiteside, DE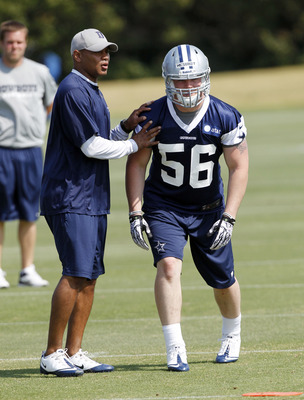 Layne Murdoch/Getty Images
Whiteside is undersized for a defensive end, as he's only 260 pounds. Dallas is looking at him at inside linebacker and depending on the defensive formation, and if he makes the team, there's no knowing where he currently may line up.
He's not that speedy, 4.88 in the 40, and will not chase down many quarterbacks off the edge. If anything, he will turn into a special teams player off of the practice squad.
Odds: 10 percent chance
Eddie Whitley, S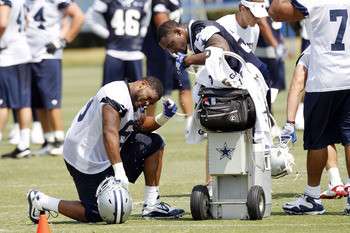 Layne Murdoch/Getty Images
Whitley will be a special teams player and may have a decent shot at making the final roster. He totaled 163 tackles in his last two seasons with Virginia Tech and had four interceptions.
I believe he'll end up as a gunner or just a special teams guy.
Odds: 10 percent chance
Keep Reading

Dallas Cowboys: Like this team?