Arizona State's Stadium Renovations Will Help the Program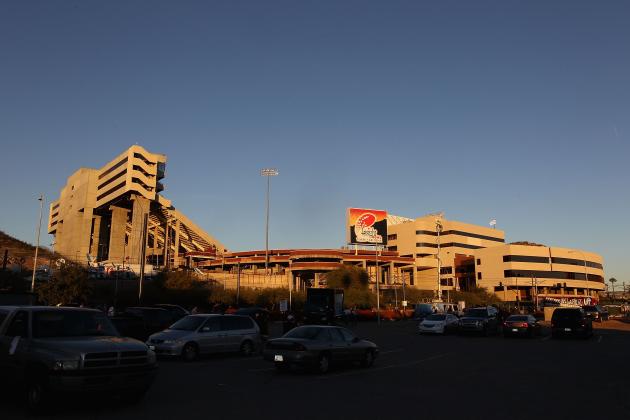 Christian Petersen/Getty Images
Frank Kush Field at Arizona State
In April Arizona State University unveiled plans for renovations and updates to Frank Kush Field. The planned changes to the stadium are the best things to happen to ASU football in a long time.
Sun Devil Stadium has long had too much seating, not enough shade and never had a good view of the beauty of the desert that is Tempe. Luckily for ASU Football players and fans alike, the proposed changes will fix all three of these issues.
The renovations call for the tearing out of the upper-deck of the north end zone to create a view of Tempe Town Lake while reducing the stadium capacity from 71,000 to 60,000. Along with these changes, the new plans also call for a fabric canopy to cover the stadium, reducing the temperature inside the stadium 15-20 degrees.
For pictures of the mock-ups of the renovations you can view a gallery here: http://www.azcentral.com/photo/Sports/ASU/22062
While the changes will greatly improve the beauty and atmosphere of Sun Devil Stadium, it's the football team itself that will benefit most.
Begin Slideshow

»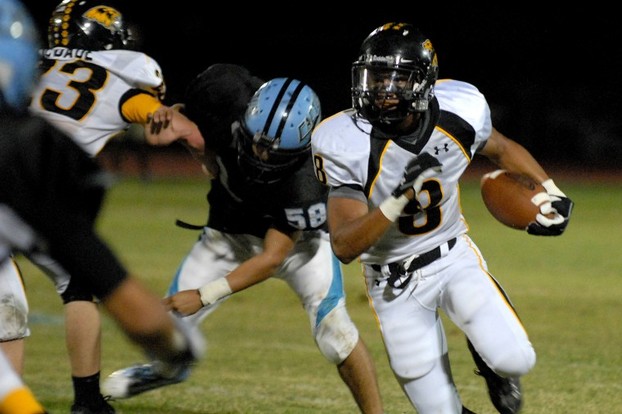 D.J. Foster ASU Recruit
Arizona State has been a team of big expectations the last few seasons, but ultimately failed to live up to them. Most recently this last season, when a team that had dreams for a Rose Bowl appearance finished the season on a five-game losing streak and with a subpar 6-7 record.
In order for the Sun Devils to really take the next step and get into the national spotlight, they need to start recruiting better. The renovations to Sun Devil Stadium are going to be a key sell in luring recruits from bigger-name schools to play for ASU.
When players see a gorgeous stadium set between two mountains with top notch facilities to boot, it is going to turn into a key selling point. Not to mention this may be the key to finally keeping Arizona's top recruits in state.
Take the man pictured above, D.J. Foster from Saguaro H.S. in Scottsdale, AZ. Foster rushed for 3058 yards and 54 TDs, and added 300 yards and 5 TDs to boot. As a 4-star prospect he had a list of big schools to choose from, but new ASU coach Todd Graham was able to keep him close to home.
It's these types of prospects that ASU will be able to recruit with the help of the new plans for Sun Devil Stadium. And these renovations will help Arizona State enter the national spotlight as well.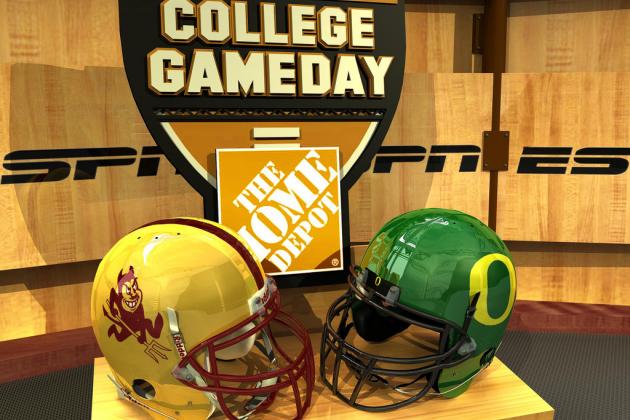 The addition of the canopy and the knocking out of the upper deck of the north end zone will exponentially help ASU in getting national exposure. The canopy's ability to lower field and stadium temperatures nearly 20 degrees will allow the Devils to play games earlier in the day.
The ability to play games earlier allows ASU to take advantage of the newly-formed Pac-12 TV network, while also allowing more of their games to be seen on the east coast.
This increased viewership will again draw more attention from recruits and national networks such as ESPN, allowing the Sun Devils to go from an above-average program to a big-time Pac-12 competitor. Once renovations begin it will no doubt be picked up nationally, letting everyone know that ASU is ready to step up and join the big boys of the college football universe.
Christian Petersen/Getty Images

As a student at Arizona State University, it's hard to get excited about the constantly mediocre football team. But the thought of a new look to our stadium actually perks up my ears a bit. A large renovation like the one that Sun Devil Stadium will soon undergo is the type of thing that will once again attract the attention of a bunch of college students.
The increase in interest should create an increase in attendance, something that the Sun Devil football program has struggled with. Games are rarely sold out—however, the lower seating capacity and brand new look are sure to draw in more fans.
It will also help Arizona State's tailgating scene, one that is not bad, but no where near the level of teams in the SEC and Big 12. As a undergrad at ASU, tailgating is a big draw for not only me but nearly all Sun Devil students and fans. The planned renovations will draw a larger crowd and get students more involved and willing to take the 1/4 mile walk to the new and improved Sun Devil Stadium.
These renovations are long overdue, but now that they have a plan of action and the time table is set, it's only a matter of time before before the Arizona State football program takes the next step.