Pixar and Sports Stars: Separated at Birth?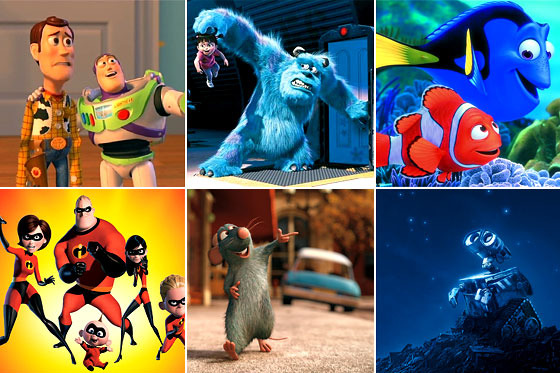 The mercury is creeping higher and higher.
Sizzling barbecues are scorching hot with glowing red charcoal.
Despite endless showers, you'll be finding rogue grains of sand in your hair for months.
We don't need June 21st to arrive to let us know. Without a doubt, summer is here.
If you're not near the ocean's breaking waves, or firing up the grill isn't your thing, you can always seek refuge from summer's toasty temperatures in an ice-cold movie theater. Don't listen to New Jersey's Oompa Loompa "Tanning Mom", suntans are overrated anyway.
Summer films have become as much of a mid-year staple as the recorded music of ice cream trucks, exploding fireworks in the dusky sky, glowing fireflies fluttering about, and the smell of freshly-added chlorine in the swimming pool. A summer without the soles of your flip-flops stuck to a dirty theater floor isn't really a summer at all.
With big dough to be made, every big player is in it to win it. On an annual basis, the mouse is the big cheese at the box office though. Walt Disney's subsidary, Pixar Animation Studios, delivers a critically acclaimed summer blockbuster that warms the heart, challenges the mind, tickles the funny bone and thins the wallet.
Pixar's catalog of films have taken us to the depths of underwater adventure, soared into the fluffy clouds on a rainbow of colorful balloons and brought a trunk full of toys to life.
For an hour and a half, adults can become children again, and children can have their wildest dreams played out on the giant screen before their wide eyes. Your imagination is truly the limit.
The genius minds at Pixar Studios have come up with some truly remarkable and memorable characters in the past 17 years. How do they come up with them though? Genius writers? Ivy League degrees? Child-like whimsy gone wild?
Maybe it's just that they just watched a little too much ESPN...
"To infinity and beyond!" Without any further ado, here is Pixar's previously undiscovered connection to the sporting world.
Begin Slideshow

»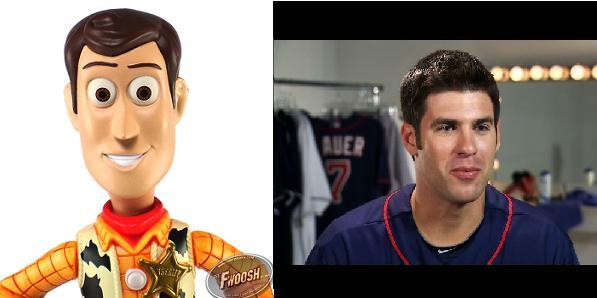 Woody (Toy Story, 1995): He's Buzz Lightyear's rootinest tootinest buddy.

Joe Mauer (Catcher, Minnesota Twins): An MLB superstar who wishes the Twins never built a new ballpark.

Art imitates life: Mauer lives in a Minnesota log cabin, Woody may at one time have been a log.
Yee haw! This cowboy sure isn't Tony Romo. Spurs are a-jinglin' and lassos are flyin' when Sheriff Woody, Toy Story's resident leader, instills good cheer and happiness to his fellow toy-mates.
Joe Mauer, Minnesota's homegrown field general, and three-time AL batting title champion is dandruff-free, signed to a monster contract and has killer sideburns.
The only thing keeping these two from being doppelgangers is their choice of shampoo—Mauer endorses Head and Shoulders, and Woody's more of a Suave guy.
Separated-at-birth odds: 12/1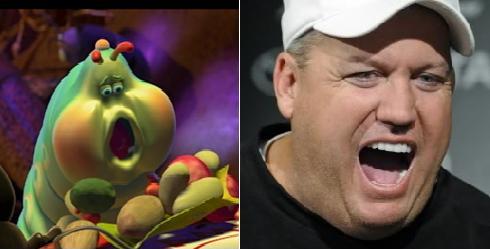 Heimlich (A Bug's Life, 1998): A gluttonous caterpillar who dreams of becoming a butterfly.

Rex Ryan (Head Coach, New York Jets): He of the large vest and larger mouth.
Art imitates life: Zoftig physique, both are part of a circus. Heimlich wishes for wings, but never seems to get them. Rex wishes for rings, but never seems to get them.
A Bug's Life, Pixar's sophomore film, told the tale of our smallest buddies, the insects, and a small universe occurring unbeknownst to us, right at our very own feet. The charming world of ants, grasshoppers and spiders will make you think twice next time before you pull out that can of Raid for a quick spray. Heimlich, the film's food-loving caterpillar and circus performer, aspires for bigger things.
Speaking of "bigger things", Rex Ryan ceremoniously buries footballs at practice, flips off cameras, and creates headlines louder than an actual jet on a weekly basis. If Heimlich had a wife, her number of feet would make Rex a happy man.
Switched-at-birth odds: 7/1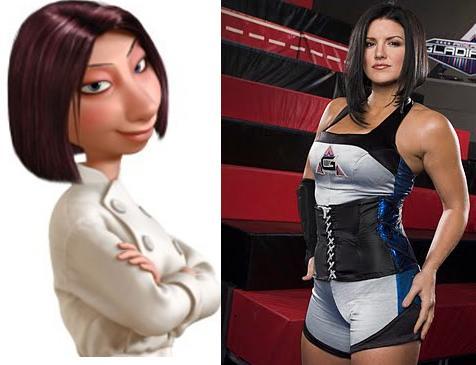 Colette (Ratatouille, 2007): No-nonsense cook.

Gina Carano (MMA fighter): No-nonsense right hook.
Art imitates life: Carano played the fierce "Crush" on the second-generation "American Gladiators". Colette is a talented chef dealing with the hi-jinks of a "French rat-iator".
Don't think it's just the sleek hairstyle and intimidating glare. Colette (unfortunately voiced by the always-charming Janeane Garofalo) is a rare female in a fast-paced, male-dominated Parisian kitchen. Gina Carano is a rare female in a tough, fast-paced, male-dominated sport. The only real difference is that one of these two has posed for Maxim. Can you guess which one?
Separated-at-birth odds: 30/1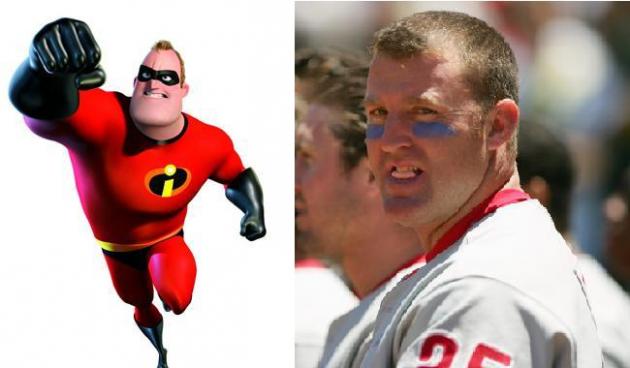 Mr. Incredible (The Incredibles, 2004): A veteran superhero masquerading as an ordinary dad.
Jim Thome (First Baseman, Philadelphia Phillies): The veteran home run machine who has switched teams more times than Anne Heche.
Art imitates life: Muscular build, red uniform, retirement doesn't sit well with either one.
One may be "incredible", but the other has gone yard 600 times and is likely headed to Cooperstown one day. The Phillies would be smart to just give Thome's roster spot to Mr. Incredible while he's on the disabled list. Few will actually notice the difference.
Don't worry, Ty Wigginton will understand.
Separated-at-birth odds: 3/1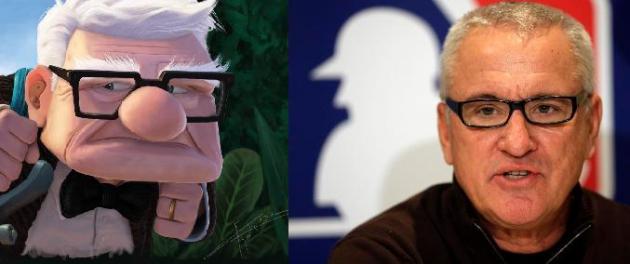 Carl Fredrickson (Up, 2009): Grouchy gramps whose home soars into the azure blue on balloons.

Joe Maddon (Manager, Tampa Bay Rays): The hoodie-sportin' head of Florida's finest team.
Art imitates life: Thick-rimmed glasses out of a Weezer video, hair the color of an early February snowstorm. Fredrickson spends his time out with a golden retriever named "Dug", and Maddon spends his time in a dugout.
A span of about 30 years isn't the only thing that separates these two unlikely choices. Fredrickson is a cranky curmudgeon avoiding a one-way trip to the wrinkly retirement home, while fun-loving Maddon keeps team morale up with themed road-trip attire. If Maddon just made the switch over to contact lenses, this entry might not even exist.
Separated-at-birth odds: 500/1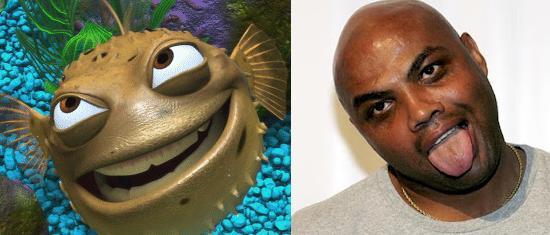 Bloat (Finding Nemo, 2003): A puffer Fish who blows up when scared.

Charles Barkley (Former NBA Forward): Portly hoopster. Not a role model...or a regular model.
Art imitates life: Both enjoy a good dunk and full of their own hot air. Barkley played on a team with Magic and Bird, Bloat was in a magical movie with a few birds.
One went to play for the Suns, one plays under the sea. One's weight is expanding, while the other's is sinking (thanks, Weight Watchers). One would make good sushi, the other...well, it's doubtful Barkley has ever touched sushi in his life unless it was on top of a cheeseburger.
Still, look at those pictures! Bloat will be doing commentary at next March's NCAA tournament and you won't be able to tell until at least the Sweet 16 round.
Separated-at-birth odds: 10/1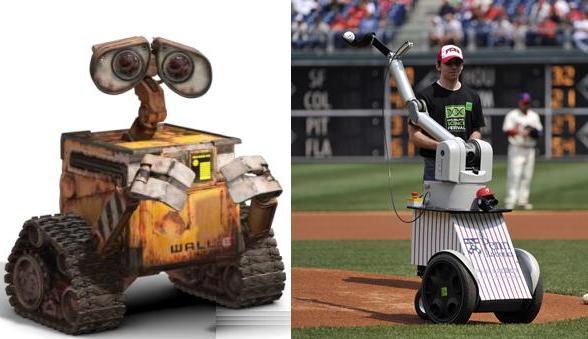 WALL-E (WALL-E, 2008): An adorable robot programmed to clean the dumpster that Earth has become.

PhillieBot (Pitching machine): A one-armed pitching robot that can play for the team currently taking up residence in the dumpster of the NL East.
Art imitates life: Both can perform under "Manuel" instruction.
WALL-E, a dirty, rusty, boxy bucket of bolts, is the future's most lovable robot. He collects garbage, befriends a Twinkie-loving cockroach, and becomes smitten with a lovely space robot named "EVE".
"PhillieBot" was conceived last year by dateless engineers at the University of Pennsylvania and throws first-pitch baseballs to the mean, green, mascot machine, the Phillie Phanatic. Given the Phils' current pitching issues and injuries, he could probably take up residence in the second spot of their rotation with very few hiccups.
Switched-at-birth odds: 35/1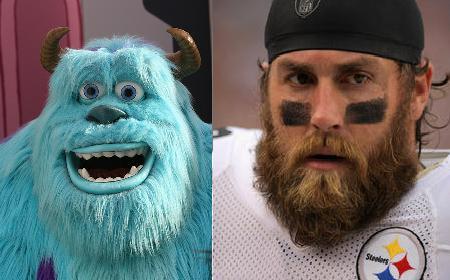 James P. Sullivan (Monsters, Inc., 2001): Gentle stare, meant to scare, full of blue hair.

Brett Kiesel (Defensive End, Pittsburgh Steelers): "Da Beard"—he can make the most expensive peace sign on earth with his Super Bowl rings.
Art imitates life: Sulley acts like a saint and protects a girl from dangerous humans. Kiesel protects his team from dangerous humans...like the Saints.
Big! Blue! Burly! Beards! Eat your heart out Cookie Monster, because these two giants...errr Steelers...are like mirror images. A touchdown of a match.
Separated-at-birth odds: 5/1

Merida (Brave, 2012): She's the most talented ginger archer this side of Geena Davis.

Shaun White (Olympic snowboarder): "The Flying Tomato", who's been known to sport some gold around his neck.
Art imitates life: Great Scott! She's a Scottish lass. His signature snowboarding trick is the "Double McTwist 1260".
Bullseye!
Gender aside, this star of the upcoming Brave and arguably the greatest snowboarder in the world share a common look and an adventurous spirit. Word on the street is that neither is a fan of prop comic, Carrot Top. Then again, who really is?
Separated-at-birth odds: 40/1