Montreal Canadiens Free Agents: 10 Players Habs Need to Extend Now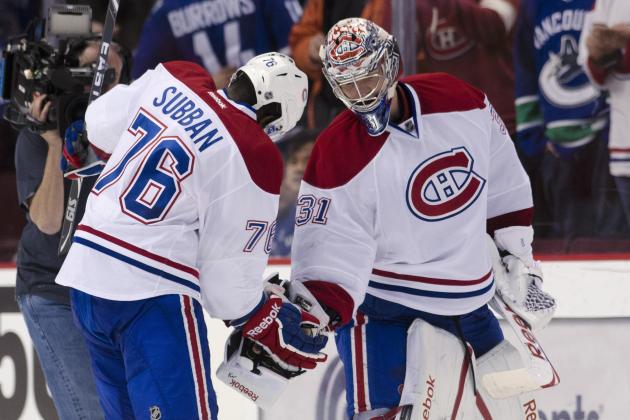 Rich Lam/Getty Images
The top two priorities for Marc Bergevin
Marc Bergein is making all the right moves.
Well, so far any way.
Bergevin, the new general manager of the Montreal Canadiens, has made two front office signings so far. He has hired Rick Dudley to be the assistant general manager and Scott Mellanby to be the director of player personnel.
So far, so good.
But Bergevin still has a lot of work ahead of him. He still has to find a head coach that can step up in one of the league's toughest markets. Signs are pointing towards Bob Hartley, but there are others, like Marc Crawford, Patrick Roy and Michel Therrien, who are also in the mix.
There are some options at head coach for Bergevin. With the players, it's different. Bergevin has a few players he must sign, but again, he also has a few options with other players.
The Canadiens have a number of restricted and unrestricted free agents. Now it's time for Bergevin to head to the contract table and lock some of these guys up and let others walk.
The Habs currently have 15 players on the current roster signed under contract, taking up about $46 million of the $64 million cap. That leaves them with $18 million to work with.
And if Bergevin is smart with what he does, he should be able to use that $18 million effectively.
Here are 10 free agents the Habs need to extend now.
Begin Slideshow

»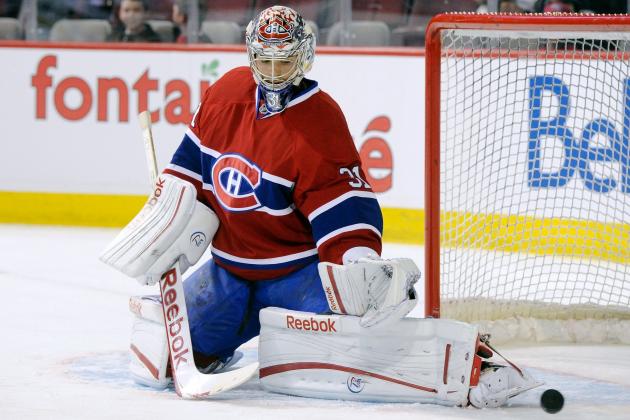 Richard Wolowicz/Getty Images

Goaltender Carey Price is at the top of the "must re-sign" list.
He is the backbone of the Montreal Canadiens and he is the franchise goaltender. Bergevin has to do what he has to do to get this guy back between the pipes for the start of the 2012-13 season.
Price finished the 2011-12 season with a 26-28-11 record, as he appeared in 65 games. He finished with four shutouts and a 2.43 GAA.
Last year, he made $2.75 million.
He is probably worth double that amount this time around. The Habs need Price for their future and there is no doubt they will re-sign him. Look for him to sign a mid-length deal, five-to-seven years for about $6 million a season.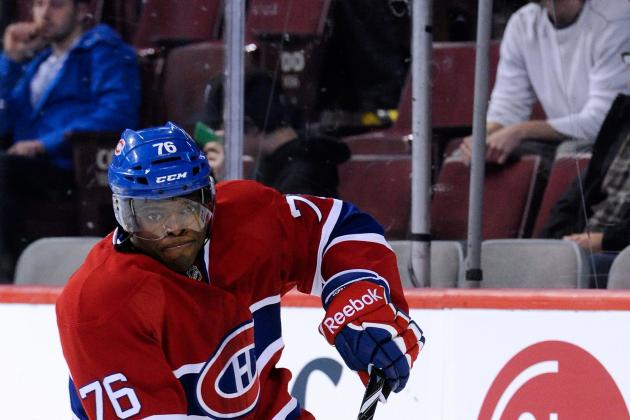 Richard Wolowicz/Getty Images

Young defenseman P.K. Subban is also near the top of the list.
He is a fan favorite. He is flashy. And he has swagger.
Last year, Subban finished with seven goals and 29 assists in 81 games, leading all Habs' defenseman in points. His plus-nine rating was second among defensemen.
The Canadiens could benefit from locking Subban up in a long-term deal, so look for Bergevin to do just that. Subban made just $875,000 last year. His salary will no doubt increase this year.
Subban will likely sign a four-or-five year deal worth $4-million a season.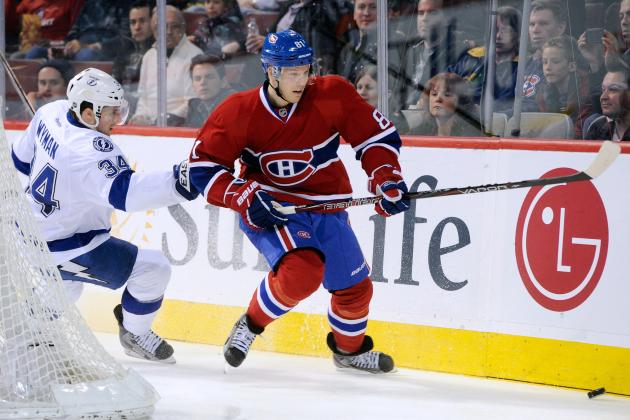 Richard Wolowicz/Getty Images

Lars Eller is an up-and-coming young forward who the Habs could afford to keep around.
Last year, Eller scored 16 goals and added 12 assists and he saw his value increase each game. He made just under $1.3 million last year and the Habs can likely get him at the $2 million range if they want to re-sign him.
Bergevin would be smart to keep this kid under contract. He is young and has potential.
Look for Eller to sign a three year deal worth $2.5 million a year.
Mike Ridewood/Getty Images

Ryan White adds toughness to a Habs roster, which desperately needs it.
The Canadiens need White back. He has grit, heart, drive and toughness.
He earned $625,000 last year. He missed most of the year due to injury but still managed 61 penalty minutes in 20 games.
There is a spot for a guy like White on the Habs team and it would be a good idea for Bergevin to sign a guy who has proved he can play, and is familiar with the team.
It seems White wants to be in Montreal, so it is likely he could sign a three year deal worth $1 million a season.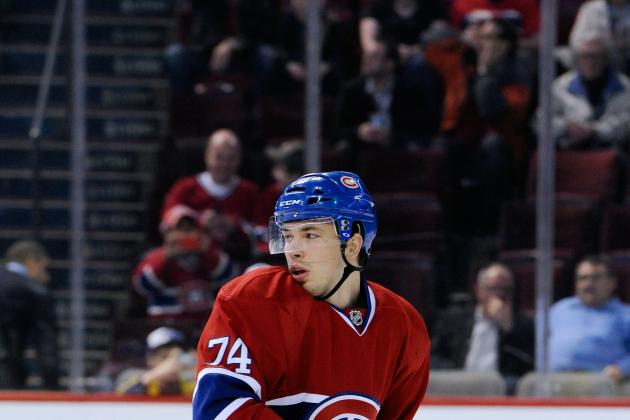 Richard Wolowicz/Getty Images

Alexei Emelin is the first of three young defenseman that the Habs could and should keep around.
Emelin was a rookie last year and at times it showed. But at times, his bone crunching hits made him look like a veteran.
Emelin made $984,000 last year as a 26-year-old rookie. He had seven points in 67 games, but was a team-worst minus-18. He will definitely need to improve that for next season.
Bergevin should sign Emelin. The Habs have invested quite a bit into the defenseman so far, so why give up now?
Look for Emelin to sign a three year deal worth $1.5 million a year.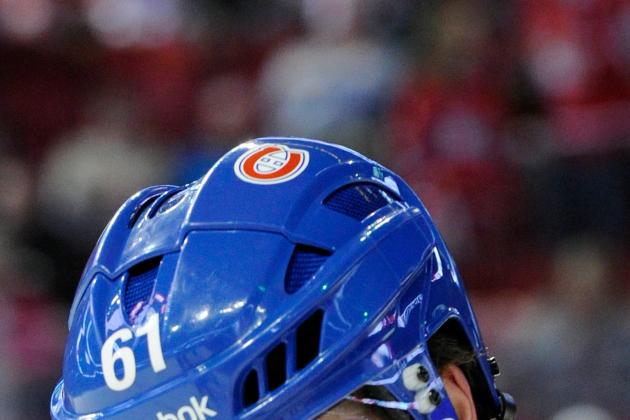 Richard Wolowicz/Getty Images

The second rookie defeneman who the Habs should keep around is Raphael Diaz.
Diaz showed signs of stability on the blueline last year as a rookie. He also showed signs like most rookies do.
Diaz made $900,000 last year and 16 points in 59 games. He was a minus-seven. Average numbers for a rookie defenseman in Montreal, but it did look at time as though Diaz was improving.
Like Emelin, the Habs should keep a young Diaz around. Bergevin should offer a four year deal worth $1 million a season.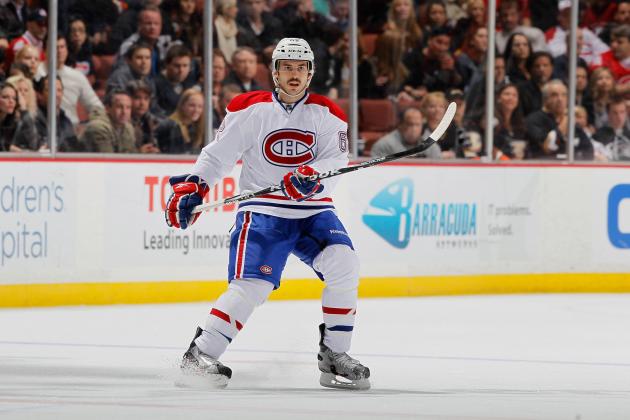 Jeff Gross/Getty Images

The final and least-experienced defenseman of the three restricted free agents is Frederic St-Denis.
St-Denis kind of came out of nowhere last year after the Habs defense core was disseminated with injuries. St-Denis stepped in and played 17 games for the club. He was a plus-three and had three points and at times, looked comfortable.
He had 28 points in 58 games with Hamilton but was a minus-three. However, that minus-three was close to a team best, as the Bulldogs had a disappointing year.
St-Denis made $605,000 last year. And although he might not be on the Habs' starting roster next season, it would make sense to sign him and keep him in the system.
A three-year $750,000 deal would make sense for both sides.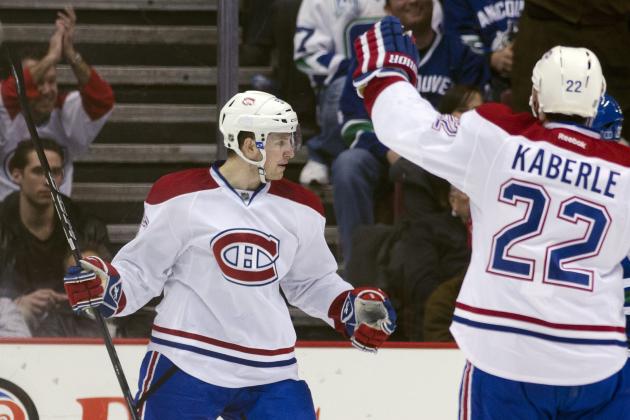 Rich Lam/Getty Images

Blake Geoffrion came into Montreal riding a lot of hype.
He bears the same surname as Montreal Canadiens' legend Boom Boom Geoffrion. Blake is a relative, but he doesn't have quite the same skill set.
Last year, Geoffrion came to Montreal in a trade from Nashville and earned just over $1 million. He had two goals in 13 games in a Canadiens' uniform, which was a bit less than the Habs expected, but not by much. They knew they weren't getting Boom Boom.
He had nine points in 20 games with Hamilton. His numbers aren't impressive and his salary is pricey for a guy who isn't really proven at the NHL level.
If the Habs let Geoffrion walk, nobody should be surprised, but they shouldn't be surprised if they sign him either and try to mold him into a depth player that the Habs, like every team, needs.
Geoffrion should sign a one year, $900,000 deal, or else he could be in a different jersey.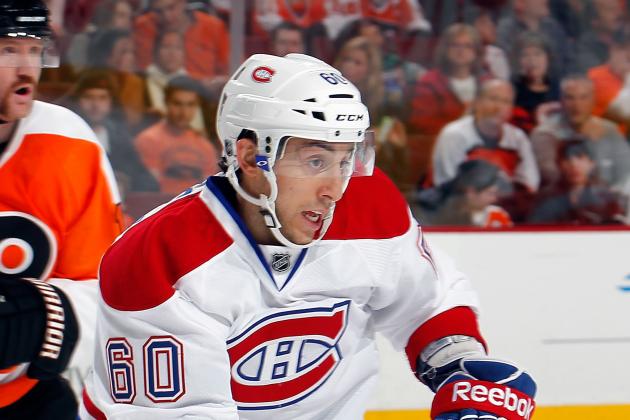 Paul Bereswill/Getty Images

Aaron Palushaj is a guy who could go either way, but it would make sense for the Habs to sign the forward, who could have potential.
Palushaj had five points in 38 games with the Habs last season, but he was mostly in a checking or fourth line role. He could be used here in the future effectively. He had 35 points in 35 games with the Hamilton Bulldogs in the AHL, so the young forward can put up numbers.
His success in the AHL hasn't translated to the NHL just yet, but as he made $883,000 last season, the Habs could afford to keep him around and give it another shot.
Look for him to sign a short deal, maybe a year or two, at $1 million or under.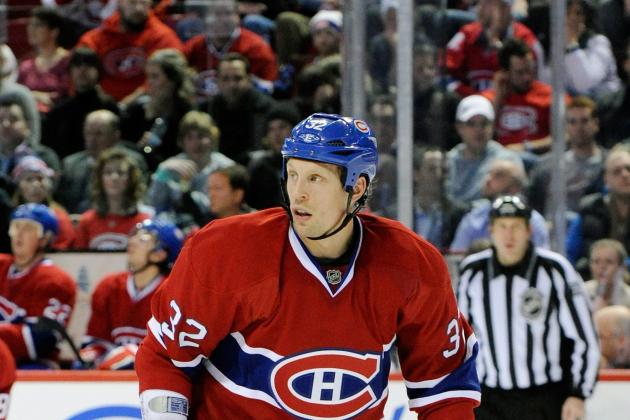 Richard Wolowicz/Getty Images

Travis Moen is one of those questionable re-signings.
He has experience. He has size. But for a role player, is he expecting more than the Habs can offer?
Last year, Moen earned $1.5 million. He had 16 points in 48 games and was a valuable player throughout a disappointing year. He is 32 years old and can still play, but is there room for him in Montreal?
Moen is a leader. He is a veteran and he can certainly help out the younger players. But if he is expecting a big increase in salary, he will probably be deemed expendable by Bergevin.
Moen has the experience and grit that other teams look for, so his paycheck elsewhere could be much larger. He should be seeking a contract in the $2 million range and four-to-five years in length.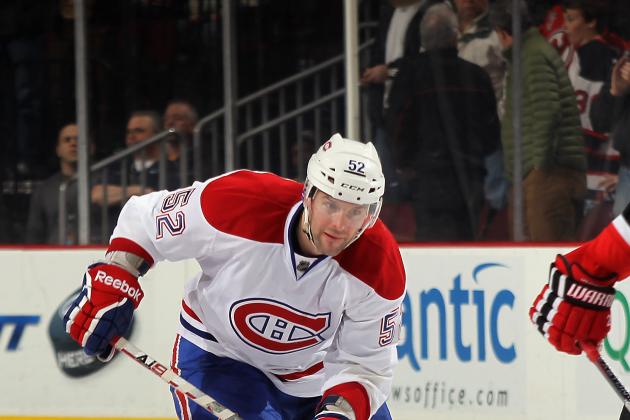 Bruce Bennett/Getty Images

Mathieu Darche, Brad Staubitz and Chris Campoli are unrestricted and replaceable free agents. They are not musts for Bergevin to sign. Much like restricted free agents Mike Blunden and Petteri Nokelainen.
There are plenty of other players in free agency who can fill the roster spot for these players, but since Bergevin is new to the helm, he might elect to resign these guys (or some of them) since they are familiar with the Habs' organization.
Mark Mitera, Andreas Engqvist, Hunter Bishop, Brendon Nash, Oilvier Fortier, Robert Slaney, Andrew Conboy and Dany Masse are all prospects who are restricted free agents. They fall under the same category. If management feels they have put a lot into these players, they will likely hold on to them. If they are expendable, they will not be signed.
Unrestricted free agent prospects Brian Willsie, Garrett Stafford, Joe Callahan, Nathan Lawson and Alex Henry will likely be looking for a new jersey to put on, unless they can sign for the right price. The Habs won't be willing to spend a lot of dollars on these guys to keep them around.
It all boils down to money for all of these guys. Who can the Habs afford to keep? Who do the Habs need to keep? Who do the Habs want to keep?
There are a few musts, a few maybes and a few no-nos overall in free agency. And there are solid players in free agency from other teams.
Not to be worried though. If first impressions mean anything, then Bergevin looks like he is going to make the right moves and get the Habs back to the promise land.
Follow Taylor Shire on Twitter: @TaylorShire