The Rangers just signed a two-time 20-game winner and three-time All-Star to be their No. 5 starter.
Len Redkoles/Getty Images
May 29, 2012
The American League may as well take the rest of the season off. There's no point in trying to win the AL pennant this year. The Texas Rangers have already secured it.
The Rangers, in case you haven't been paying attention, have been the Junior Circuit's best team all season. They may have hit a rough patch earlier this month, but they're going to end May with the best record in the AL and the best run differential of any team in the majors. 
Dominance, thy name is the Rangers.
It's one thing to have talent, and the Rangers certainly have a lot of that. What makes them special is the fact that they also have loads of experience. All the key players on their roster have played in two consecutive World Series. This year, every last one of them is out to win it for a change.
And now they've gone and added yet another player with both talent and experience who has his eyes on baseball's grandest prize.
As it was first reported by Gerry Fraley of The Dallas Morning News, the Rangers have agreed to terms on a deal with veteran right-hander Roy Oswalt. Scott Miller of CBSSports.com has reported that the Rangers will pay Oswalt $5 million for the rest of the season, and he could earn up to $1 million in incentives.
It's going to be a little while before Oswalt is ready to pitch in a major league game. He's obviously been throwing and working out in his time away from the game, but he'll need to go on a rehab assignment so he can get back into the flow of things. In all likelihood, he's a few weeks away from returning. He may even need a full month.
The Rangers are the one team in baseball that can afford to be patient. Even without Neftali Feliz, who is on the disabled list with sprained ulnar collateral ligament, the Rangers have a solid starting rotation, and their bullpen is hands-down the deepest in baseball.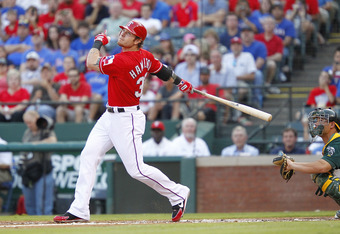 Josh Hamilton has been baseball's best hitter this season.
Rick Yeatts/Getty Images
Their Josh Hamilton-led offense is of course the most explosive offense in baseball, and it's proven to be more than capable of picking up the slack on nights when the pitching isn't there.
At the very least, the Rangers can rest easy knowing they're getting a guy with a proven track record. If he returns and pitches like he did during his glory days with the Houston Astros, great. If not, oh well. The Rangers are going to be sliding him into the No. 5 spot in their rotation, so they'll take what they can get out of him.
The only real concern is the possibility of Oswalt's injury issues cropping up again. Last season was tough for him, as he had to go on the disabled list on two occasions with back problems. If those problems return, the Rangers are going to be out a couple million bucks for nothing.
The bright side is that Oswalt has had a lot of time off. It's not a stretch to imagine that so many months of rest were exactly what the doctor ordered for his 34-year-old body.
If it turns out that rest was just what Oswalt needed, then the Rangers are going to be getting a lot more than a mere No. 5 pitcher. They'll be getting a No. 1. Remember, it wasn't all that long ago that Oswalt went 7-1 with a sub-2.00 ERA in half a season for the Phillies.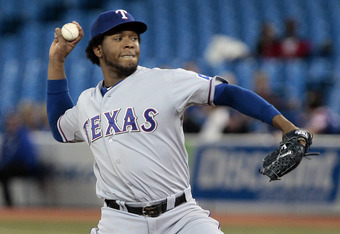 Neftali Feliz will probably pitch out of the bullpen when he returns.
Abelimages/Getty Images
A healthy Oswalt will help Texas' rotation, but this is a move that affects the team's bullpen as well. If Oswalt can hold down a spot in the rotation, the Rangers will be able to move Scott Feldman back to their bullpen, and they'll also be free to move Feliz to the bullpen when he gets healthy.
If all goes well, this signing will thus make Texas' strong rotation even stronger, and it will make their excellent bullpen even more excellent.
The rest of the regular season is a mere formality for the Rangers. They shouldn't have any trouble holding off the surging Los Angeles Angels, who might be losing Jered Weaver for an extended amount of time with a back injury.
As long as they stay focused, the Rangers will coast to an AL West title, and they'll probably win over 100 games.
The postseason won't be a mere formality for the Rangers, but they're going to be the strongest team in the field no matter who makes the cut. No team in the American League can match the Rangers' balance of offense, pitching and defense. That's been the case in each of the last two postseasons, and it will be the case again this postseason.
So let's go ahead and declare this contest to be over. The Rangers already were the best team in the American League, and they just got significantly better. They have the Junior Circuit in their back pocket.
Enjoy your AL pennant, Rangers.
As for those of you in the National League... well, you know how to handle the Rangers already. Just go ahead and do your thing.
Like the new article format? Send us feedback!