NHL Free Agency 2012: The 10 Best Free-Agent Defensemen and Where They'll Sign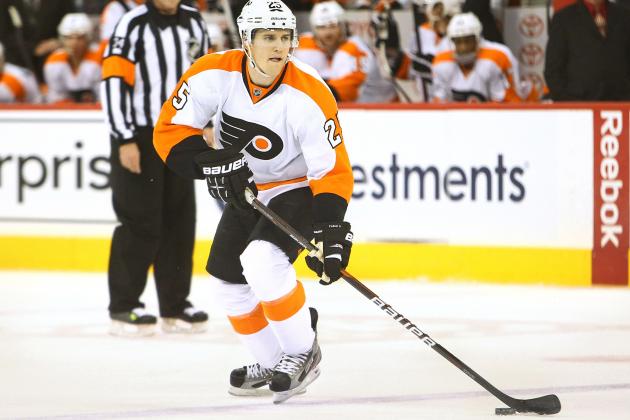 Tom Szczerbowski/Getty Images

The opening of the 2012 NHL free-agent market is only a month away, and the discussions surrounding this summer's class of players is beginning to heat up.
It's very possible that defense, rather than offense, could steal the show come July. A plethora of enticing UFA blueliners are set to hit the market, and they'll have no shortage of suitors, either—a large portion of the league's GMs will be seeking to fortify their back ends this summer.
Household names like Ryan Suter, Matt Carle and Dennis Wideman highlight the crop, but the depth in this year's field of D-men is also not to be overlooked.
Which 10 rearguards stand out as the biggest items on the market, and where will they each sign? A closer examination of the free-agent defensemen class of 2012 is on the upcoming slides.
Begin Slideshow

»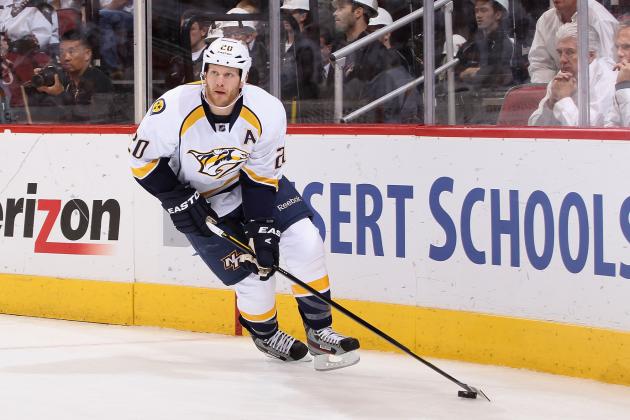 Christian Petersen/Getty Images

Blueline gem Ryan Suter has long been rumored to be a main target of the Detroit Red Wings, who would love to add the star defenseman to their already-loaded roster.
With 20-year vet Nicklas Lidstrom reportedly set to retire, a spot is now gaping open on the Wings' top pairing.
Additionally, the Wings have a whopping $20.3 million in cap space this summer, according to CapGeek.com, and would just love to spend a good $6 million or $7 million of that on Suter.
The 27-year-old has accumulated over 30 assists for four consecutive years in Nashville, in addition to impressive statistics in the hits, blocked shots and plus/minus categories.
Anticipate Suter to jump at the chance for a new mega-deal in Hockeytown.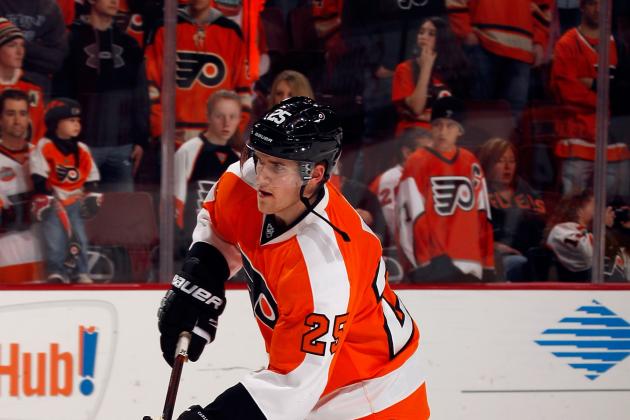 Rob Carr/Getty Images

Since arriving with the Philadelphia Flyers in 2008, Matt Carle, now 27, has racked up 122 assists, a plus-55 rating and exactly 600 blocked shots over the course of four seasons.
Moreover, in the three most recent of those, the Alaska native has missed just two total games to injury.
That's why so many teams are interested in signing this prime-aged defenseman, whose cap hit totaled less than $3.5 million this past season.
Unfortunately, however, Flyers GM Paul Holmgren is probably not going to let that happen. As Holmgren told Tim Panaccio of CSN Philadelphia earlier in May:
"I've said that before, if Matt wants to be here, we'd like to have him back. I don't see any reason why we can't work out a deal. We're in a position now where we can't sign him [right now] because of tagging space, but this [contract] is something that could be done quickly [come July 1st], I think."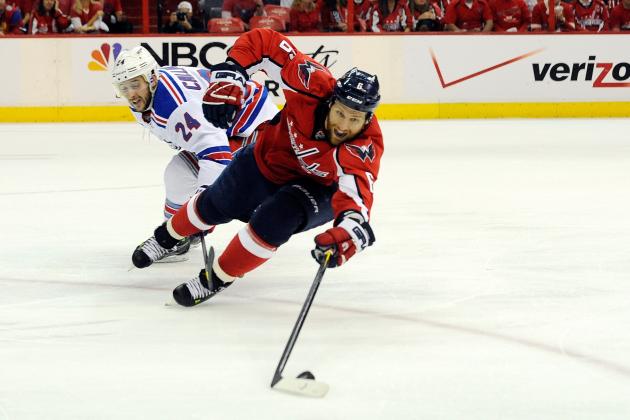 Patrick McDermott/Getty Images

Opinions vary widely on Dennis Wideman's worth as a top-pairing defenseman, but regardless of his skeptics, the flashy offensive blueliner is due for a big payday when he hits the market.
Wideman is unquestionably a tremendous power-play point presence. His 35 assists and 46 points in the '11-'12 regular season marked his sixth straight campaign of at least 23 helpers and 30 points.
The 29-year-old blueliner can be a painfully large liability in his own end, though, lacking any sort of physical presence and touting a horrendous minus-41 rating over the past three regular seasons. Wideman didn't help his stock in the playoffs, either, with just three points and a minus-seven rating in 14 appearances.
So far, few rumors have surfaced as to where this offensive defenseman might be headed. The Capitals, who have Wideman under contract until free agency opens, are the most likely, but it's questionable whether GM George McPhee wants to spend much money on him.
On the other hand, a team like the Dallas Stars, whose power play ranked last in the league in '11-'12 with no defenseman scoring more than two total man-advantage goals, would love to have the services of Wideman.
With more than $20 million in cap space, as well, they shouldn't have a problem locking him up.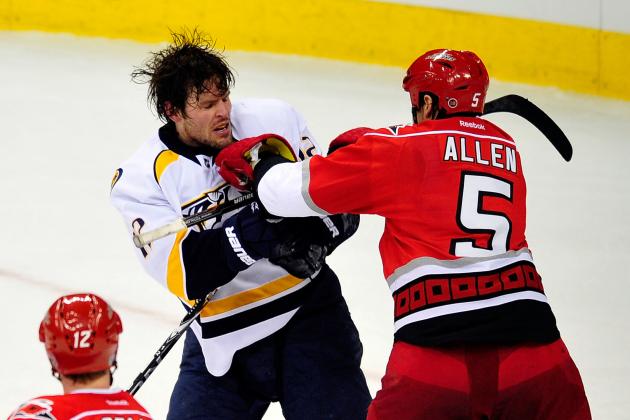 Grant Halverson/Getty Images

31-year-old defenseman Bryan Allen won't add much offensively—he scored a grand total of one goal in 101 games for the Carolina Hurricanes since the 2011 trade deadline.
However, what he will add is a large dose of pure defensive devotion.
The hardworking, leads-by-example veteran led the 'Canes in blocked shots this past season and can contribute excellently in hits, takeaways and zone coverage, too.
The Ottawa Senators, whose defense ranked 24th during the regular season, could be interested in Allen this summer.
Bruce Garrioch of the Ottawa Sun reports, "the Senators are going to need a defenseman ... [and] Allen could be had for a reasonable price if they opt to go to the free-agent market."
Allen won't draw much attention as a flashy star on the market, but he'd be a very reliable choice as a second-pairing rearguard for the Sens.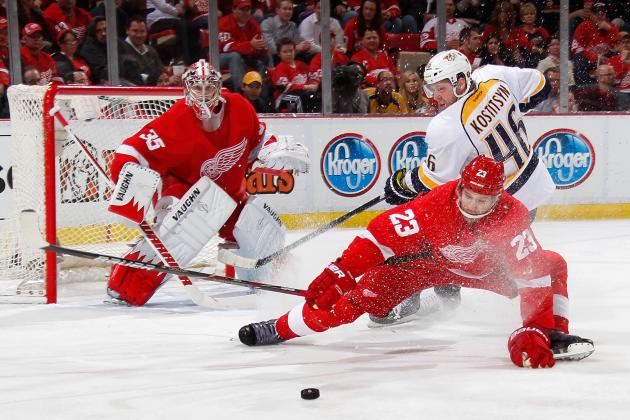 Gregory Shamus/Getty Images

Detroit Red Wings defenseman Brad Stuart, a 2012 UFA, wants to head to the west coast this summer to be closer to his family.
That's all well and good for Stuart, but the most important question is still unsolved: To which Pacific-lining team is he headed?
The San Jose Sharks could be an ideal fit.
Preparing for a rebound '12-'13 campaign after a fast first-round exit back in April, the Sharks need to fill a hole on their second pairing 'D'.
Stuart, who played for San Jose from 1999 to 2006, has the experience (1,000 combined regular and postseason appearances) and skill (led Wings in hits and placed second in blocked shots in '11-'12) to play alongside Marc-Edouard Vlasic.
The 32-year-old blueliner won't break the bank, either, with any new cap hit likely to fall under the $3.75 million mark of his expiring contract.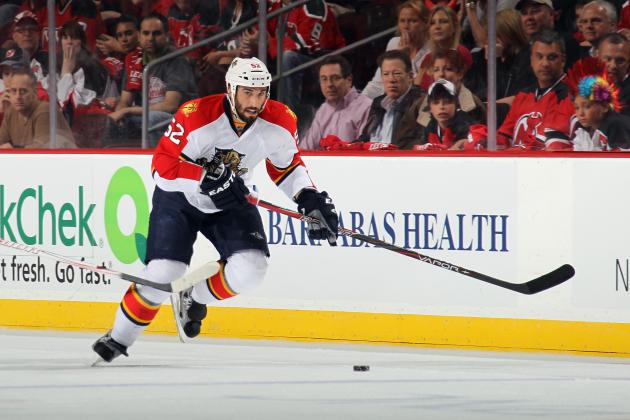 Bruce Bennett/Getty Images

Current Florida Panthers defenseman Jason Garrison exploded onto the world stage in '11-'12, scoring 16 goals and 17 assists.
The 27-year-old became one of the NHL's highest-scoring defensemen and power-play quarterbacks despite a salary well under $1 million.
But that should change this summer. The breakout star is set to hit free agency as an under-the-radar item on the D-man market, and a team like the Minnesota Wild could be interested.
The Wild, yearning for youth after another disappointing finish in the Western Conference cellar, finished the year 27th on the power play.
Given that Minnesota also boasts just one defenseman (Tom Gilbert) making more than $1.1 million per year, Garrison could arrive in the State of Hockey on the fast track to playing 25-plus minutes a night.
If Minny loses out on the Ryan Suter sweepstakes, Garrison could be the backup option from heaven.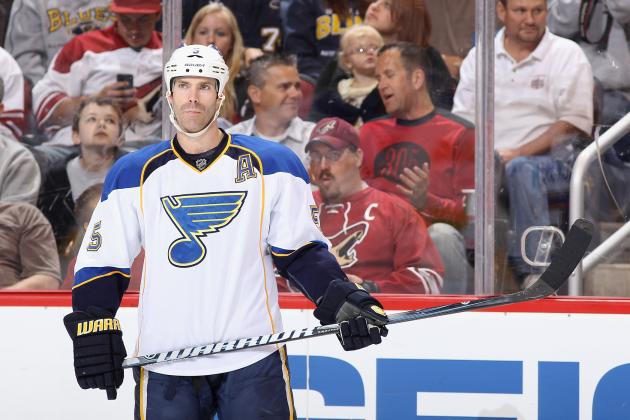 Christian Petersen/Getty Images

Gritty blueliner Barret Jackman is facing UFA status this summer after nine consecutive seasons in St. Louis.
The hardworking defenseman—who's never scored more than four goals in a season but has proven to be a tireless player in his own end—is coming off of one of his best seasons ever, posting an impressive plus-20 rating and leading the upstart Blues in blocked shots.
The 31-year-old could draw a nice contract on the open market, especially in the later days of July after the Ryan Suter and Matt Carle bidding wars end, but it sounds as if this lifetime Blues player isn't interested in testing free agency.
STLToday's Jeremy Rutherford writes that Jackman is willing to take a "hometown discount" to stay in St. Louis, and was told by Blues' GM Doug Armstrong that "[Jackman has] gained...respect through his play, his work ethic and his character. To think [that] that's not important to our organization would be a mistake."
Justin K. Aller/Getty Images

At age 35, over-the-hill defenseman Pavel Kubina won't be of much use to a rebuilding team.
The type of club he could help, however, is a consistent contender—such as the Chicago Blackhawks—with a major defensive dilemma.
The Hawks finished the regular season 22nd in overall goals-against, allowing an average of 2.82 per game, and then surrendered an average of 2.83 per game to the lowly Phoenix Coyotes offense in a lost six-game series.
Kubina is neither the blueline point producer—his three goals and 12 assists in '11-'12 were far cries from his career highs of 17 scores and 32 helpers—nor the defensive-zone brick wall he used to be, but 1,021 NHL games under his belt and talent still worthy of a second-pairing position, he could be a nice addition in Chicago.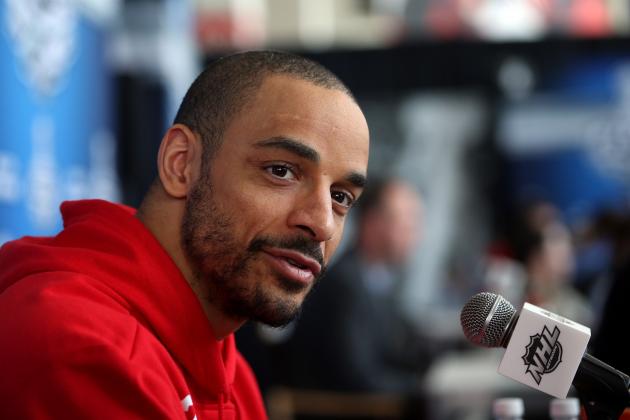 Bruce Bennett/Getty Images

Right now, he has other things on his mind.
But once the Stanley Cup Finals conclude and the hype surrounding free agency takes center stage, 36-year-old blueliner Bryce Salvador's remarkable postseason performance could earn him a big summer payday.
After failing to score a single goal in 82 regular season games for the Devils, Salvador has tallied three goals as well as eight assists and a whopping plus-10 rating in only 18 playoff appearances to date.
The Manitoba native, who's remained an unheralded bottom-pairing defenseman for 10 seasons with St. Louis and New Jersey, is at the end of a four-year, $11.6 million contract and, with his shocking explosion this spring, could draw moderate attention on the market.
Nonetheless, with over three years in Jersey under his belt and a newfound niche on the team, Salvador's most probable decision will be to re-sign with the Devils.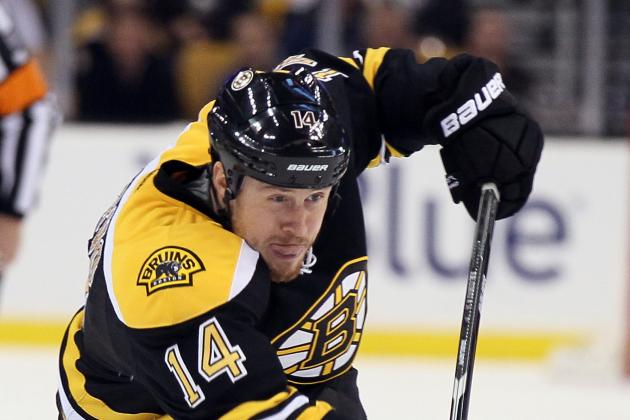 Elsa/Getty Images

Joe Corvo was brought into Boston last summer as an anticipated jump-starter of the Bruins' power play.
Now, after Boston's man-advantage unit proved pedestrian and Corvo's defensive abilities proved lacking, Corvo has fully worn out his welcome in Beantown.
Still, the 34-year-old rearguard, who experienced his best days with Carolina a few years back, will carry decent value on the free-agent market.
The Tampa Bay Lightning, coming off of a poor '11-'12 campaign doomed by the League's last-place defense and 25th-placed power play, could benefit from Corvo's services.
The 6'0", 204-pound blueliner has the potential to improve the Bolts' standing in both of those categories—after all, he did tally eight power-play goals, 89 blocked shots and 43 takeaways back in '08-'09—and would also bring nine years of NHL experience to Tampa Bay's young D.