Why a Long-Term Jered Weaver Injury Would Destroy Angels' Playoff Resurgence
May 29, 2012

Jeff Gross/Getty Images
The baseball gods are really testing the Los Angeles Angels' collective resolve this season.
First, the Angels had to deal with Albert Pujols' prolonged slump, which sucked the life out of their offense and was painful to watch from beginning to end. It also may or may not have cost hitting coach Mickey Hatcher his job.
The Pujols slump is over, but the Angels may be about to begin an entirely new nightmare. Ace pitcher Jered Weaver had to leave his start against the New York Yankees on Monday after throwing just 12 pitches, and the vibes concerning his status are not positive.
Officially, the Angels are calling Weaver's injury a mere "lower-back injury," according to a report from ESPNLosAngeles.com. They won't know more until they get the results back from some tests on Tuesday, as Weaver was scheduled to undergo an X-ray and an MRI.
UPDATE: Word started circulating on Tuesday evening that the Angels had placed Weaver on the 15-day DL with a lower-back strain and spasms, but Mike DiGiovanna of the Los Angeles Times has reported that the move isn't official yet. There has to be some sort of formality holding the transaction up.
UPDATE 2: The Angels made it official later on Tuesday night. Weaver is on the 15-day DL. They are unsure how long he'll be out.
Weaver looked like he was in serious pain after he tried to throw a warm-up pitch in the bottom of the first inning, and he apparently was in "considerable pain" several hours after leaving the game.
"I've never felt anything like that before. It felt like somebody stabbed me in the back," said Weaver.
The Angels should brace for the worst. We tend to think of arm and shoulder injuries being the worst-case scenarios for pitchers, but lower-back issues are no joke. Case in point, Boston Red Sox hurler Clay Buchholz missed a big chunk of the 2011 season with a lower-back injury, and he hasn't looked right at all so far in 2012.
Given the circumstances, it's worth asking a very simple question: What happens to the Angels if Weaver has to be put on the shelf for a long time?
Answer: Bad things.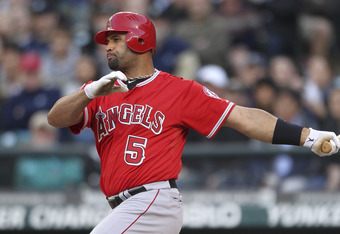 Otto Greule Jr/Getty Images
Losing Weaver for a prolonged amount of time would be even worse than the Pujols slump. That was bad, but it didn't cripple the Angels for the long haul. They knew his slump wouldn't last forever, and sure enough, they started winning once he started hitting.
If the Angels lose Weaver, they won't be able to just sit back and be patient. They'll have to figure out how to account for his absence, which will be much easier said than done.
It's true that Weaver only pitches every fifth day, but just think about what the Angels are getting when he takes the mound. There are only so many true No. 1 pitchers in Major League Baseball, and Weaver is one of them. Par for the course for him is seven innings of work and two runs or less. This season, he's only had one really bad start. The rest have been very good.
Weaver has taken the mound 11 times this season, and the Angels have won eight of those games. When he pitches, the Angels basically know that they're going to win that day.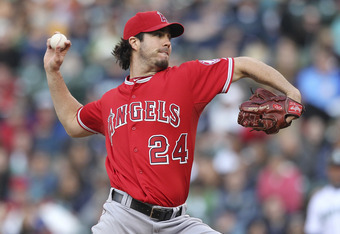 Otto Greule Jr/Getty Images
That sense of comfort will disappear if Weaver has to be put on the shelf for a while. The Angels have a solid rotation, but they don't have any other No. 1s beside Weaver.
C.J. Wilson has been good, but he's not an ace pitcher. Dan Haren used to be an ace pitcher, but he's been highly unpredictable this season. Ervin Santana has been a complete mystery. Jerome Williams is a great No. 5, but certainly not a No. 1.
The numbers do a pretty good job of shedding light on the reality of the situation. With Weaver and his 2.61 ERA, the Angels' rotation has a highly respectable 3.36 ERA. Take him out of the equation, and their rotation ERA jumps to 3.77. That puts them on the same level as the Houston Astros. Still good, but not elite.
It's not just the rotation that would miss Weaver. The Angels' bullpen can be an adventure, and it would have to pick up a lot of extra innings if Weaver was taken out of the picture. That's not ideal for anyone.
Would the Angels hit the skids completely without Weaver? Would they find themselves back in the cellar in the American League West?
I doubt it. They'd still have enough pitching to stay afloat, and their offense has really come around in the last couple of weeks.
The problem is that they'd have a hard time stringing wins together without Weaver, and that's something this team is going to need to do if it hopes to catch up to the Texas Rangers (who just signed Roy Oswalt, by the way). Heck, it's taken a seven-game winning streak for them just to get back to the .500 mark.
True, there is the second wild card, which the Angels can use as a Plan B if the Rangers open up a big lead in the division. But even a wild-card berth will be hard to secure this season. The AL East has five legitimate postseason contenders, and it's looking like the AL Central is going to have three legit postseason contenders this year. 
That means the Angels are going to be contending with potentially six other teams in the wild-card chase. And thanks in large part to their slow start, the Angels already have some ground to make up.
In all likelihood, it's going to take at least 90 wins to clinch a wild-card spot in the American League this year. From where the Angels are now, they'll have to play .580 baseball the rest of the way to get to 90 wins.
The Angels won't be playing .580 baseball if they lose Weaver for a significant amount of time. They'd need a lot of luck on their side, perhaps even a few miracles.
And based on what we've seen, the baseball gods are in no hurry to do the Angels any favors.
If you want to talk baseball and/or classic baseball books, hit me up on Twitter.