Michigan Football: What You Need to Know About Wolverines' WR Corps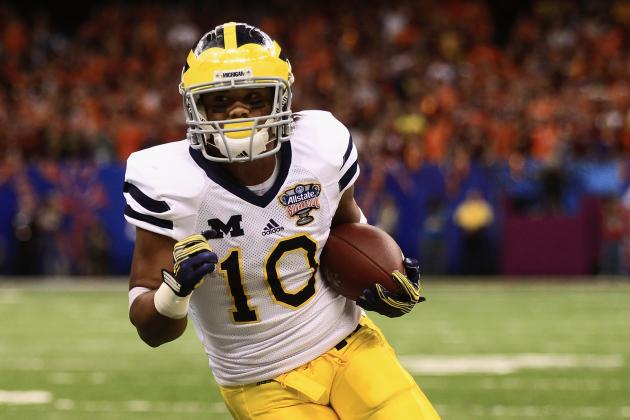 Matthew Stockman/Getty Images

Michigan's situation at wide receiver is arguably the most concerning area on the entire team.
Fans currently have more questions than answers—and that's obviously not a good thing.
Seeing as how it is such an important unit, this team will need to see at least one or two guys step up and contribute.
Here are five important facts about the receiving core, ranging both positive and negative.
Begin Slideshow

»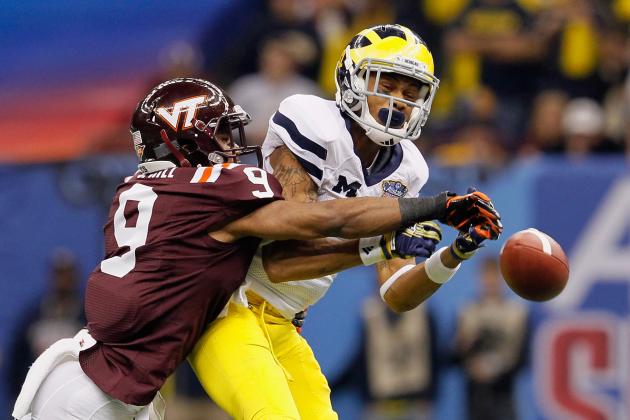 Kevin C. Cox/Getty Images

Well, this is the most important thing to know about the receiving unit, so I figured I'd mention it first. In fact, how well Roundtree plays could determine how well this receiving core is as a whole.
If he disappears like he did in 2011, this unit will probably struggle. However, we've seen his ability to take over the games, especially the way he did in 2010.
Now a senior, I think Roundtree will have a solid year. I don't think he'll put up 2010-like numbers again, but he doesn't have to.
He just needs to improve on his dismal 19-catch performance from last year.
touchthebanner.blogspot
Because of a lack of depth and talent, we'll see at least one freshman receiver play. Heck, it wouldn't be surprising at all to see two play.
Whether Amara Darboh or Jehu Chesson has the better chance of seeing the field is debatable, but regardless, one of them will.
Chesson's size makes him an intriguing option, but Darboh was rated much higher out of high school.
The debate on who will contribute more will likely carry on through all of fall practice.
detroit.sbnation.com
Jerald Robinson doesn't need to be the game changer that many people are hoping for (although it would help), but instead just a solid contributor.
He doesn't have a single career reception, yet many people think he has a chance of being the No. 1 receiver on the team this fall.
Robinson is the complete package at receiver, having size and speed, yet he just hasn't been able to put it all together quite yet.
Whether he will or not this fall remains to be seen. The receiving core is too thin for him to not contribute at all, though.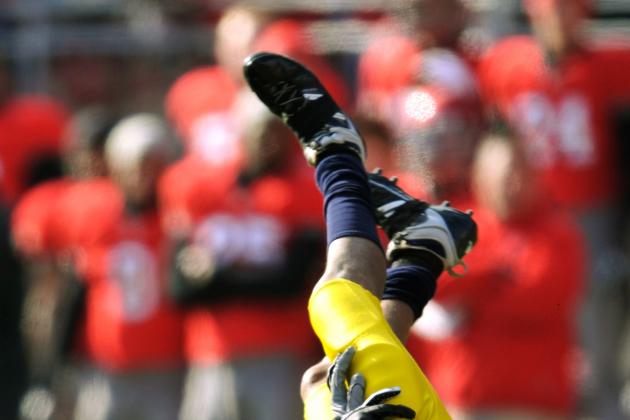 Jamie Sabau/Getty Images

An injury to either Roy Roundtree or Jeremy Gallon would be devastating.
This unit is just too thin to have someone get hurt and not miss a beat.
Who would step up if one of those two did get hurt? We've already talked about Jerald Robinson and how he doesn't even have a career reception.
Jeremy Jackson has been playing since his freshman year, yet has never contributed a whole lot. Drew Dileo will probably never be a guy that plays too big of a role.
The team probably shouldn't rely on either freshman to play a huge role.
This unit does not have the depth they need quite yet.
articles.chicagotribune.com
It won't be long before Michigan's receivers are looking like the Michigan receivers of old.
Both Jaron Dukes and Csont'e York stand 6'3" or taller, and have the absolute perfect body type.
People will say what they want about Laquon Treadwell, but Michigan has a better shot than anybody else of landing him.
Even if they strike out with Treadwell, Devon Allen and Sebastian Larue are both realistic options and both are highly rated.
Michigan's receiving core won't be lacking depth and talent for too much longer.