Manny Pacquiao: How Not Fighting Floyd Has Affected His Legacy
May 30, 2012

Stephen Dunn/Getty Images
Manny Pacquiao vs. Floyd Mayweather was once a dream, but it's slowly evolving into a nightmare that haunts Pacquiao's legacy. 
Spare the, "It damages Mayweather's just as much, idiot!" comments. 
It doesn't.
Dim the fluorescent blurs and flashing bulbs of Las Vegas and shine a different light onto the scenario.
Hypothetically, if a Gallup Poll surveyed the boxing community two-plus years ago when negotiations initially began, Pacquiao would undoubtedly win a popularity vote amongst the two. The outcome would have been more lopsided than Chris Farley and David Spade sharing a teeter-totter.
If an identical poll were released today?
At a glance, it would duplicate the same results, but the margin between the two fighters, however, would likely have narrowed.
The longer that Pacquiao vs. Mayweather remains in the realm of fantasy, the larger the nimbus cloud hovering over their heads will grow. The difference is that Floyd has propped open an umbrella over time, while Manny has been drenched in a torrential downpour of criticism as of late.  
When controversy begins to boil and the mainstream media takes turns in stirring the pot, it often places stress-induced boulders upon the victim's back. While the majority of people collapse under public pressure and resort to hiding in the shadows, the aforementioned boulders seem to roll off Mayweather's shoulders like Donkey Kong barrels. When adversity introduces itself to him, he embraces it as if he was staring at the familiar face of an old friend. 
In a weird sense, it adds to his credibility when playing his lead role as the heavily scrutinized villain. 
However, Pacquiao marches to the beat of a different drum. 
Whether in the context of his political, singing or boxing career, Manny wants to be portrayed in a positive light and liked by the people.
If Mayweather vs. Pacquiao would have come to fruition in 2009, the two faces of modern boxing may have been long retired by today. After climbing to the apex of a mountain, there's only one possible direction to proceed: downward. 
In all likelihood, the score would be settled, the financial ceiling would be tapped, and a drought would consume the pool of competition. Considering the obstacle course that still halts this bout, the odds of working a rematch rival those of Tim Tebow bodysurfing at a Marilyn Manson concert. 
Instead, the same grouping of boxers have rotated between Pacquiao and Mayweather in a two-year rinse, cycle, repeat process. 
Starting June 1, Floyd's jail sentence presents another road block that detours negotiations for an additional 90 days. He remains a technical surgeon in the ring symbolized by a flawless record. However, out-of-the-ring incidents still pierce his side with thorns as sharp as scalpels.
Meanwhile, Pacquiao has recently acquired his own set of wounds—some self-inflicted, others imposed by outsiders.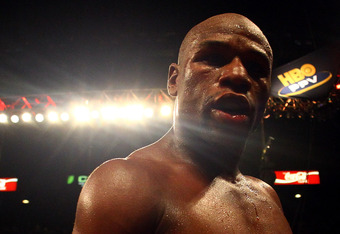 Al Bello/Getty Images
Over the span of the last few months alone, "Pacman" has been accused of bigotry and steroid usage (again), while also facing criticism for his lackluster performance against Juan Manuel Marquez. 
Bigotry accusations derived from an Examiner article that was headlined by a Pacquiao interview. The Filipino congressman claimed that he personally believes same-sex marriage is a sin. However, details then become blurred, a median separates two differing narratives and one party covers its tracks by rewriting history—literally. 
Over a three-day online debate, Pacquiao evolved from a despised zealot, to a sympathetic victim and finally morphed into an untrustworthy flip-flopper; it was discovered that the original article's wording had been meticulously edited to benefit Manny and discredit publications responsible for the uproar.  
Floyd Mayweather has also successfully associated the term "steroid" with Pacquiao's name, although his camp hasn't provided a shred of proof. 
Inside of the ropes, Manny's most recent bout against Marquez planted seeds of skepticism into the mind of spectators. He squeezed out a controversial win, but resembled an aging shell of himself at times.
Mayweather is still Mayweather: the cocky, unapologetic jester that continually strikes his opponents' nerves, but demands their respect. Floyd's narcissistic, trash-talking persona is unavoidable. He doesn't care whether fans worship the ground he struts on or pierce needles through the heart of his voodoo doll.
While the majority of fighters consciously avoid it, Mayweather—being his own promoter— understands that controversy sells. "Money" wants to be the distinguished black sheep of his peers, not another fraudulent role model that bites his tongue. 
However, just two years ago, Manny Pacquiao was a refreshingly humble and infinitely beloved icon that wooed onlookers with an arsenal of blurred combinations; he was respected and seemingly untouchable.
But repeatedly discovering the keys to success will unlock doors. Fame will continually inflate egos with hot air until the owner's head is in the clouds. 
The guarded Filipino of 2009—whose heavy-handed actions spoke volumes while his words barely registered—is a mere ghost strolling down memory lane. But, ironically, the Pacquiao of today is the one that's dangerously close to haunting his own legacy. The beginning of his story was captivating: an average Filipino kid whose bottled dream washed up along the western shores of America. 
But fast-forward to 2012, and the same bottle's overflowing with the flammable mixture of religion and politics; until he retires, Manny also has the attention of the sports media which can ignite a controversy with a single spark. It's as if Pacquiao's gripping the most lethal molotov cocktail ever constructed while his other hand's playing with fire. 
In 2009, a final fight with Floyd Mayweather could've punctuated an illustrious career with an exclamation mark. 
It would've solidified the legacy of an iconic boxer, whose signature compassion and dedication were only rivaled by a left hook sponsored by Aspirin. The media spotlight would dim, the door would close on his career and no room would be left for controversy. 
Adversely, Pacquiao has recently opened the door for criticism, thrown his choir-boy attire in the hamper and left the room of a Holiday Inn Express.