Manny Pacquiao: A History of His Relationship with Bob Arum
May 29, 2012

Al Bello/Getty Images
Few sports executives know how to draw the cameras like Bob Arum. His ability to draw hatred and ire along with those camera flashes rivals that of LeBron James, Bill Belichick and the New York Yankees.
Boxing's Don Corleone, Arum's client list reads like a who's who of boxing giants, from Muhammad Ali to Oscar De La Hoya. Blatantly corrupt as he is influential, boxing works for Bob Arum, not the other way around.
Whether it's his endless stable of high-profile fighters or tiffs with Dana White of the UFC, Arum always finds his way into the headlines.
Manny Pacquiao, a 10-time world champion in eight different weight classes, emerged as Arum's newest pet client after pummeling De La Hoya into an eighth-round TKO in 2008.
The Filipino sensation commands an uncanny combination of strength, quickness and technique and will face challenger Timothy Bradley, Jr. on June 9 in Las Vegas.
According to Colin Linneweber of Examiner.com, Arum distanced himself from his client when Pacquiao stirred up some controversy of his own after weighing in on the same-sex marriage debate in the United States. Pacquiao's commitment to the Catholic faith drew the conclusion from Arum that Pacquiao enters the June 9 bout a different man from his lackluster fight against Juan Manuel Marquez last November.
In the interval between Pacquiao's matchup with Bradley and his controversial victory over Marquez last November, fans briefly drank more "Pacquiao-Mayweather" Kool-Aid before steroid allegations disintegrated that fantasy.
When the San Francisco Chronicle's Tim Dahlberg asked Mayweather about Pacquiao, the man they call "Money" burst into a jingoistic tirade about economic protectionism, calling Arum a professional liar.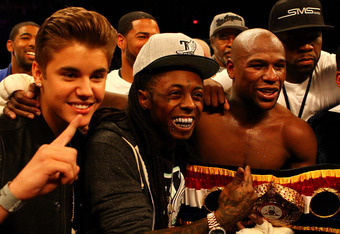 Al Bello/Getty Images
It is unknown as to whether Justin Bieber held up cue cards for Mayweather during the interview.
Arum and Pacquiao contrast strongly with one another. Though Arum's job is to influence popularity, Pacquiao enjoys near-universal approval while the promoter himself is controversial at best, loathed at worst.
That public affection comes with a cost, however.
Pacquiao's personal life, political career and boxing success have simultaneously led to financial prosperity and unparalleled scrutiny for the 33-year-old Filipino congressman and his family.
A simple Google search provides anyone in the world access to Pacquiao's religious beliefs, alleged marital problems and everything in between, a prospect to which the general public would likely hesitate to submit themselves.
Meanwhile, as he has for the past 30 years, Arum remains boxing's shadowy Godfather and enjoys far more search engine and public anonymity.
You can follow me on Twitter: @StepanekButton