Euro 2012: Yoann Gourcuff Left out of France's Final 23-Man Roster
May 29, 2012

Rene Girard, the manager of 2011-12 Ligue 1 champions Montpellier, made an excellent point on Tuesday morning when he told L'Equipe he was "surprised" that 25-year-old midfielder Yoann Gourcuff had not been selected to France manager Laurent Blanc's final roster of 23 players ahead of next month's European Championships. 
Blanc announced his the list, which had previously been 25, on Tuesday morning, the deadline for making final changes.
Gourcuff had been a controversial initial selection to the list of 26, having battled injury and struggling to find his form throughout the just-finished domestic campaign. He'd made just 13 league appearances and was not featured in France's decisive final qualifying fixtures back in October.
It was a perfect encapsulation of the difficulty he'd faced when, in Lyon's penultimate L1 match against Ajaccio, Gourcuff was sent off for an untoward tussle with defender Jean-Baptiste Pierazzi. That expulsion caused the Lyon No. 8 to miss Les Gones' final game of the season at a time when he needed games the most.
Gourcuff had hired a personal trainer, but when he started last Sunday against Iceland in the first of France's three friendlies ahead of the Euros, he looked a man shorn of both confidence and match fitness.
That razor-sharp technical acumen that once made Gourcuff the toast of French football was nonexistent, save for a couple well-whipped crosses sent into the penalty area from the right wing.
He looked a step slow and committed far too many fouls operating in holding midfield position behind Samir Nasri, who was granted more freedom to roam. When Gourcuff made way for Franck Ribery in the 75th minute, he left the Stade du Hainaut pitch to a dastardly chorus of boos.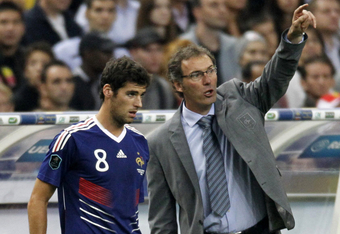 Girard, ever the astute tactician and not one to rush to conclusions, noted correctly that the criticism of Gourcuff, which was shared by the French media in its appraisals of the match, were hugely unjust to plaster Gourcuff as the main culprit for the indecisive 3-2 French victory (L'Equipe saddled him with an ignominious note of 3 out of a possible 10).
As Girard put it in his interview with L'Equipe, the entire French midfield—not one player operating in an unfamiliar position—was at fault for failing to play collectively.
Gourcuff is a man noted for flourishing when he has the confidence of his manager and is comfortable in his surroundings.
It will come as a severe shock, then, that the manager he played his best football for (Blanc was at the helm of Bordeaux when Gourcuff enjoyed his finest season to date, an '08-09 L1 campaign when the midfielder scored 12 goals and provided 11 assists while helping lead Les Girondins to the league and cup titles) has cut him adrift in so impersonal a manner.
Since Blanc had picked Gourcuff at all, Girard reasoned, it would have followed that he'd have taken him to the Euros. To grant a man in need of games and confidence just one chance to prove himself makes little sense—if any at all.
It was a half-measure—a dangling of the proverbial carrot—that could be far more damaging to Gourcuff's mindset than if he had never been selected to begin with.
Philippe Auclair, a French journalist who contributes to France Football and RMC, was left seething by Blanc's treatment of Gourcuff.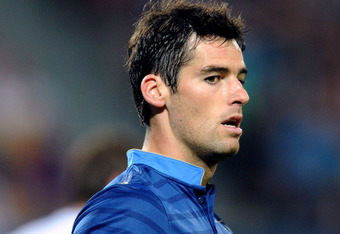 Tweeting following the announcement of the final list, Auclair's disapproval was thinly veiled.
"The more I think about Gourcuff's treatment by Blanc, the less I think I could tweet anything about it without using asterisks. Shocking."
Auclair continued his rant in his next tweet.
"Gourcuff: keep him out of the squad altogether, fine. Had a horrible season, needs to regroup elsewhere, everyone's in agreement..."
What irked Auclair the most was that no explanation was given by Blanc for the way he had handled (or mishandled) the whole situation.
As Girard put it, this is exactly the sort of psychological turmoil that can set a player back at the very time he needs to push forward following such a disappointing season.
Gourcuff could have played a role for France in the Euros, after all. Despite his limited and disappointing playing time last season, he still managed to rank seventh in the list of "key passers" in the Champions League (Gourcuff made five appearances for Lyon, and averaged 2.8 key passes a game).
Only one other player included in Blanc's list of 23 joined Gourcuff in the top 8—Franck Ribery, who also averaged 2.8 key passes a game.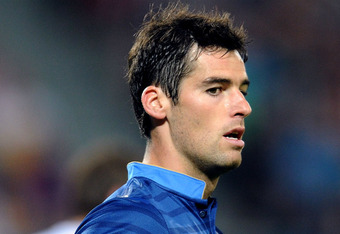 Nasri, who played in all six of Manchester City's group stage matches, and who is Gourcuff's most immediate rival for that creative midfield post in the 4-2-3-1 formation used by Les Bleus, was not even in that list of eight.
So now Gourcuff must deal with the same deception that Theo Walcott felt two years ago when Fabio Capello left him out of England's final World Cup roster ahead of the trip to South Africa.
He has people looking out for him, though, who are intent on helping him get back to his best. His father Christian, manager of L1 side FC Lorient, and Arsene Wenger have collaborated with Tiburce Darou, Yoann's personal trainer these past few weeks, on developing a schema to help the midfielder.
All three agreed that Gourcuff might best be described as a "roaming electron" on the pitch, a player who is at his best when he is allowed room to operate and bring others into the game with his passing and vision.
At this juncture, what he needs is a steady run of games at that position, and the full confidence of a manager who will commit to him for more than one game.
Considering how he was treated, maybe missing out on the Euros will end up being the best thing that ever happened to him.