Manny Pacquiao vs. Timothy Bradley: 3 Reasons This Fight Will Be Unforgettable
May 29, 2012

Stephen Dunn/Getty Images
Manny Pacquiao vs. Timothy Bradley isn't the vastly anticipated fight of fantasies, but three reasons assure that Manny's first unforgettable bout with a "Jr." won't include Floyd. 
On June 9th, a rising, undaunted shooting star will rest on cloud nine or enter a spiraling free fall.
The undefeated Timothy "Desert Storm" Bradley Jr. faces an opportunity to make a splash in a small pond primarily dominated by two massive fish.
No matter the outcome, there won't be more excitement about a ring until the next royal wedding. 
Brawl 'Til You Fall
This isn't a chess match; it's a match that will strike and ignite the MGM Grand when the first-round bell knells.   
Perhaps Bradley should get "M2" tattooed across his chest because he leaves a path of destruction akin to the military vehicle of the same name. The moment "Desert Storm" steps into the ring, he's ready to unleash an overwhelming onslaught of combinations.
If Pacquiao follows suit and rivals Bradley's intensity, heads will undoubtedly rattle like maracas.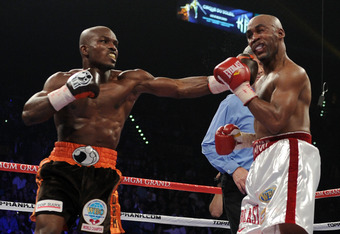 Harry How/Getty Images
Back to the Future
Due to MMA's increasing popularity and the never-ending story authored by Floyd Mayweather and Manny Pacquiao, boxing's bright future has been partially eclipsed.  
Let's begin with the obvious: It's not Manny Pacquiao vs. Floyd Mayweather.
Mayweather is a savvy marketing machine—a chameleon that adapts to his surroundings in order to optimize any potential gain. The controversial pay-per-view king embraces the role of "villain" with open arms, redlines his Maybach on the road to riches and eventually laughs his way to the bank. His relentless barking is only rivaled by his malicious bite.
Timothy Bradley Jr., on the other hand, is a scrappy junkyard rottweiler surrounded by an aura of ill intentions. He may not produce as much noise, but he beelines with pointed ears directly towards the hint of any threat.
Unlike many of today's top-selling boxing pay-per-views, Manny Pacquiao's upcoming fight won't be purchased for a storyline-driven clash of the titans. The usual B-grade Hollywood script is nonexistent.
The core of Pacquiao vs. Bradley is comprised of a single element: boxing—no scornful insults, deep-seated hatred or historically rich rivalry.
Just boxing.
To casual fans, the first mention of Timothy Bradley's name usually precedes, "Timothy who?" 
While Mayweather is a businessman, Bradley just gets down to business.
The native Californian embodies a hard-nosed, never-say-die will that Bradley acquired from a challenging upbringing. During an episode of HBO's critically acclaimed 24/7 series, Bradley depicts an atypical childhood highlighted by contempt and regret. 
His father, Timothy Ray Sr., attempted to steer his son away from the streets by demonstrating a totalitarian mindset, and he ruled over his son with an iron fist.
Bradley Jr. vividly recounts:  
We were working out at the garage one day, and we didn't have a medicine ball to toss around. And my dad goes into the desert and gets a rock...he gets a rock! 'Sit down, lay down. This [is] your medicine ball.' And he's trying to hit me with a rock on my stomach [laughs]. I couldn't believe it.
Bradley has the intangibles: intriguing personality, unbreakable will and disciplined work ethic.
But Bradley's physical skill set will dictate whether he evolves into boxing's next star—a feat that proved insurmountable for Victor Ortiz. 
Silence is Golden
The trilogy shared between Manny Pacquiao and Juan Manuel Marquez was blemished by controversy; the Filipino's image suffered the same fate. 
Although the boxing community initially argued about the questionable scoring that followed the last bell, the debate ultimately birthed a larger question: Are Manny Pacquiao's skills deteriorating?
Manny and skepticism rarely meet. Even in the rare occurrence that they do, it's normally outside of the ring, and Floyd is the smiling matchmaker. But Pacquiao's skills were never questioned. 
Did an underlying conspiracy secure public interest in the Pacquiao vs. Mayweather blockbuster? Was it just a case of honest judging? In all likelihood, both questions will remain in the air with an unlimited supply of helium. 
Excluding the aforementioned trilogy, Pacquiao's dominance was consistently illustrated in recent fights and punctuated by left hooks. Now it's punctuated by an ellipsis.
The upcoming battle with Bradley, however, offers "Pacman" the opportunity to erase the dots.