Mike Jenkins Trade Rumors: Latest Buzz Surrounding Disgruntled Cowboys Star
May 29, 2012
Ronald Martinez/Getty Images
The Dallas Cowboys are not going to trade Mike Jenkins.
According to Ian Rapoport of NFL Network:
Though teams such as the Indianapolis Colts have expressed interest, Cowboys sources have privately echoed what coach Jason Garrett said publicly last week: "We're not gonna trade him."
So not much has brewed for quite a while and despite the trade up in the draft to get Morris Claiborne, Jenkins can still be used for rotational and depth purposes.
The downside of this situation right now, though, is Jenkins missing from OTAs.
In an article by Clarence E. Hill Jr. of the Star-Telegram:
Cowboys cornerback Mike Jenkins will not be present for the organized team activities that begin Tuesday [May 22] and wants to be traded, a source said.

Jenkins has asked for a contract extension through is agent Drew Rosenhaus. He has done his rehab from shoulder surgery at his home in Florida, having avoided the team's off-season workouts at Valley Ranch.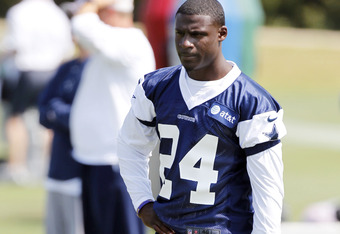 Layne Murdoch/Getty Images
After getting Claiborne and Brandon Carr this offseason, Jenkins' stance is not surprising. He'll definitely be fighting for a contributing role and there's less room for error since the NFL is so pass-heavy.
Last season, Jenkins played in 12 games but recorded only 24 tackles and defended just eight passes. That certainly was not his best year as Dallas ranked No. 23 against the pass and gave up 20-plus points in seven of its eight losses.
The lack of a pass defense cost Big D in 2011, and Jenkins was not as reliable with run support either. Getting Carr and Claiborne was the best move by the Cowboys as they created competition in the secondary.
Thearon W. Henderson/Getty Images
Now it appears that competition to make each other better isn't going to happen, at least with Jenkins refusing to show up at OTAs. And if this continues, don't expect much from Jenkins during training camp, because the rest of the defense will simply be further ahead.
A Pro Bowl selection in 2009, Jenkins defended 19 passes and made 49 tackles in only his second NFL season. As expected, he was not challenged as much in 2010 but failed to remain consistently dominant when on the field last year.
When all the smoke clears from this uneasy situation, someone has to give. Jenkins either plays out his contract in the hopes of something promising in the offseason or Dallas trades him after not appearing to offseason workouts.
Regardless of what happens, it's unfortunate because the Cowboys have postseason expectations for 2012, and Jenkins makes the pass and perimeter run defense exceptionally better.
John Rozum on Twitter.