NHL Free Agency: What Should Be on the Washington Capitals' Wish List?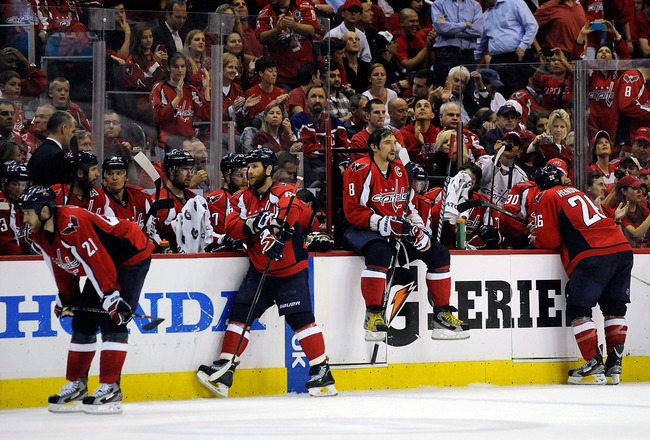 Patrick McDermott/Getty Images
The Washington Capitals' Clubhouse is without a head coach, as well as a big, shiny Stanley Cup to boast.
With Dale Hunter's exit, the Caps have a few big decisions to make heading into the offseason. The free agency is coming up on July 1, and Washington has six players who will no longer be bound by Capitals contracts.
The unexpected and whirlwind trip to the playoffs kept fans (and I'm sure players alike) holding their breath and crossing their fingers with every advancing game. The Capitals were booted out disappointingly early in the second round, but they have shown their ability to hold down the ice with strong defensive play.
As the Capitals' Clubhouse is filled with question marks, there are three things the Caps should be looking for in the 2012 NHL free agency.
1. Offensive Playmakers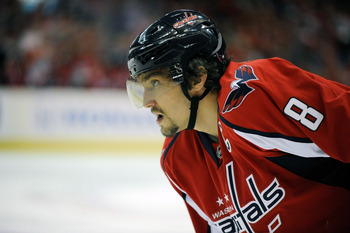 Greg Fiume/Getty Images
Throughout the regular season, the Capitals were back and forth in the team rankings, making it uncertain whether they would earn a playoff berth. And once they got to the playoffs, Dale Hunter stuck to what he knew best: defense.
Under the strict guidance of Hunter, the Capitals focused more on holding and frustrating the opposing offense and then the playmaking would follow along. But to be strong—and most importantly, to be certain playoff contenders next season—the Capitals need some help on offense.
Four out of the six players who will become unrestricted free agents are Capitals forwards. Of course, we all know and love franchise player, Alexander Ovechkin, or as he's so fondly called "Ovi". However, Hunter limited Ovechkin's time on the ice during the playoffs which left fans confused and begging for more "Eight the Great."
With a new coach, we can hope that Ovechkin gets more playing time. Throw in one or two more strong offensive additions, and Caps fans may get to see more pucks in the net and more reason to "Rock the Red."
2. Who to Keep?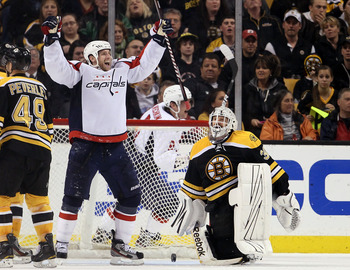 Elsa/Getty Images
The Capitals still have some good performance players in the lineup. Nicklas Backstrom, Jason Chimera and Brooks Laich will all be returning and could help build up more shots on goal and much quicker puck play.
And if the team is going to try and keep any player from the six unrestricted free agents, they need to make efforts towards keeping defenseman Dennis Wideman. With an already strong defense, yes, the Capitals should be focusing on a more effective offense.
But what if a player has both?
Wideman is an incredibly transitional player with the ability to hold back the opposing team, in addition to being a sizable threat on the attack. Wideman had an impressive 11 goals in the 2011-2012 regular season, highest of all the Capitals defensemen and just behind prized centers Nicklas Backstrom and Brooks Laich.
If Washington is looking for quick transitions and more cohesive players, they need to keep Wideman on the roster.
3. Young Bucks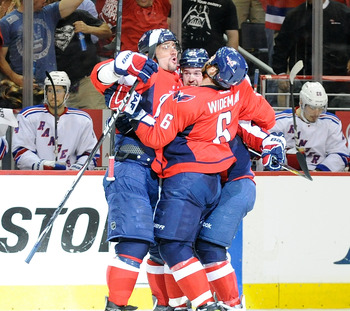 Greg Fiume/Getty Images
The Capitals maintain a fairly young roster with most players in their mid 20s. With the free agency coming up, Washington should be looking for more younger players. A new coach and new additions on the offensive line could help reshape the team into thinking, as well as playing more from an attack standpoint.
Most of the free agent players are in their mid to late 30s. Adding younger players to the team could bring fresh skills and more fire on the ice. Younger forwards would build a more dynamic team, with the brash and ruthless play of power players like Alexander Ovechkin and Mike Green.
There's Still Hope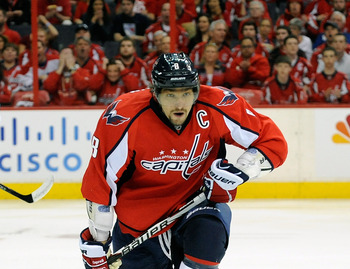 Greg Fiume/Getty Images
The summer offseason will determine a lot of Washington's future success after an inspiring run in the playoffs this year. I don't think fans are ready to throw in the towel just yet, and neither are the players.
Ovechkin is scrambling for hockey's Holy Grail and goaltender Braden Holtby is just getting started. This city has been mired in mediocre teams with disappointing seasons, but it's getting close.
With a few smart trades in free agency, I can almost see sweet victory up ahead...and it looks like the perfect shade of red.
Keep Reading

Washington Capitals: Like this team?