Detroit Red Wings: Potential Losses and Additions for the Summer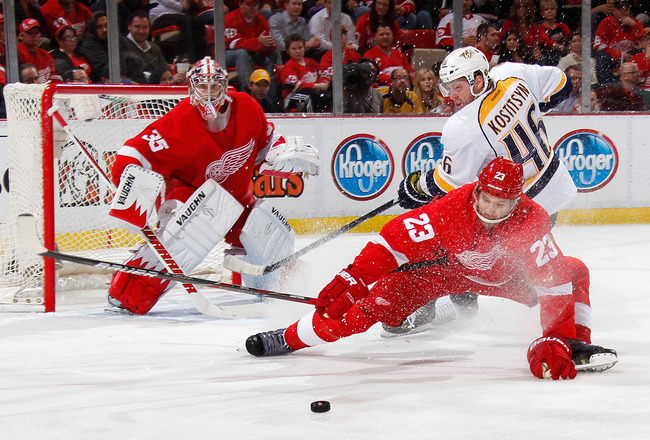 Gregory Shamus/Getty Images
With an earlier-than-hoped-for exit from the 2012 playoffs, the Red Wings are already looking for solutions to avoid a repeat next year.
They have a large amount of money to play with this summer, and it's likely that more positions will open up on the roster. With the extra money and more positions, the Wings are set to make some major moves in the free-agency market.
Let's look at some of the possible additions and losses that the Wings are facing this summer.
Brad Stuart: Loss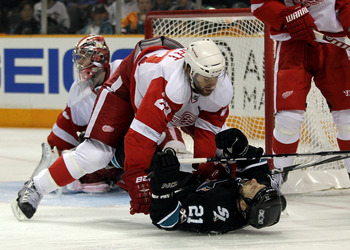 Ezra Shaw/Getty Images
Aside from the possibility of losing Nick Lidstrom, the Wings also face losing another key part of their blue line—Brad Stuart.
Having already made it known that he could not stand to be apart from his family for another year, Stuart is looking to return to the west coast and sign with one of the California teams, like the San Jose Sharks.
Since his family can't leave California, it would only make sense that Stuart sign with a California team in order to be closer to them.
If/when Stuart leaves, the Wings will get another $3.75 million to play around with.
With certain key players on the roster—such as Abdelkader and Helm—getting ready to become RFAs, the Wings can use this to re-sign them, as they will certainly earn a raise from last season.
Tomas Holmstrom: Loss
Gregory Shamus/Getty Images
After 15 seasons of providing that net-front presence to their offense, the Red Wings could have seen Tomas Holmstrom play his last game this spring.
He turned 39 back in January, and his body is already showing signs of age.
Who can blame him, though? The man has to use extra padding on his upper body and behind his legs because of the beating that he takes night in and night out in front of the net.
Holmstrom needs braces and regular injections of synthetic lubrication for each of his knees, and yet he still gets the job done at the top of the paint.
However, being 39 years old, his age is finally catching up to him.
Although no formal announcements have been made, do not be surprised if No. 96 decides to hang the skates up this summer and call it a career.
Jiri Hudler: Loss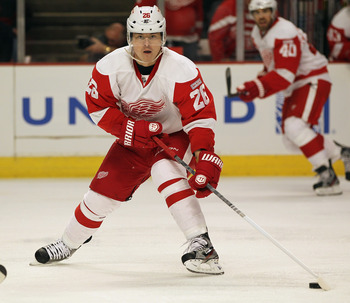 Jonathan Daniel/Getty Images
Measuring in at 5'10'' and weighing 186 pounds, Jiri Hudler makes up for in skill what he lacks in size.
Also set to become a free agent, Hudler may request a raise from the current $2.875 million that he received this 2011-2012 season, having completed one of his strongest seasons with 50 points in the form of 25 goals and 25 assists.
He also was one of, if not the biggest offensive player for the Red Wings in their short postseason run.
The Red Wings are already okay on forwards and are also considering bringing in a big-name forward from free agency.
With all this, the Wings could be ready to let Hudler test the free-agency market. Although Detroit is not necessarily known for bullying other teams around, they definitely wouldn't mind trying to add another Johan Franzen type player—a big guy with good hands.
It would not be at all surprising to see the Red Wings re-sign Hudler, but at the same time, it would not be surprising to see them let him go in order to free up some more room for the upcoming free-agency market.
Nicklas Lidstrom: Loss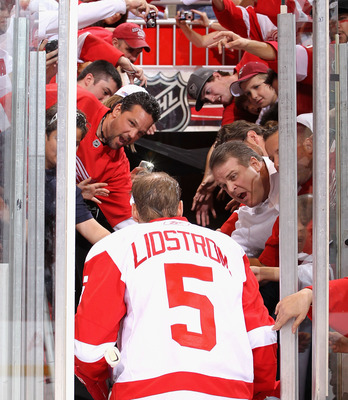 Christian Petersen/Getty Images
What can be said about this man that hasn't already been said a thousand times?
Seven-time Norris trophy winner, four-time Stanley Cup champion, Conn Smythe winner—the list goes on and on.
He has set the bar for up-and-coming defenders in his illustrious 20-year career with the Red Wings, but the 42-year-old captain may be ready to return home to Sweden.
Of course, most people still think the "perfect human being" has at least another good year or two in him, including coach Mike Babcock.
But with the Red Wings getting to play in their second Winter Classic this New Year's Day, and the good chance that Detroit adds some big names this summer, Lidstrom may be coerced into signing another one-year contract and giving that fifth Stanley Cup another shot.
We won't know for sure until later in June, though.
Zach Parise: Addition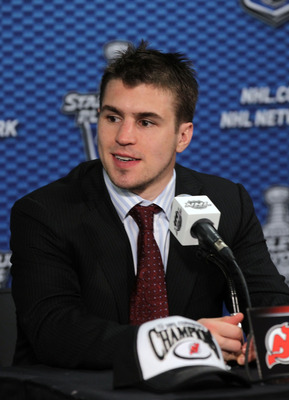 Bruce Bennett/Getty Images
His season isn't even over yet and things are already getting interesting for Zach Parise.
His father had said things that led some to believe maybe he would sign with his Eastern Conference Finals opposition next season, the New York Rangers.
Others are convinced that he could follow in his father's footsteps and start a career in Minnesota with the Wild. But the most recent rumors coming out now are that Parise may be looking at Hockeytown as a potential place to play next season.
The Wings could certainly fit the young left winger into their plans and definitely have the means to bring him to Detroit.
They will be able to offer him a high-paying, long-term contract and possibly even sign a friend of his, Ryan Suter, to the same kind of deal.
With the Devils making a deep playoff run, though, Parise may have to rethink leaving New Jersey, his captaincy, and his No. 9 behind (as he, like Mike Modano last season, would have to change that in honor of Gordie Howe).
Rumors of New Jersey's financial troubles may be enough to sway him to leave, but again, we won't know until July. Parise has already stated that he does not want to address any free-agency talk until after he is done with this season.
Ryan Suter: Addition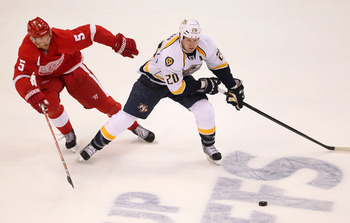 Gregory Shamus/Getty Images
The other part of Detroit's summer project: Ryan Suter.
There are two possible scenarios in which this situation could play out:
1. Nick Lidstrom decides to retire, so the Red Wings heavily pursue him in order to "replace" Lidstrom. Having lost Lidstrom and Stuart, the Wings will need to address defense as their primary concern for the summer and get it restocked for next season.
2. Nick Lidstrom signs another one-year deal to play with the Wings, and Suter is brought in to fill the void left by Stuart's departure while also adding his skills to a talented pool with names like Kronwall and White. He could also play mentor to the up-and-coming Brendan Smith and Jakub Kindl.
I believe that if the Wings can land Suter, that would be enough to convince Lidstrom to come back, so I see this scenario having a good possibility of becoming a reality.
Suter has already expressed that he wants to spend the rest of his career with whatever team he signs with, and Detroit is known for offering its players long-term contracts and trying to keep the majority of the team together.
Old teammate Zach Parise is also looking for something similar, and there is a decent chance that Suter and Parise could become a packaged deal looking for a new long-term home.
Alexander Semin: Addition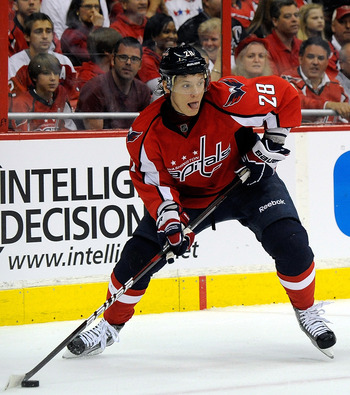 Patrick McDermott/Getty Images
In the event Zach Parise does not come to Detroit this summer, then here is plan B for the Red Wings: Alexander Semin.
Semin's agent has already stated his dissatisfaction with the direction that the Washington Capitals are moving in, so Semin is ready for a change of scenery.
There are plenty of upsides to Semin joining the Red Wings.
For one, Pavel Datsyuk wouldn't be the only Russian on the team anymore. Having played with Semin in this year's IIHF—in which the Russians took home the gold medal—Datsyuk already has some chemistry built up with him.
Another upside to bringing in Semin is that he is young, 28, and has broken the 30-goal plateau three times—one of those getting to 40. He has proven that he has the offensive ability to be a threat, so imagine what he could do on a line centered by Pavel Datsyuk.
Again, there will be plenty of teams after Semin's services for next year, but the Red Wings have to be a strong contender.
Jaromir Jagr: Addition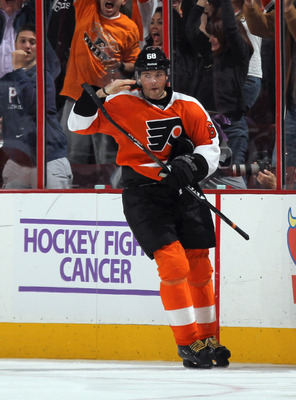 Bruce Bennett/Getty Images
Although this isn't likely, I wouldn't totally rule out the possibility of seeing Jaromir Jagr saluting the Detroit faithful come next fall.
His short time with the Flyers is already up, and Detroit was one of the teams trying to land his services last summer before he ultimately signed with Philadelphia.
Jagr could follow suit with some previous NHL superstars that came to Detroit near the end of their careers, such as Mike Modano, Brett Hull, Dominik Hasek, etc.
Philadelphia hasn't made up its mind if they want to attempt to re-sign Jagr, and he still has some hockey left in him.
Again, I would call it a long shot to see him donning the winged wheel for the 2012-2013 season, but stranger things have happened.
Keep Reading

Detroit Red Wings: Like this team?