USA vs. Brazil: Players Who Must Step Up for Team USA in Key Friendly
May 29, 2012
Gary Bogdon/Getty Images
The United States picked up a convincing victory over Scotland, but the challenge will be a lot tougher when the American squad goes up against Brazil on Wednesday night. It should be a terrific measuring stick match for Jurgen Klinsmann's improving side.
Let's take a look at three players who must have strong performances for Team USA to hang with one of the world's best teams. It's the biggest game left before World Cup qualifying begins early next month.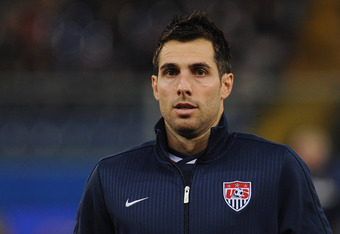 Valerio Pennicino/Getty Images
Carlos Bocanegra
The American back line still hasn't reached a point where fans can feel safe that it will be able to lock down an elite attack like Brazil's for the entire 90 minutes. There are still mental lapses, which make Bocanegra's job in the middle even more important.
Aside from being the captain, he's also the field general for the defenders. He needs to make sure everybody is on the same page or the dynamic Brazilians are going to tear them apart just like USA did against an unorganized Scotland defense.
That's harder than it sounds, considering the lack of international experience along the back line. Bocanegra has more pressure on his shoulders than any other player on the squad right now, so it will be interesting to see how he responds.
Landon Donovan
There was a lot of talking leading up to this set of games about Clint Dempsey taking over as the face of Team USA after a tremendous season with Fulham in the Premier League. But with Dempsey resting, Donovan showed he's not ready to relinquish that title quite yet.
He netted a hat trick against Scotland and also delivered several pinpoint passes to help set up other chances. When he's playing like that, any concerns about the team's ability to create offense go away in a heartbeat.
Donovan needs to maintain that form heading into Wednesday's game. It's unclear if Dempsey will join him in the lineup, but either way, Donovan should remain the focus of attack to let him build off his best showing in awhile.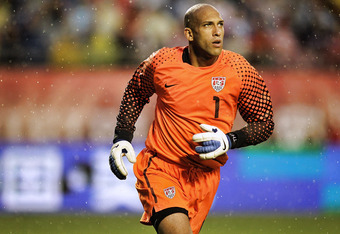 Marc Serota/Getty Images
While Klinsmann will have plenty of tough decisions to make over the next two years leading up to the World Cup, the one area he can feel safe is between the pipes. Howard continues to hold down the fort with remarkable consistency.
The only goal allowed against Scotland wasn't his fault, as it bounced in off defender Geoff Cameron and he was otherwise untested. That will change against Brazil, which scored three goals against a tough Denmark side in its last outing.
For Team USA to be successful, especially against elite competition, Howard will have to come up big at least a couple times per game. Brazil will create plenty of opportunities, and the way Howard responds will likely decide the outcome.