30 of the Most Adorable Pets in Sports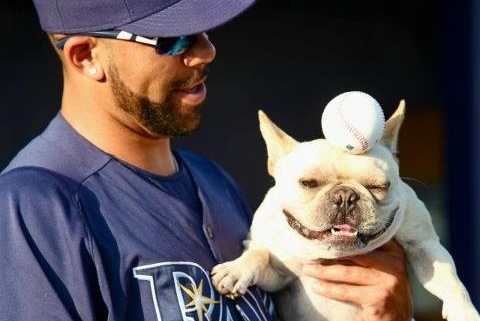 Image via @DAVIDprice14
We common folks don't have all that much in common with professional athletes. They're ridiculously rich, crazy famous and 10 times more talented than we could ever even imagine. They get the girls, the accolades and get invited to the sickest parties in the world.
But there's at least one thing that we all have in common. Dog-owning professional athletes, super cute cheerleaders, members of the sports media, and any Joe off the street all love to spoil their pets and brag (or complain) about them on various social media outlets—especially Twitter.
Let's take a look at 30 of the most adorable pets in sports. Oh, and by "pets" I mean "dogs," apparently we're the most obnoxiously public pet owners out there!
Begin Slideshow

»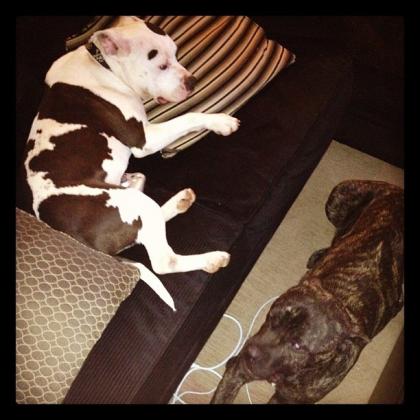 Image via @KDTrey5
Thunder superstar Kevin Durant comes home to these adorable faces each night. This photo is of Diego and Carpone, who look to be Pitbulls (or mixes), kicking back and relaxing on Thanksgiving in 2011.
Image via @John_Wall
This past NBA season wasn't exactly a memorable one for Wizards star John Wall—certainly not for anything good.
But at least he's got a couple of friendly faces to come home to! Well at least one of them looks friendly, the other looks a little bored.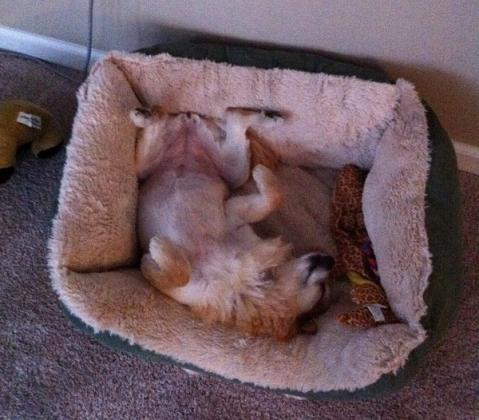 Image via @J_Ross_10
The Colts signed wide receiver Jeremy Ross to a reserve/future contract in February 2012. He was signed with the Patriots in 2011, but has packed up the dog bed and toys and moved a few time zones west recently.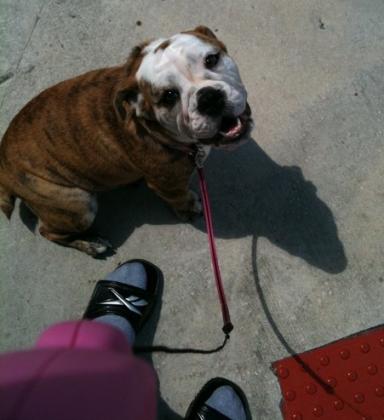 Image via @santonio10
Usually Jets wide receiver Santonio Holmes seems a bit on the unlikable side—at least to me. But it's amazing how much seeing him snuggle with his pet Bulldog, Bella, can change my mind.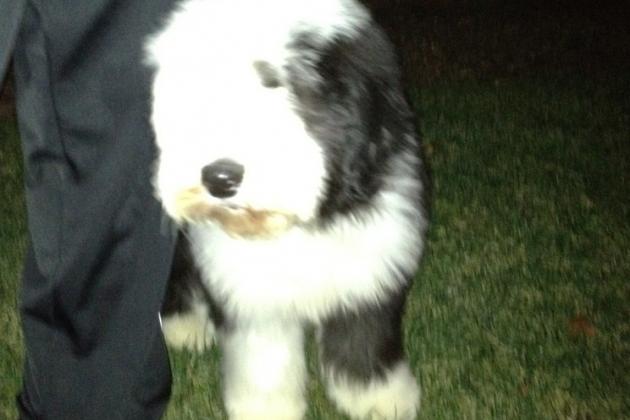 Image via @CC_Sabathia
Yankees pitcher C.C. Sabathia has got that whole domestic bliss thing happening in New York. He's got the wife, the kids and of course no family is complete without an awesome pet. The Sabathias adopted Raider in early 2012, he's an Old English Sheepdog.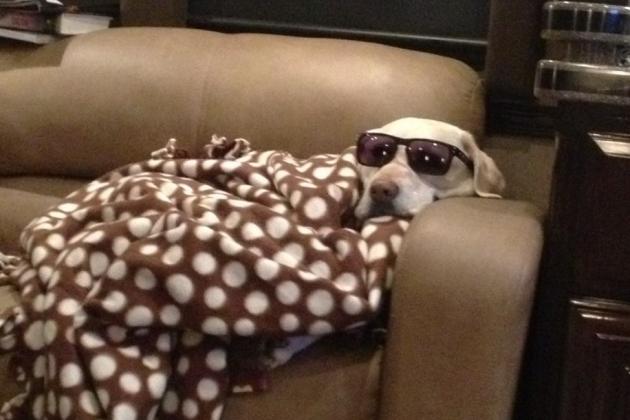 Image via @MartinTruexJr56
NASCAR's Martin Truex Jr. drives the NAPA Auto Parts Toyota for Michael Waltrip Racing. Lexi is his yellow Labrador and she obviously knows how to kick back and relax, and sometimes she wears a trucker cap.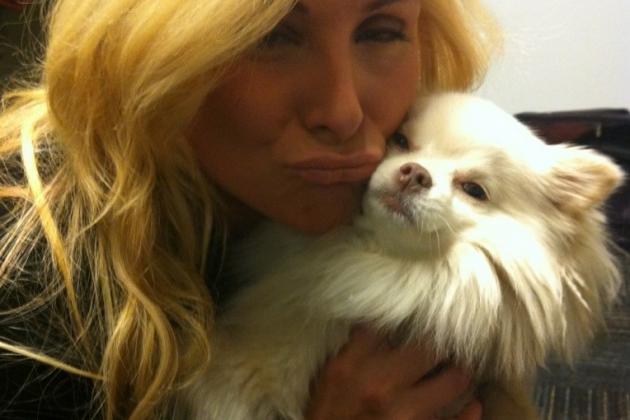 Image via @RealKellyKelly
Kelly Kelly is one of the WWE's sexiest Divas and, like many sexy girls, she's got a very teeny dog that accompanies her most places. I'm not sure what kind of dog that is—perhaps a Pomeranian and/or Chihuahua mix—but I know her name is Daisy!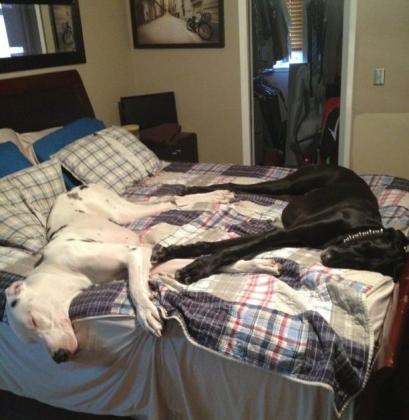 Image via @DALLASBRADEN209
Oakland A's pitcher Dallas Braden has two monstrously sized dogs. I'm sure the white one is a Great Dane, but not entirely sure about the other. The white one is definitely his favorite—he got him stylish tall boots for Christmas last year.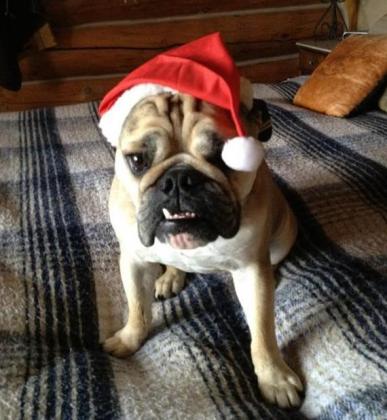 Image via @Dane_Fletcher
Patriots linebacker Dane Fletcher is a self-proclaimed ninja, besties with Rob Gronkowski and he straight up loves this dog. Looks like Frank still live at home with Dane's parents, but he and Frank live it up together over the holidays.
And by "live it up," naturally I mean "stand outside in the snow barefoot, wearing nothing but swim trunks, holding the dog."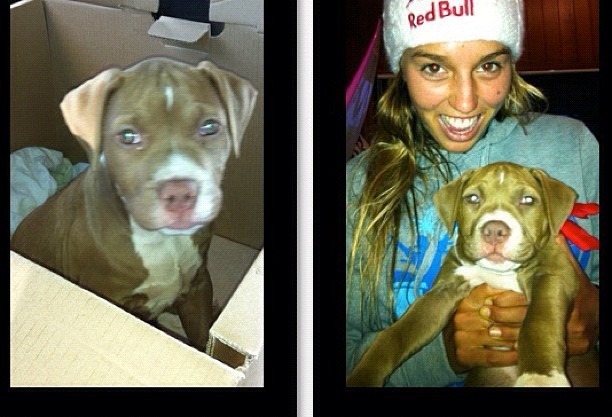 Image via @Sally_Fitz
This adorable little cherub doesn't belong to surfer Sally Fitzgibbons, but they're in the same family. Sally's brother adopted this Pitbull in May 2012, so I guess that makes her an aunt!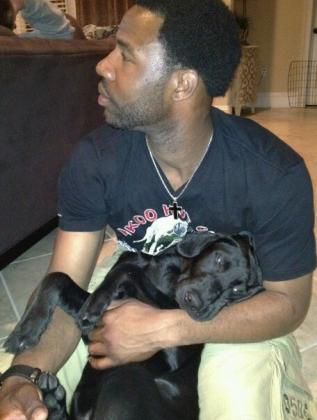 Image via @JasonHeyward
The Braves' Jason Heyward really loves this dog—his Twitter background photo is actually this very photo. I didn't catch the pup's name, but he looks to be a Lab mix that he adopted in late December 2011.
Considering most of his Twitter photos have been of the dog since then, I'm guessing these two hit it off right away.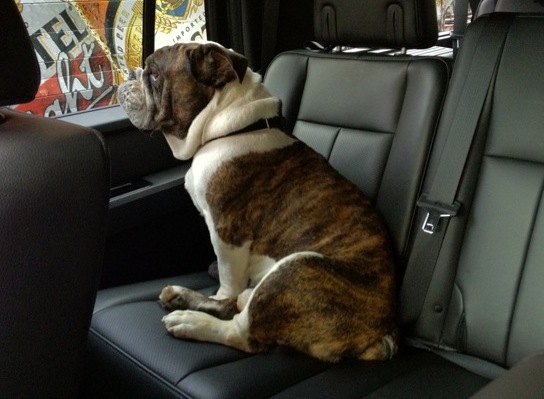 Image via @Amareisreal
Knicks star Amar'e Stoudemire had his dog flown in from Phoenix, no clue what he was doing there, to New York in March. But poor Spudd arrived sick as a dog with pneumonia—but he eventually recovered.
Spudd may have had pneumonia, but at least he was traveling to the vet by limo or chauffeured town car.
Image via @maryse0uellet
Former WWE Diva Maryse Ouellet's little Chihuahua looking dog, Flake, is hands-down one of the most spoiled dogs in sports.
She takes him absolutely everywhere with her and he's even got his very own wardrobe of formal attire for the red carpet.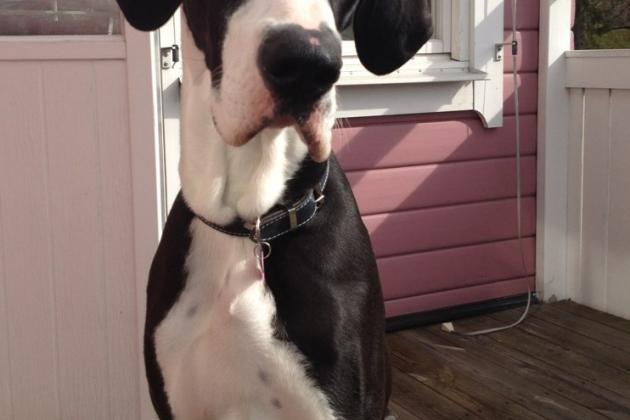 Image via @sarahsjo
Swedish Olympic swimmer Sarah Sjöström is a world record holder in the 100m butterfly. She's also got the record for the biggest dog I've ever seen!
But if you think that size stops her for holding that dog on her lap on public transportation, you're wrong.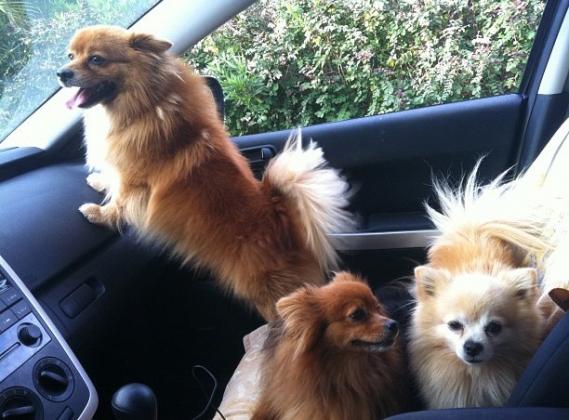 Image via @alanaRblanchard
Stunningly beautiful surfer Alana Blanchard is living the good life as a professional surfer and sometimes model in Hawaii. But she's not living that life alone—she's got her wolf pack to keep her company.
In Hawaii there are no actual wolves, so three ridiculously cute Pomeranians is considered close enough.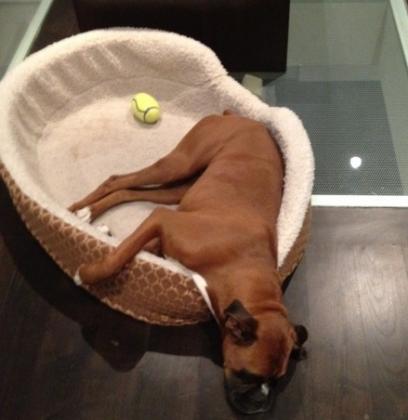 Image via @reggie_bush
After the most successful season of his career in 2011, we all know Dolphins running back Reggie Bush is bound for a major letdown this season.
Thankfully he'll still have his beautiful boxer Rocky in his corner, no matter what happens.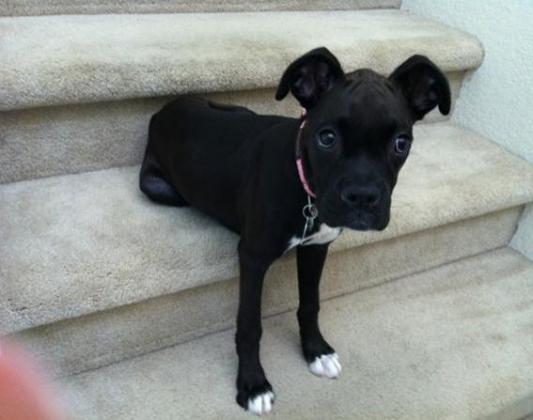 Image via @stevenash
Aging Suns point guard Steve Nash may or may not be back in the NBA next season. But if he's not, that's just means he has more time to hang with Charlie. I'm sure Charlie will approve.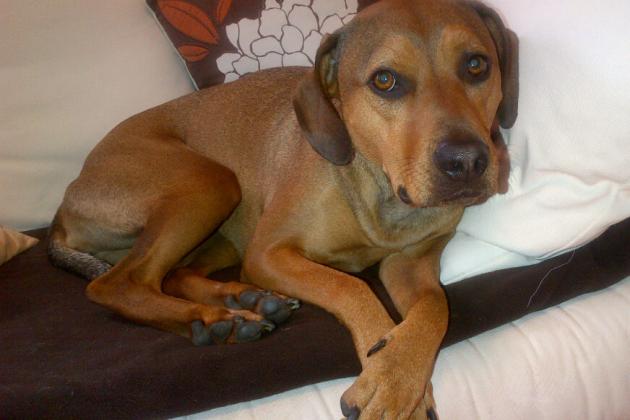 Image via @StaceyDales
NFL Network reporter Stacey Dales loves two things in the world: football and her dog Lucy. Dales entire Twitter gallery is pretty much a shrine to Lucy's existence. Which is why it's one of the most adorable galleries I've ever seen.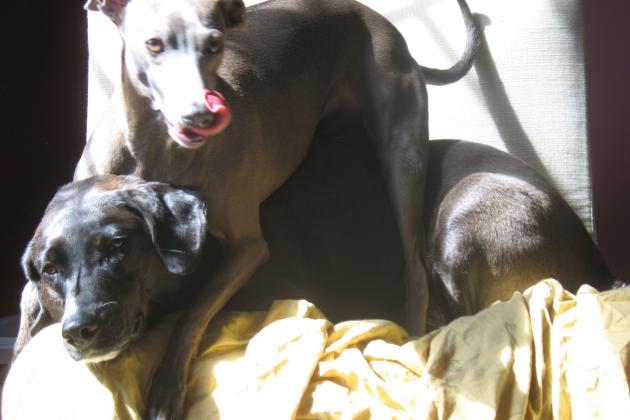 Image via @Blamberr
That's right! Those adorable little monsters are prized possessions of yours truly—Martini, the psychotic Italian Greyhound, is on the top and Coconut, the tormented Lab/Beagle mix, is the one looking miserable under him.
Actually, I have a third dog that I love equally (if not more!), but photographing all three of them together is like capturing Big Foot on film.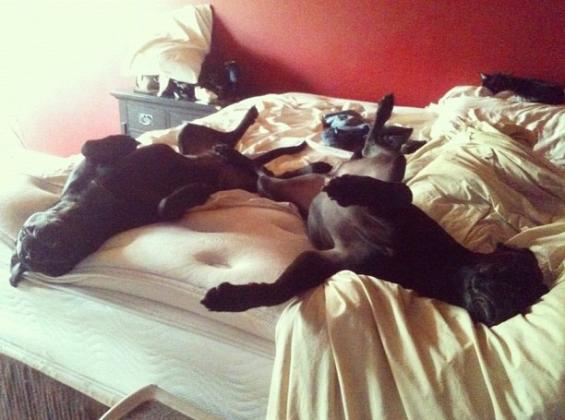 Image via @AFC_Sabrina
Veteran Falcons cheerleader Sabrina is an animal lover—as if you couldn't tell. She's got a couple of monstrously sized Pitbull mixes, Jax & JIll, who don't exactly live up to their tough guy reputations.
But these guys aren't her only roommates...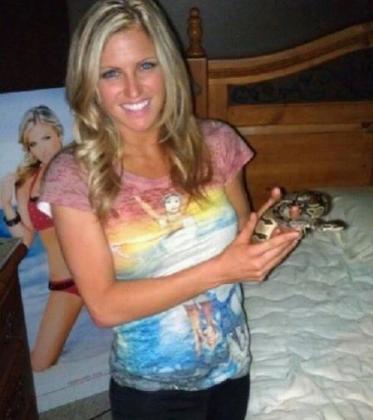 Image via @AFC_Sabrina
Ms. Sabrina also has a ball python named Monty—who happens to be an up-and-coming YouTube celebrity.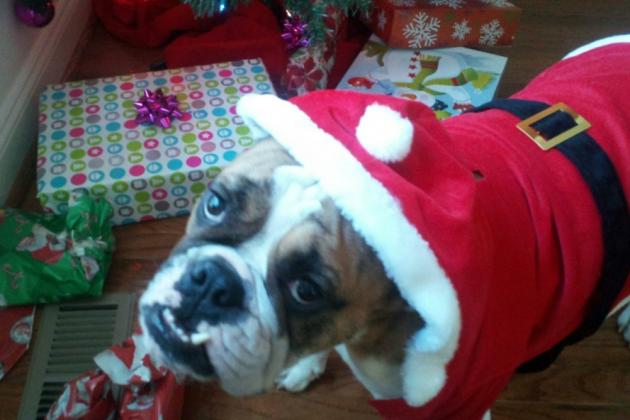 Image via @J4hvidbest
Lions running back, and all around good guy, Jahvid Best got this Bulldog for the family in July, 2010. He quickly became the most spoiled member of the family and had his own Santa costume and presents to open last Christmas.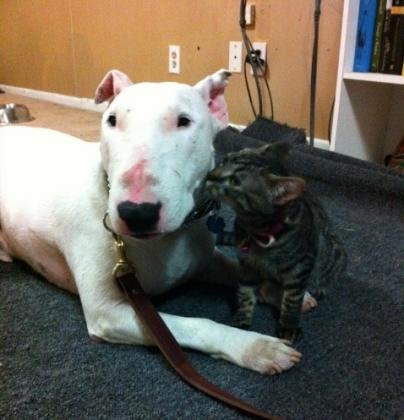 Image via @Evan3Longoria
Image via @MichelleDBeadle
ESPN's dearly departed Michelle Beadle may be ditching the world wide leader for NBC Sports, but at least there's one thing in her life that won't be changing.
Beadle's hell raising Pug, Leroy Jenkins, will be there to support her (or menace her) every step of the way.
Image via @RickyRo24
Blue Jays pitcher Ricky Romero seriously dotes on his one-year-old yellow Labrador, Ace.
I know that Ace is one year old because Romero had his first birthday party for him in May. And I know that he seriously dotes on Ace because he had a birthday party for him in May.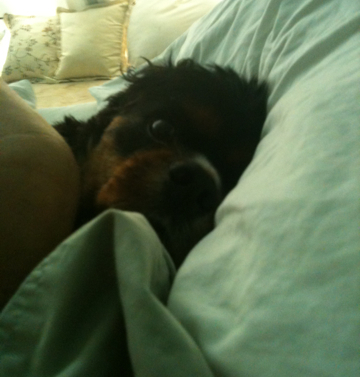 Image via @manbearwolf
Padres catcher John Baker's Twitter ID (@manbearwolf) suggests he identifies with the animals a bit, so it's no surprise he's got a dog.
Little Sammy actually looks like a little bear cub—but I have no idea what kind of dog he is…aside from adorable.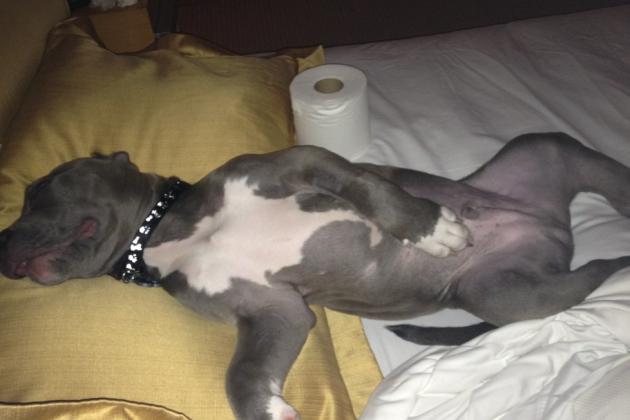 Image via @DwightHoward
Magic superstar Dwight Howard's Pitbull is actually my personal favorite, but I know the breed isn't for everyone. Howard adopted Zeus in September 2011, when he was quite possibly the most adorable puppy on earth.
Zeus has grown considerably and is still one good looking dog, but now he's officially the laziest dog on earth. It looks like he's got his own king size bed—but what's with the roll of toilet paper?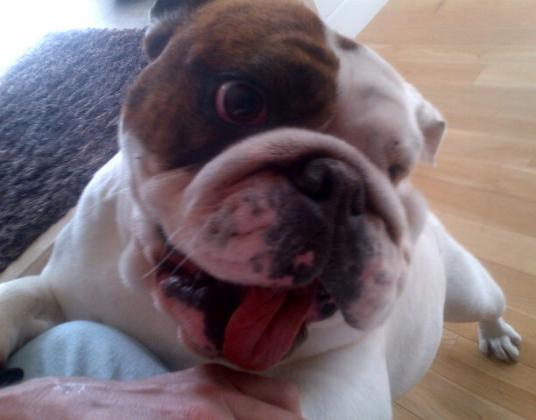 Image via @robdyrdek
Skateboarder Rob Dyrdek is one of countless athletes with a ridiculous looking Bulldog to call his own. This one was such a teeny tiny adorable little puppy, but you should see him now! He's increased in girth substantially in just a few months.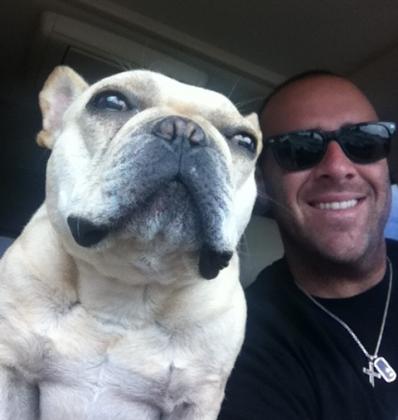 Image via @DAVIDprice14
The Rays' David Price has managed to out-cute teammate Evan Longoria's Bull Terrier with his French Bulldog. Seriously, this thing must be the biggest chick magnet ever.
His name is Astro and he's usually down to accompany Price pretty much anywhere—including the ballpark.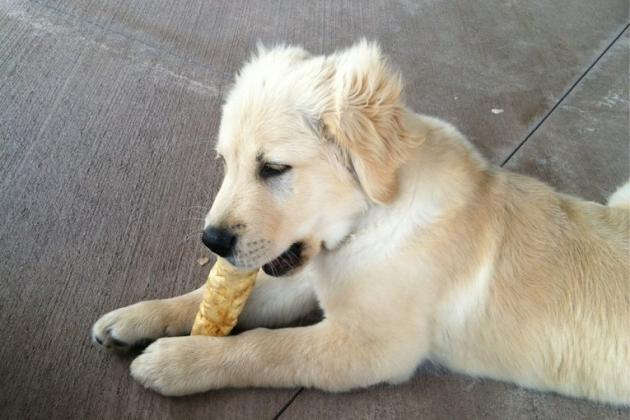 Image via @EricDecker87
Broncos wide receiver Eric Decker is likely poised for a breakout year, thanks to their acquisition of quarterback Peyton Manning.
Well, his Golden Retriever Jake will be able to say he knew him when—Decker adopted the pup in March 2011.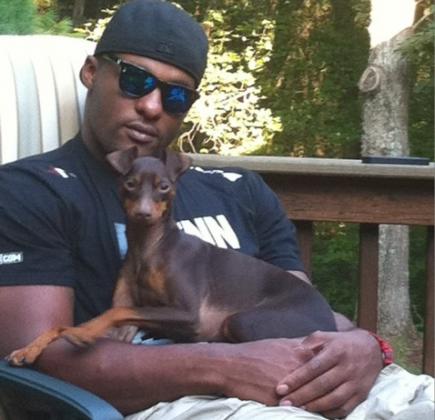 Image via @iambigbaby11
The Magic's Glen "Big Baby" Davis is definitely one of the funnier and more memorable personalities in the NBA—a league not short of personalities.
Big Baby's Miniature Pinscher (I think?) Deebo doesn't look like she's short on personality either. They love chilling out together and playing an evenly matched game of tug-o-war during the summer.