Fantasy Baseball: Where Does Aroldis Chapman Rank in Top 10 Fantasy Closers?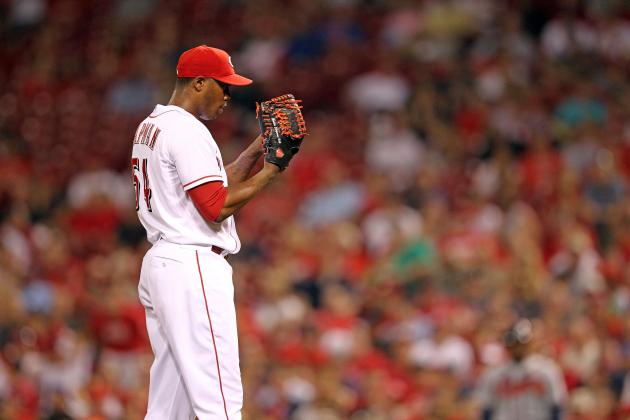 Andy Lyons/Getty Images

As the 2010 season began, Aroldis Chapman was in AAA Louisville trying to work his way up into the rotation of the Cincinnati Reds. After a strong season by the rotation, the Reds converted him into a reliever and brought him up to the majors. He served as a reliable lefty out of the bullpen and helped the Reds make the postseason.
In 2011, he was still a member of the bullpen but had trouble controlling his fastball. After time on the DL and taking speed off of his fastball, he quickly returned to dominance.
After an offseason of moves by the Reds, Chapman's role was unclear. Cincinnati fans were pleading for manager Dusty Baker to give Chapman a spot in the rotation. After an injury to Ryan Madson and the occasional struggle by Sean Marshall, Chapman finally got a chance to move into the closer role.
With his control problems figured out, where does Aroldis Chapman rank among the best relievers in baseball? (Stats as of Monday, 5/28)
Begin Slideshow

»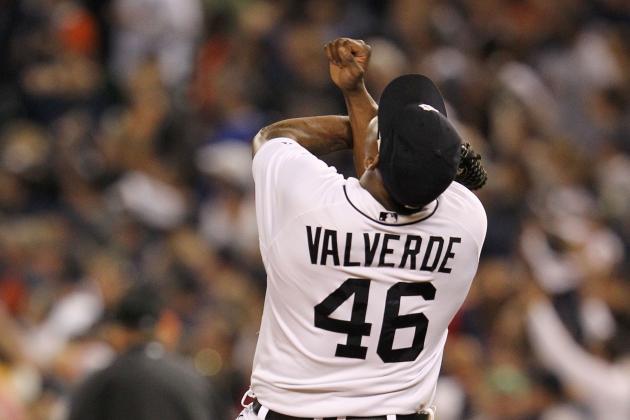 Leon Halip/Getty Images

19.1 IP, 2-1, 9 saves, 4.66 ERA,17 K/13 BB, .257 BAA (batting average against), 1.66 WHIP (walks plus hits per inning pitched)
When he went 49 for 49 in save opportunities in 2011, the Tigers knew it would be tough for Valverde to repeat.
Valverde went from being an elite closer last season to an average closer this season. His numbers have dropped off in 2012.
Strikeouts got him out of jams last year, but his strikeouts per nine innings have continued to decline throughout his career. Valverde is not fooling as many hitters anymore, and batters are starting to get more hits off of him.
Two blown saves do not have the Tigers worried about Valverde. They are more worried about their starting rotation. If the rotation improves, he will have more chances to put up better numbers.
Valverde is one of the few elite relief pitchers from a year ago to have a drop-off this season.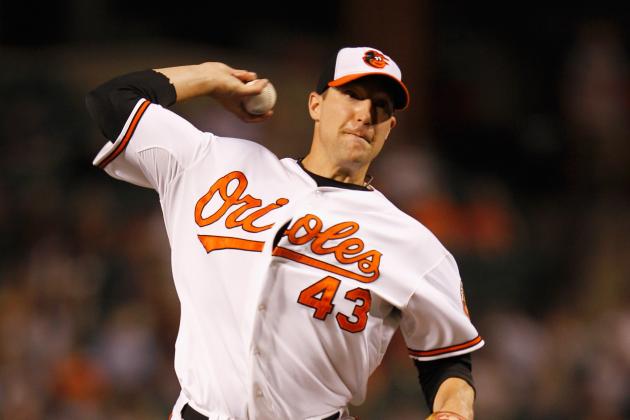 Rob Carr/Getty Images

21.1 IP, 0-0, 16 saves, 0.84 ERA, 14 K/4 BB, .173 BAA, 0.80 WHIP
The surprise team of this young season has one of the surprise pitchers in the league.
Jim Johnson, one save behind Perez for the league lead in saves, has not blown a save yet this season while pitching in the AL East. Just like Perez and Rodney, his numbers are drastically better than last season.
Johnson has been a solid pitcher for Orioles throughout his career, but he is now in the middle of having a breakout season. He does not have overpowering stuff, but he does not walk many batters.
The Orioles' closer will look to keep up his pace and prove he is for real. The Orioles need to continue to surprise everyone for Johnson to get his opportunity to come through down the stretch for his team.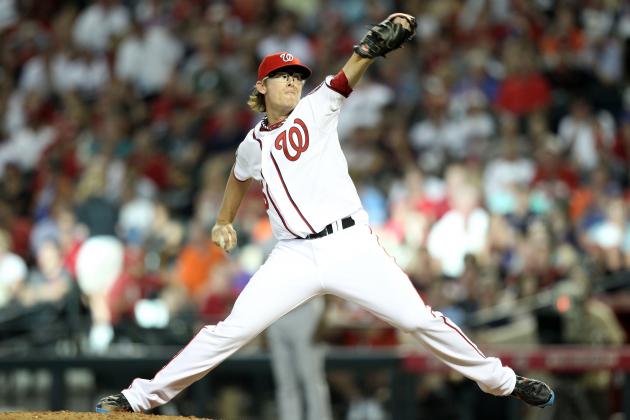 Christian Petersen/Getty Images

21.2 IP, 1-2, 2.91 ERA, 3 saves, 27 K/9 BB, .177 BAA, 1.06 WHIP
In the American League, the Orioles are the surprise team. In the National League, the Nationals have arrived earlier than many expected.
Their young pitching staff has been the best in the National League.They have suffered injuries at closer and dealt with the inefficient Henry Rodriguez in the role. It may be time for Tyler Clippard to get his shot at being the closer.
The winning pitcher in the All-Star game a season ago has recorded three saves in the past week since being named the Nationals' closer.
Clippard has a fastball, cutter, changeup, and curveball at his disposal. His strikeouts per nine innings have increased steadily throughout his career. The Nationals will need Clippard to be their closer to stay in the competitive NL East race.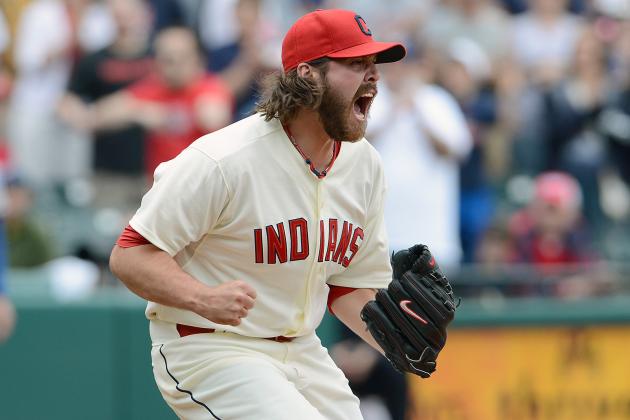 Jason Miller/Getty Images

20.1 IP, 0-1, 17 saves, 2.66 ERA, 20 K/7 BB, .189 BAA, 1.03 WHIP
Outspoken Cleveland Indians closer Chris Perez has been one of the best closers in all of baseball this season. He has not blown a save since the first game of the season. Even after being named to the American League All-Star team in 2011, his numbers have continued to improve this season.
Perez may allow the opponents to put runners on base, but he gets the job done. In 20 appearances since his lone blown save, he has allowed a total of three runs. His strikeouts per nine innings have also improved from last season.
He has been a spark plug for the Indians this season and serves as their emotional leader. His antics may not go over well with opposing players, but Cleveland fans admire his passion.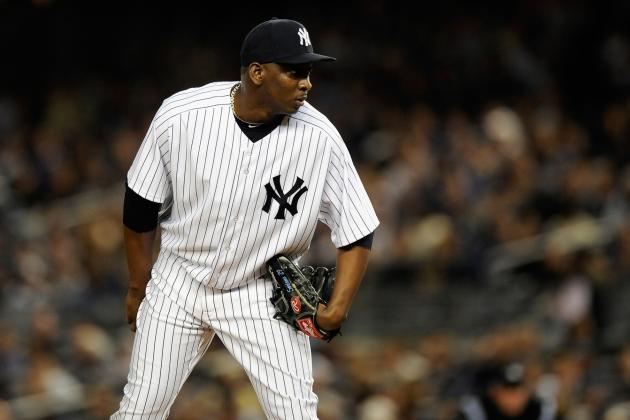 Patrick McDermott/Getty Images

17.1 IP, 2-0, 2.08 ERA, 5 saves, 18 K/8 BB, .257 BAA, 1.50 WHIP
The New York Yankees have relied on one person, Mariano Rivera, since 1997. When he tore his ACL shagging fly balls during batting practice this season, the Yankees were forced to hand the job over to David Robertson. Shortly after being named the new closer, Robertson went down with an injury.
Rafael Soriano, their third option, took over as closer for the foreseeable future.
After being the closer in Tampa Bay, Soriano signed with the Yankees before last season to be their set-up man.
The Yankees are hoping that Soriano stays healthy and serves as an effective closer. He mainly relies on his fastball and slider. He has big shoes to fill but this has not been a problem so far.
If his numbers are similar to what he posted as the Rays' closer in 2010, the Yankees will not have to worry about their closer.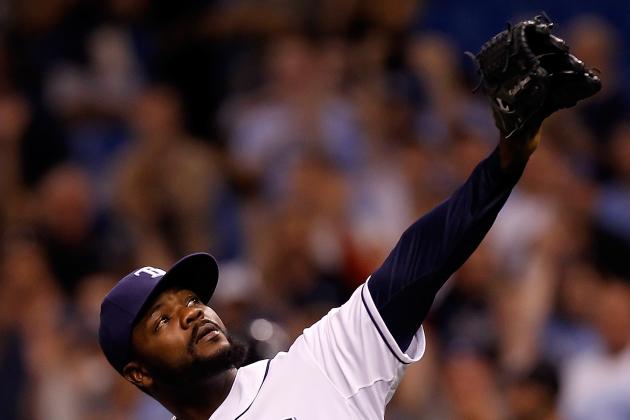 J. Meric/Getty Images

25 IP, 2-1, 16 saves, 1.08 ERA, 24 K/4 BB, .170 BAA, 0.76 WHIP
Fernando Rodney struggled in his time with the Angels the past two seasons and asked to be traded. He signed with the Tampa Bay Rays in the offseason and took over as closer when Kyle Farnsworth went out with an injury.
In nine previous big league seasons, Rodney has never finished a season with an ERA under 2.86. As of Monday, his ERA was slightly above 1.00. His numbers have improved dramatically from last season after moving to the AL East. The Rays' closer has an incredible strikeout-to-walk ratio to complement his excellent ERA.
Rodney is near the top of league lead in saves, and it took him until this past weekend to blow a save opportunity. Assuming the Rays stay in playoff contention the entire season, they will need Rodney to continue to perform at a high level.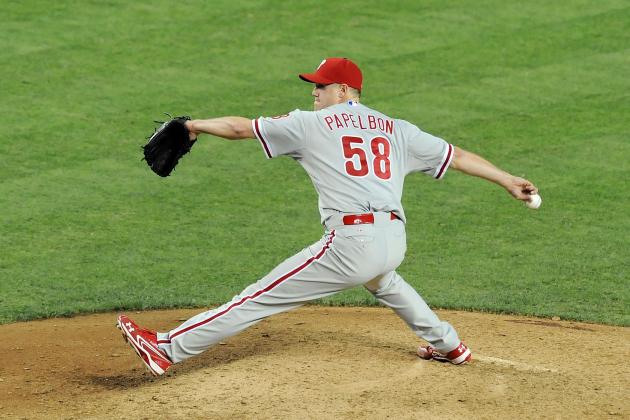 Norm Hall/Getty Images

20.1 IP, 0-1, 14 saves, 2.21 ERA, 24 K/4 BB, .200 BAA, 0.89 WHIP
Jonathan Papelbon left Boston after losing the final game of the regular season against the Orioles. When the Ryan Madson signing fell through, Papelbon packed his bags and signed with the Phillies.
As of now, the Phillies have no problems with his performance. He has yet to blow a save as a member of the Phillies.
Papelbon's strikeouts are down this year, but he still has a great strikeout-to-walk ratio. Throughout his career, he has done a good job of avoiding walks.
If he continues to throw strikes, he will be hard to hit. Batters are hitting .200 against him this season. He does not have the extreme pressure of pitching in Boston, and has not given Phillies fans a reason to doubt him.
Ezra Shaw/Getty Images

24 IP, 1-1, 0.75 ERA, 0 saves, 21 K/14 BB, .080 BAA, 0.83 WHIP
When the A's traded Trevor Cahill and Craig Breslow to Arizona in the offseason, they could not have dreamed of Ryan Cook pitching the way he has so far in 2012.
His 21 appearances to start the season without allowing a run has allowed the A's to test him out as a closer. It is unclear whether or not he will be the closer for the rest of the season, but his numbers are outstanding.
Cook did not allow a single run until Memorial Day when he allowed two runs against the Twins and took the loss in his first save opportunity of the season. His strikeout-to-walk ratio is not as impressive as the other pitchers on the list, but he has been arguably the second best reliever in baseball outside of Chapman.
With a fastball, slider, and splitter, Cook keeps hitters guessing. If he keeps up his current pace, he may make the AL All-Star team as a rookie.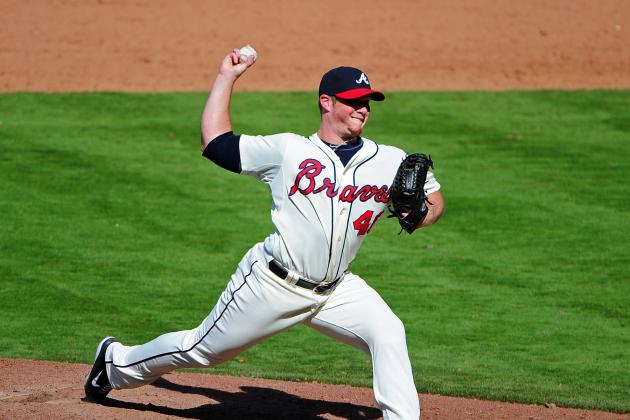 Scott Cunningham/Getty Images

17 IP, 0-0, 13 saves, 2.12 ERA, 26 K/10 BB, .167 BAA, 1.18 WHIP
Last year's National League Rookie of the Year has moved on from his blown save on the final day of the regular season.
Craig Kimbrel was used with great frequency through the first month and a half of the season. The Braves have hit a small slump recently, and Kimbrel has not had a save opportunity in over a week.
The time off should help Kimbrel as the season progresses. Last September, Kimbrel was shaky as the Braves saw their playoff hopes slip away. If the Braves don't overuse him, his numbers will continue to be good.
Unlike some of the other closers on this list, Kimbrel uses a curveball to complement a 97 mph fastball. His ability to change speeds from his fastball to breaking ball makes him comparable to Chapman.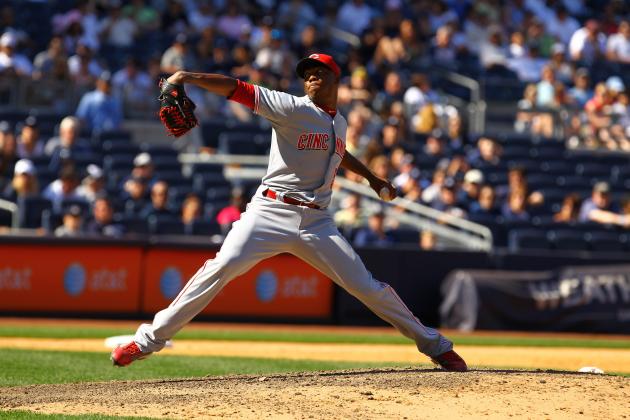 Al Bello/Getty Images

26 IP, 4-0, 3 saves, 0.00 ERA, 44 K/8 BB, .081 BAA (7 hits), 0.58 WHIP
Chapman's numbers are insanely dominant, allowing just one unearned run in 26 innings pitched. His fastball now ranges from 96 mph to 100 mph on a nightly basis. He throws an 88 mph slider that is virtually unhittable, especially for lefties. Lately, he has used his fastball more and just overpowered hitters.
The Reds have the best bullpen in the National League thanks to Logan Ondrusek, Marshall, and Chapman. If the Reds have a lead after six innings, it's nearly impossible to start a rally against their bullpen.
Chapman is exactly where he needs to be. The Reds don't need him to be a starter, but they need him to continue to be a shutdown closer. When he enters a game, the fans at Great American Ball Park go wild. With an overwhelming fastball and devastating slider, Chapman has found a role that is perfect for him.
There is not a relief pitcher in the league that has stuff as nasty as Chapman. So far, no other pitcher has been able to match Chapman's stats.