Eden Hazard to Chelsea: Deal Affects Outlook of Spurs' Summer Transfer Window
May 29, 2012

Claudio Villa/Getty Images
When Chelsea won the Champions League a week and a half ago, in the process knocking Tottenham out of the elite European competition for next season, a few things quickly became clear.
Among those, it was obvious that Spurs, unable to satisfy their high aspirations, were going to have great difficulty drawing transfers that they had targeted earlier in the season and that they were going to have a very hard time hanging onto their own high-priced superstars.
Thus, it was mere moments after Drogba's final penalty bulged Manuel Neuer's net that Tottenham and their supporters kissed goodbye to any chance (however slim it may have been to begin with) they had to sign Lille wunderkind Eden Hazard.
Hence, on Monday, when Hazard made his proclamation that he would be joining the Champions League victors at Stamford Bridge next season, Spurs supporters did not blink an eye.
However, this move has a few indirect impacts on Tottenham's standing in the summer transfer window.
For one thing, Hazard's signing with Chelsea further clarifies the inability Spurs will have to replace Gareth Bale if they let the Welshman leave White Hart Lane.
Bale has hinted at a Tottenham exit for months now, and the loss of the promise of Champions League football could easily tip the scales toward his desire to leave.
If Bale were to leave, Hazard is one of the few people in the world who would almost be able to replace the winger and the promise of his bright future.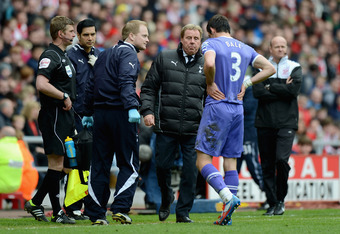 Gareth Copley/Getty Images
Without that fall-back plan, Spurs will surely be forced into a position of fighting to hold on to their prized commodity in much the same way that they fought to hold on to Luka Modric last summer.
Also, Hazard's signing with Chelsea may take the Blues out of the race for Luka Modric.
Last season, Modric was clear about his desire to go to Stamford Bridge, and Chelsea reciprocated with handsome offers for the creative midfielder.
Now, Chelsea's signing of Hazard (5'8'') gives them two small starting midfielders along with Juan Mata (5'7''); adding Modric (5'8") to this group may not be the sort of balance Chelsea desire.
Further, with the large amount of money Chelsea is surely spending on Hazard, the Blues may be put off by the huge asking price Spurs have in mind for their Croatian playmaker.
On the other hand, with so much money at their disposal, Chelsea could just break the bank and try to make it work.
Also, even if this pushes Chelsea out of the race for Modric, it won't necessarily be salvation for Tottenham to keep their Croatian.
After all, Chelsea are not the only suitor for Modric, as Manchester United have openly sought his services.
Hazard's deal may have a couple of indirect effects on Tottenham's summer, but the main goal of their season should not be one of those things changed.
Spurs must seek the best possible players that they can possibly sign in order to capitalize on the fantastic start they had in this previous season and improve upon it with a top-four finish.
Follow me on Twitter @Fw1812