Indy 500 Results: Andretti Curse Remains Intact After Marco's Awful Finish
May 28, 2012

Andy Lyons/Getty Images
Everything was set up.
After leading 59 of the first 100 laps at the 2012 Indianapolis 500, it looked like Marco Andretti was finally going to break the infamous "Andretti Curse" that has plagued the family for over 40 years.
Instead, he lost the handle of his car at lap 124, sliding to the back end of the top 10. Yet there was still plenty of time to go, and Andretti was making moves at the tail end of the race as multiple caution flags brought the field back together.
The 25-year-old still had a shot.
Instead, with only 13 laps to go, Andretti's car jumped out from under him as he was attempting to go underneath Oriol Servia in Turn 1.
That was all she wrote.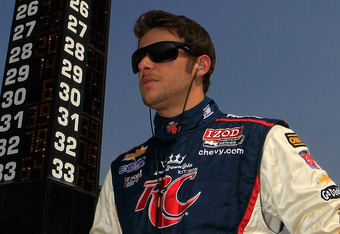 Chris Trotman/Getty Images
The 96th edition of America's most famous race came to an end, and once again, first place eluded the Andretti family, with Marco finishing in 24th place after starting in the fourth position.
It was just the latest nightmare for the Andretti family at Indy. They have failed to win the event since Marco's grandfather Mario won the event back in 1969. One of the royal families of racing has been a force in the sport for the last half century, yet the single biggest race of the year continues to elude them. There is no rhyme or reason for this, and it has become one of the biggest mysteries of the Indy 500.
After the race, Marco downplayed the elephant in the room that has plagued his family: "I don't believe in curses, but I don't know what it is. It's very frustrating."
Not only did Andretti fail to win, but so did his teammates James Hinchcliffe and Ryan Hunter-Reay, who finished sixth and 27th, respectively.
It was another lost weekend for the Andrettis. The curse lives on for yet another year.