New York Yankees: Is the Current Starting Rotation Enough to Get to October?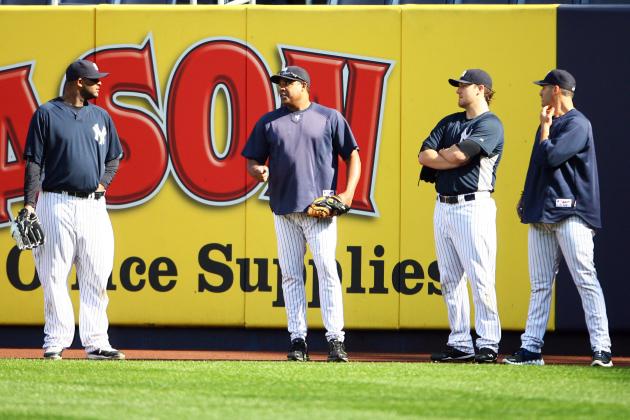 Andrew Burton/Getty Images

Heading into the final week of May, the Yankees have seemed to rebound from a week-long slump.
They've won five games in a row and have won their last two series against the Kansas City Royals while also sweeping the Oakland A's.
Standing in their way of a division lead are the Baltimore Orioles and Tampa Bay Rays, who are both tied for first place.
Then there are the Toronto Blue Jays and Boston Red Sox, who are just three games behind the Bombers in the AL East.
The one thing that any team needs to have if they want to make a run at the playoffs is good, consistent pitching.
Teams can get by for a little while with good offense, but if they don't have good pitching when they are in October, they will not survive.
The Yankees got by last year with a good offense, but their pitching wore too thin when they lost to the Detroit Tigers in the 2011 American League Division Series.
But what about the pitching staff in 2012? Can this current staff get to the postseason as is?
Lets find out as we analyze the current Yankees rotation.
Begin Slideshow

»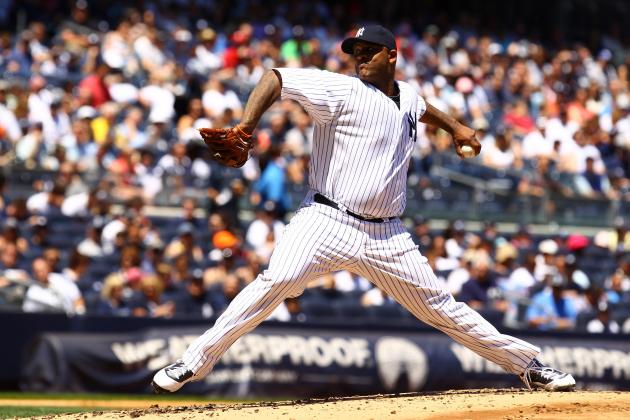 Al Bello/Getty Images

2012: 6-2, 3.66 ERA, 71.1 innings, 69 strikeouts, 21 walks
CC Sabathia continues to be the dominant workhorse and ace for the Yankees staff in 2012.
Even when he hasn't been sharp, he's still gone at least six innings and there hasn't been a game where he's been absolutely shelled in.
Sabathia has been worth every penny the Yankees have been paying him, and they will need him if they want to make a run into October.
Sabathia came into this season after losing some significant weight, which can only help his endurance and stamina going into the later months of the season.
But like I said before, if the Yankees want any hope of winning again in October, they will need their ace to be dominant.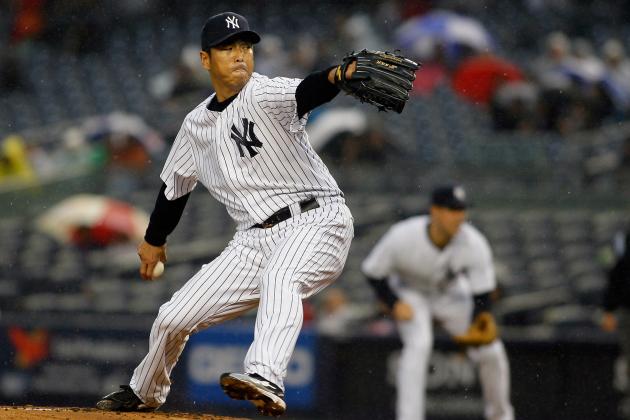 Mike Stobe/Getty Images

2012: 4-6, 3.96 ERA, 61.1 innings, 37 strikeouts, 21 walks
Hiroki Kuroda has been up and down in the 2012 season for the Yankees.
Despite the 4-6 record, Kuroda has been very durable for the Yankees, giving them a lot of quality innings.
He's also pitched better than his record shows, and his losing record is mostly due to lack of run support, which is something Kuroda's been dealing with his entire career.
Kuroda is a very important part of the Yankees rotation in 2012 and they will need him to pitch in a lot of big games.
He'll also need the run support from his offense, which will hopefully help improve his record as the year goes along.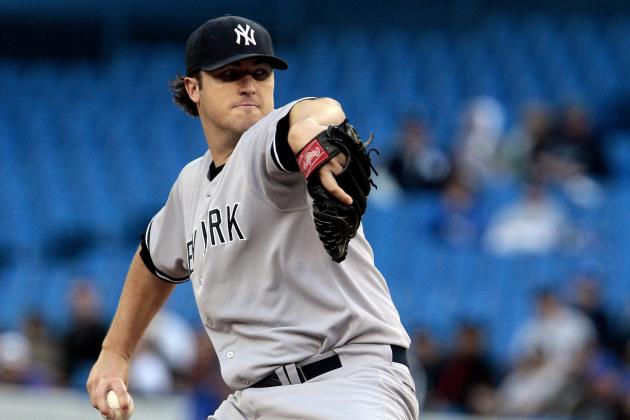 Abelimages/Getty Images

2012: 4-5, 4.96 ERA, 47.1 innings, 46 strikeouts, 13 walks
We've seen the two sides of Phil Hughes in 2012.
There was the really bad Hughes, who started out 1-4 with a 7.48 ERA and was on the verge of getting kicked out of the rotation at the end of April.
Then there has been the really good Hughes, who since then has been 3-1 in the month of May, taken his record to 4-5 with a 4.96 ERA, and has looked much better on the mound.
Even in losses Hughes was still piling up strikeouts, but he wasn't pitching deep into games.
Now he's at least getting into the fifth and sixth innings and picking up victories.
Hughes in an X-factor for the Yankees. If he can pitch the way he has been, continuing to pick up wins with a lot of strikeouts, Hughes will finally give the Yankees what they have been expecting out of him since getting called up in 2007.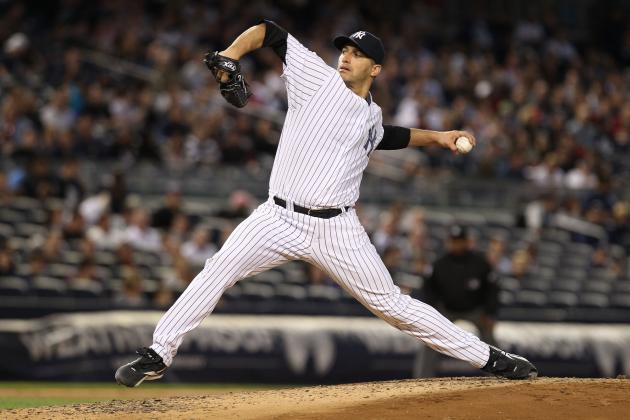 Nick Laham/Getty Images

2012: 2-1, 2.53 ERA, 21.1 innings, 19 strikeouts, five walks
Before the season started, Yankee fans all wondered if the pitching staff would even make it in 2012.
Then in March, Andy Pettitte changed the landscape of the season by announcing his return to baseball by signing a one-year deal to pitch for the Yankees.
Pettitte started out the season in the minor leagues pitching in an extended spring training, working out the kinks and rust of a year-long retirement.
Three starts into the season, Pettitte has looked very sharp and very good for the Yankees. Some have even said that he hasn't looked this good in years.
I always felt Pettitte was what the Yankees were missing last October when they got bounced out of the first round against the Tigers.
Now with him back, he increases their chances to get back to October because he's pitched in every big game imaginable.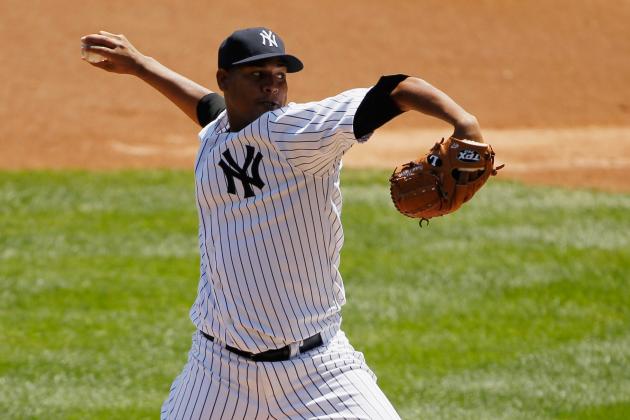 Mike Stobe/Getty Images

2012: 5-2, 5.46 ERA, 56 innings, 56 strikeouts, 17 walks
Ivan Nova has had a very interesting start to the 2012 season.
He's given up a lot of runs, which is why his ERA is 5.46. Despite that, he has a good record and part of that has to do with good run support from his offense.
Part of it also has to do with Nova pitching deep into games and striking out a lot of batters, which is why he has as many strikeouts as he does innings.
Last year Nova had to grow up quickly and pitch in a lot of important games for the Yankees in the second half of the season, and he ended up with a 16-4 record and ended up being the Yankees No. 2 starter in the playoffs.
Nova needs to have better control and not give up as many runs, but continuing to get strikeouts and pitch at least six innings will be a good thing for Nova going forward.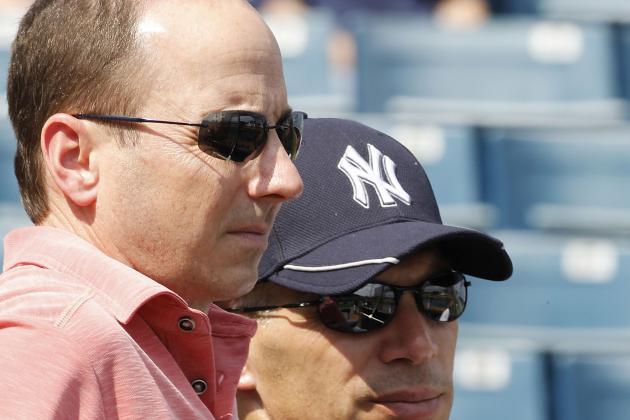 Leon Halip/Getty Images

The Yankees have two months to make up their minds if they want to make a trade for a starter.
The July 31st trading deadline for baseball is always a time when the Yankees name is thrown into what seems like a thousand rumors.
Guys like Matt Garza, Ryan Dempster, Jake Peavy, and Zack Greinke will likely be on the trading block by the time July rolls around.
Should the Yankees try to make a deal for a top-tier pitcher to help make an October run?
Or is the rotation of Sabathia, Kuroda, Hughes, Pettitte, and Nova good enough to get into the postseason and then make a run at a 28th World Series?
Right now, I think they are good enough as is because if those five pitch up to their abilities, the Yankees can easily win their division and be one of the best teams in the American League, just like they were a year ago.
But I think how Nova, Hughes, and Kuroda will determine if Yankees GM Brian Cashman feels like if he needs to make a deal.
Last year, he didn't pull the trigger because Nova, Freddy Garcia, Bartolo Colon and a returning Hughes all stepped up in the second half.
Can the current staff step up again, or will Cashman need to make a deal?
Stay tuned, Yankees Universe.