London 2012: 5 Questions with US Olympic Swimming Legend Summer Sanders
May 29, 2012
Tasos Katopodis/Getty Images
Rare is the Olympic athlete with staying power, but 20 years after her four-medal performance at the 1992 Barcelona Games, the effervescent Summer Sanders is still among swimming's biggest names.
The former sideline reporter, game show emcee, NBA Inside Stuff co-host and Celebrity Apprentice contestant will be back in front of the cameras this summer in London as a member of NBC's Olympic swimming coverage team.
With a hat tip to the good people at Kellogg's—yes, Summer Sanders still has sponsors—B/R had a chance to talk with one of America's Olympic greats about life after the pool, her thoughts on this year's swimming competition and her days with a cherubic Kevin Garnett.
1. I hear all the hype about Missy Franklin. I have to hear it from someone who's been a competitor at this level before. Can she really be this good at this age?
Well, you know it's interesting. First of all, she can. She's  like 6'1". She just has a maturity about her physically and mentally that I haven't seen in a long time.
She's cerebral, she's very smart. But she also gets it. Sometimes people who are extremely smart think too much when they're doing it. What's so cool about this storyline is that we've seen it on the men's side, of somebody swimming so many events and dominating a sport. And we haven't seen it on the women's side.
2. When you see Dara Torres still putting in work and you see Janet Evans on the comeback trail, do you ever get that itch to jump back in the pool?
[Laughs]
No. Absolutely not. I get the itch to cheer for them and celebrate what they're doing. I love the fact that they're challenging themselves at every age….And I think what we can learn from this is:  Don't stop challenging yourself. Sign up for something to be competitive in. And don't just work out. Train for something.
I'm really speaking to my mom friends out there and saying, "Lead by example." Don't just tell your kids to be active and to get outside and play. Lead by example.
3. I've seen your name mentioned in a lot of the recent coverage around the 40th anniversary of Title IX. Switching from athletics for a second, do you think women are fairly represented in sports media and broadcasting?
We've sort of gotten into this habit—this habit of hiring men for the play-by-play and the color and then the woman sideline reporter. I think it's great to shake things up.
I would love to see some knowledgeable women—like Doris Burke. I just love Doris Burke. She's so good with NBA.  And I'm sure she's just as knowledgeable with football.
But I love to see women give their perspective on sports. I think we have sort of gotten into that typecasting of "here's where the woman goes and here's where the guys go."
…
I thought it was profound when I was watching NFC and AFC Championship games and the big sponsor was a Reese Witherspoon movie. [Laughs] I was like, "Yes!" We are recognized. We watch this sport. We love this sport. We know this sport. Maybe that's the start of the transition.
4. From your years covering the NBA, was there ever a feature or an interview that really stood out to you?
Hmm…it's been so long now...
One of the coolest things was when Kevin Garnett was on the show, Inside Stuff. We were in Puerto Rico and Kevin Garnett had just signed that huge contract…before the lockout back in '99.
And so here he was, this big star making tons of money, and he's just so excited about being on Inside Stuff—I mean so genuinely excited about meeting Ahmad [Rashad] and being on the set.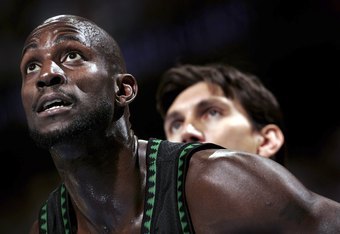 Doug Pensinger/Getty Images
And we gave him a free T-shirt. I'm telling you, he wore that Inside Stuff T-shirt probably the next two days.
It was just so great and so pure and so wonderful. He was a kid then, and he was so excited about being on this show that he'd watched growing up.
5. I saw two separate videos: One where it said that Missy Franklin's Olympic hero was Natalie Coughlin and another where Natalie Coughlin said that you were her Olympic hero. So that makes you kind of a grand-hero to Missy Franklin. Is that weird?
[Laughs]
A grand-hero. I'll take it.
I tell you what. If there's any indirect way I can motivate or inspire Olympic athletes…that is one of the greatest honors. Even Natalie Coughlin saying that I inspired her. I'm so humbled by that. I think that's amazing.
But a grand-inspirer? I love it.
I'm putting that on my resume. Is that cool?