Indy 500 2012: Dario Franchitti Earns His Sweetest Indy Victory Yet
May 28, 2012

Chris Trotman/Getty Images
Dario Franchitti's third career Indianapolis 500 victory came after a record number of lead changes, a furious late push and a heart-wrenching tribute to Franchitti's good friend, the late Dan Wheldon. 
Everything about this year's Indy 500 had a certain mystique about it. Wheldon's presence was constant, giving the race extra meaning for every participating driver.
The addition of multiple caution flags and constant change at the top of the leaderboard made this year's Indy 500 an instant classic.
Franchitti won the race in 2007 and 2010 prior to taking the checkered flag on Sunday.
Let's take a look at why this is Franchitti's sweetest victory yet.
Dedicated to Wheldon
The sporting world stood still when Wheldon was killed last October in a wreck in the Las Vegas Indy 300. It was a glimpse into mortality and how dangerous a drivers' life truly is.
The Indy racing community came together on Sunday.
The tribute began with Bryan Herta driving Wheldon's Indy 500-winning car around the track. Fans were also given white sunglasses to wear on laps 26 and 98, the two numbers Wheldon used in his two Indy 500 victories.
Moments like this inject incomparable human interest into relatively obscure sports. Indy racing has its fans, but anyone within eye shot of a television was forced to stop and watch Sunday's events. 
If you didn't get chills, I would be shocked.
Franchitti was one of Wheldon's best friends. He dedicated his third Indy 500 victory to his late friend and was elated at the final results.
Winning a prestigious race, or event of any kind, is always a jubilant occasion. Franchitti winning this year's Indy 500, on the day honoring Wheldon, is even better.
Winning a Bizarre Race
Multiple caution flags, crazy pit stops and a record-breaking amount of lead changes made this year's Indy 500 a bizarre contest.
The race saw one multi-car accident, eliminating Will Power and Mike Conway and seven other caution flags.
That did not deter Franchitti. He won his first two Indy 500s under caution, so what is one more?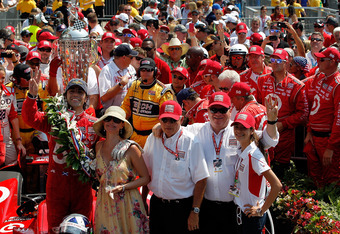 Jonathan Ferrey/Getty Images
Franchitti's third victory lands him in a rare class. He is one of 10 drivers in Indianapolis' 96 year history to win the race at least three times. He is arguably the most dominant driver from this generation, and is not necessarily done yet.
On top of Franchitti joining elite company, a 52-year-old Indy 500 record was broken. Sunday's 30 lead changes broke the old record of 29. The number would have been 31 if Takuma Sato had not crashed into the wall trying to pass Franchitti on the race's final turn.
Actually, if that had happened none of this would be relevant at all.
Franchitti's victory could not have been a more fitting tribute to Wheldon. Fellow friends of Wheldon, Scott Dixon and Tony Kanaan, rounded out the Top Three.
Sunday's race was worth watching, even if you do not consider yourself a racing fan.
The race contained every dramatic element that sports must have and the human elements necessary for an unforgettable story.
Now, that's a race.