Tampa Bay Buccaneers: Winners and Losers of OTAs Thus Far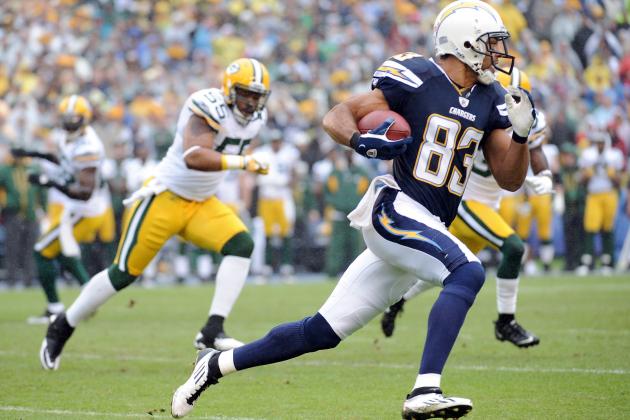 Harry How/Getty Images
That's Vincent Jackson. He plays for the Bucs now.
First rule of writing about OTAs:
No one talks about writing about OTAs.
No, that's not right.
The first rule of writing about or discussing NFL OTAs is never make a prediction for what will happen in the regular season based off of OTAs. We still have months and months until the grass (or turf) is even trimmed for the preseason matches, so even if Aaron Rodgers throws eight straight picks in a single scrimmage, we should not take him out of the running for MVP.
The second rule is never to guess about what is happening, and remember to take everything, from scouts' opinions to personnel interviews, with a grain of salt.
So, when I talk about the winners and losers of the Buccaneers' OTAs thus far, I shall cautiously restate what is being said by professionals who are at the activities, or list direct quotes from players.
None of this is definite, so take everything with a grain of salt.
But remember:
The first rule of offseason OTAs is that no one talks about offseason OTAs.
Begin Slideshow

»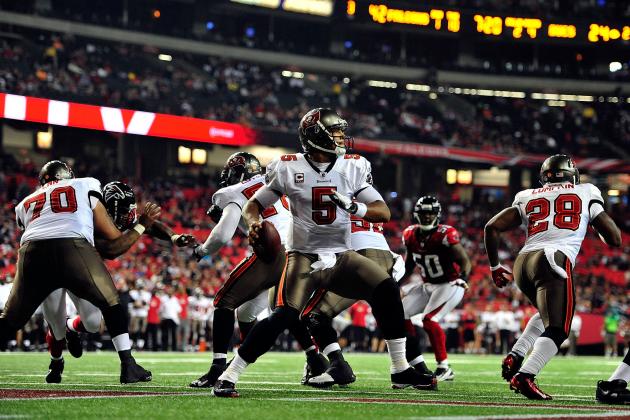 Grant Halverson/Getty Images

Since losing 20 pounds, Josh Freeman has certainly gone to work.
New offensive coordinator Mike Sullivan, formerly the Giants' quarterbacks coach, is working his quarterbacks like dogs in a 100-mile sled race:
The three Buccaneers quarterbacks spend one practice period scrambling around and throwing off balance – all while trying to maintain accuracy. The purpose is to simulate real game-like situations where the quarterback may have to make an awkward throw on third down to move the chains and the pass still has to be on target to accomplish that goal. (Pewter Report)
This is great for a guy like Freeman, who struggled greatly with his mechanics last season. Just having him practice standing and throwing in the pocket will not help him rediscover how to translate his ball skills into actual games.
In other news, Rick Stroud has only good things to say about the Freeman-Jackson combo:
WR Vincent Jackson looks big, fast and in synch with QB Josh Freeman
— Rick Stroud (@NFLSTROUD) May 15, 2012
That's what we all like to hear.
I'm really hoping for a Brady-Moss-caliber relationship between the young quarterback and the veteran wide receiver. And even if it's only at the Smith-Crabtree level, it'll still be better than what the Bucs had last season.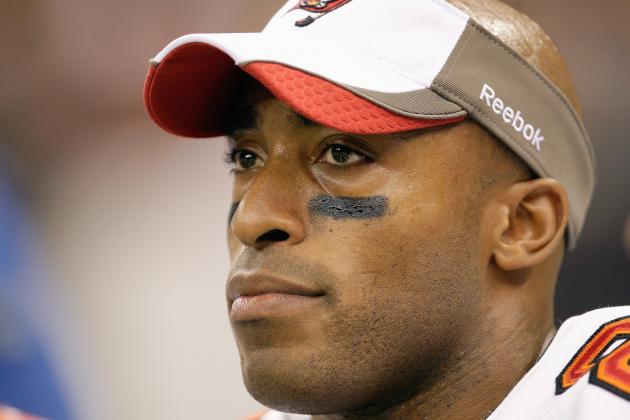 Jamie Squire/Getty Images

The reason that I say Ronde Barber's stock is on the rise is because he is being moved to a position where he will have a greater impact than where he was previously.
In the twilight of his career, the 37-year-old did not play his best football in 2011. His statistics were still solid, but he slowed down considerably, lost steps in coverage and blew tackles. Barber was no longer the shutdown corner he was in years past.
So, Greg Schiano has been starting him at free safety, as per Rick Stroud.
The Bucs have first-round pick Mark Barron at strong safety, but free safety would have been a gaping hole had Barber not moved in to plug it up.
This leaves room for a cornerback competition between a host of rookies and veterans alike, including Eric Wright, Aqib Talib, E.J. Biggers, Keith Tandy and Leonard Johnson.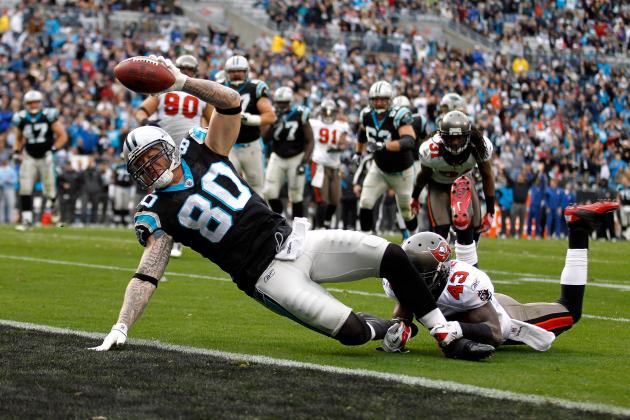 Streeter Lecka/Getty Images

I know I just talked about how playing Ronde Barber at safety will be a great move, but it looks like he may have some competition.
As per Pro Football Weekly, it looks like Ahmad Black is challenging Barber and might just win.
The Buccaneers consider 16th-year veteran Ronde Barber their best option at free safety for the time being, but a dark-horse candidate to compete for reps at the position, we hear, is Ahmad Black, who played in four games last season as a rookie. Team observers have been impressed with Black's quickness and ball skills in offseason workouts.
Should the 2011 fifth-round pick end up starting at free safety in 2012, it will be nothing short of amazing, on par with Rudy. Hyperbole, yes, but him unseating a legend would be crazy.
Black may not have won anything yet, but just the fact that he has been mentioned as a contender is a victory.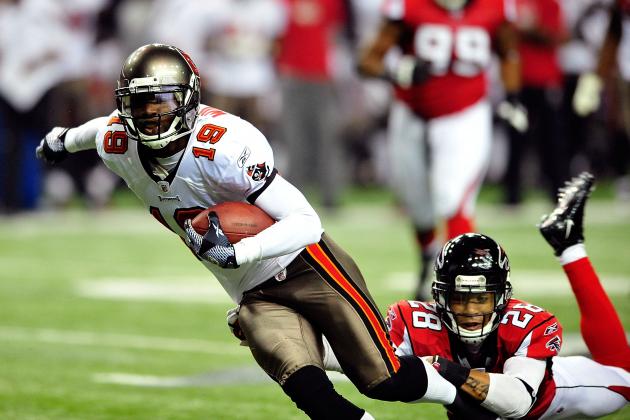 Grant Halverson/Getty Images

Signing Vincent Jackson had a very unexpected consequence: He's a leader for the young wide receivers.
Despite Jackson's relative youth (29 years old), Tampa Bay's wide receivers look up to him for guidance.
According to third-year man Mike Williams,
"He's been letting us know what we're going to see (from opposing defenses), and he's basically been telling me to just keep working on my game,'' Williams said. "You can't ever think you've mastered it.

"No matter what, you have to keep on working on it. If you catch a pass 1,000 times, he wants you to catch it 1,005 times. So just keep working on my game is basically what I've learned from him." (Tampa Bay Online)
Mike Williams, Arrelious Benn and the rest of the wide receivers did not perform to a level expected of NFL starters, and therefore Josh Freeman did not have consistently capable targets to throw to. All the potential Williams and Benn showed in their rookie seasons seemed to vanish into dust.
Even if Jackson can't turn Williams into Calvin Johnson, he's still a positive presence on a team that lacked strong offensive leaders last season.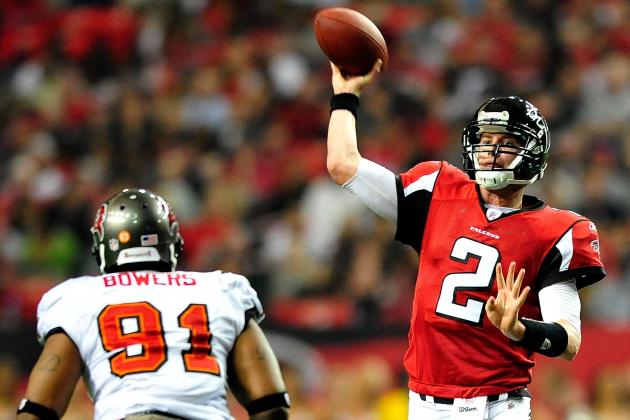 Grant Halverson/Getty Images

Why did you have to get injured, Da'Quan Bowers?
You fall to the late second round of the 2011 NFL draft because of NFL concerns. The Buccaneers draft you anyway, and you play in every single game of the season, no injuries whatsoever.
Then, you go around and tear your Achilles during the offseason.
What gives?
The already thin defensive line lost a key component, so somebody will have to step up. Currently, the only starting-caliber defensive linemen on the Bucs are Adrian Clayborn, Gerald McCoy, Michael Bennett and Amobi Okoye. The problem is that Clayborn's a sophomore, MCoy's injury prone and Okoye's just average. For a 4-3 scheme, Tampa Bay is really lacking in the depth department.
Nobody better get injured, got it?
I'll come after you, all 300-plus pounds of you.
Hell hath no fury like a Bucs fan mildly ticked off.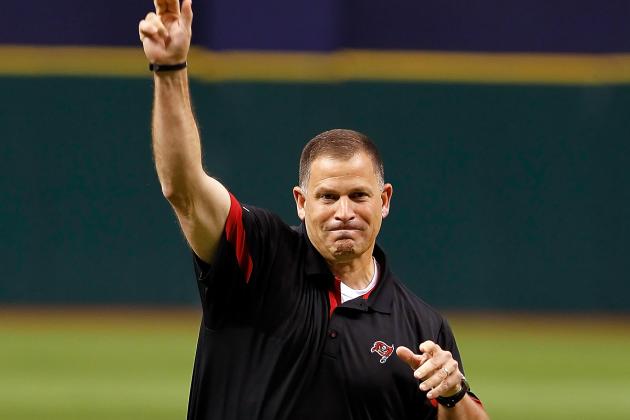 J. Meric/Getty Images