Why Oregon, Not USC, Is Still King of the Hill
Harry How/Getty Images
The simple premise and the single relevant fact for this article is that the Oregon Ducks are the Pac-12 champions for three consecutive years. Until the USC Trojans—or some other Pac-12 school—knock off the Ducks, they are King of the Hill.
I can hear the USC faithful whining now: "We beat the Ducks last year at their place. If it weren't for the stupid NCAA sanctions, we would have been champs."
Maybe. Maybe not.
Let's take a step back and look at the bigger picture.
Overall Team Records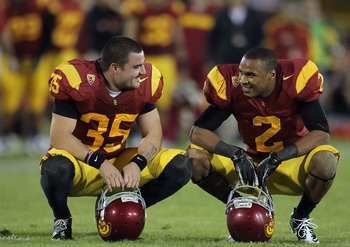 Jeff Gross/Getty Images
During Oregon's reign as King of the Hill, what were the overall records of both teams?
2009: USC was 9-4; Oregon 10-3.
2010: USC was 8-5; Oregon 12-1.
2011: USC was 10-2; Oregon 12-2.
So, USC is 27-11 in the past three years, while Oregon has reeled off an almost unprecedented 34-6 record.
Considering that three of Oregon's losses came in the 2009 Rose Bowl against Ohio State, the 2010 National Championship Game against Auburn and the 2011 Cowboy Classic against LSU, it makes its Pac-12 conference three-year record even more powerful.
A fourth Oregon loss was to Boise State on that freaking blue turf in Chip Kelly's debut game as head coach.
That leaves only two conference losses in three years: one to Stanford in 2009, and one to USC in 2011.
By comparison, USC has lost 10 Pac-12 conference games in the past three years. The Trojans have lost two out of three to Washington, three out of three to Stanford, two out of three to Oregon and thrown in losses to Arizona (2009), Oregon State (2010) and Arizona State last year.
Overall records: King of the Hill to Oregon.
Head-to-Head Scores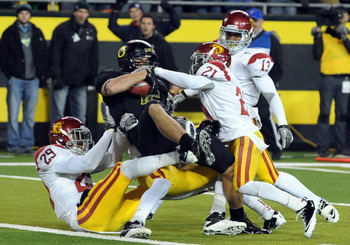 Steve Dykes/Getty Images
The score of the 2009 meeting between USC and Oregon in Eugene was Oregon 47, USC 20.
In 2010 in the L.A. Coliseum, it was Oregon 53, USC 32.
Last year's exciting battle in Eugene went USC 38, Oregon 35.
To sum up the head-to-head, Oregon has scored 135 points against the Trojans; USC has scored 90.
I'm not great at math, but I'm fairly certain that 135 beats 90.
As does two out of three wins.
Head-to-head: Oregon King of the Hill.
Head Coach Comparison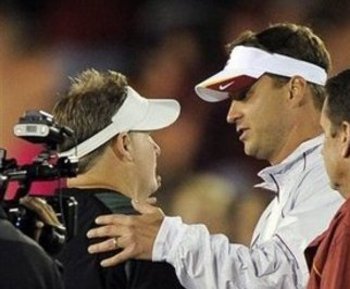 Lane Kiffin and Chip Kelly are two of the brightest young college football coaches in the country. Both are excellent head coaches with nothing but even more success in front of them.
It's just that Kelly is better than Kiffin.
As a college head coach—two years at USC and one at Tennessee—Kiffin's record is 25-13.
Kelly's record as a college head coach—all at Oregon—is 35-6.
In 2009, Kelly became the first coach in Pac-12 history to win an outright conference title in his rookie year. He has been named Pac-12 coach of the year two out of his three years as Oregon's head coach.
Kelly also became the Pac-12's first national coach of the year since 2003, winning the award in 2010.
As a head coach, Kiffin's highest AP ranking is No. 6, which he achieved in 2011.
Under Kelly, the Ducks have consistently been ranked in the Top 5 nationally, reaching the No. 1 AP rating briefly and finishing No. 2 in 2010.
In head-to-head coaching against each other, Kelly and Kiffin are 1-1, adding another element of pressure—as if the game needed any more hype—to the 2012 contest on Nov. 3 in Los Angeles.
Bowl Experience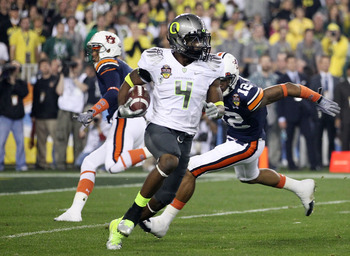 Christian Petersen/Getty Images
OK, so this slide is not fair because USC has been on probation and unable to participate in post-season play.
However, it's a factor because it means Oregon has major bowl experience the past three years and USC doesn't (unless you consider the Emerald Bowl in 2009 as a "major" bowl).
Going up against a red-hot Terrell Pryor and his Ohio State team in the Rose Bowl, losing to a powerful Auburn team by three measly points in the National Championship Game and beating a tough Wisconsin team in the Rose Bowl are all important learning experiences for the Ducks.
Many players on the 2012 Ducks roster participated in these games, and they know firsthand what the thrill of victory and the agony of defeat feel like.
Whether you believe the NCAA sanctions against USC were justice or not, the relevant fact is that the 2012 Ducks have had more postseason experience in the trenches than the 2012 Trojans.
I believe that "big-game" experience will be a huge factor in Oregon remaining King of the Hill in 2012.
Other Factors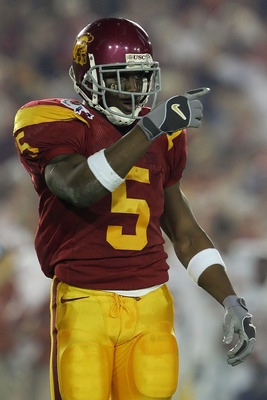 Lisa Blumenfeld/Getty Images
If USC is to knock off Oregon as King of the Hill, it will have to do so with reduced scholarships. I don't pretend to understand how the football scholarship process works, so please cut me some slack on this one.
Depending on which math you believe, USC will only have 15 or 18 scholarships next year.
Oregon—at least until the NCAA rules on the Willie Lyles affair—has its full complement of scholarships available.
Both coaching staffs are terrific recruiters, but numbers are numbers. There is no question that Lane Kiffin and his staff have done an excellent job with reduced scholarships, but it may still take a toll.
Other Factors, Part 2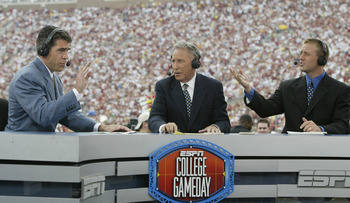 Craig Jones/Getty Images
Because of USC's storied past and honored football traditions, the Trojans will always get their fair share of hype.
However, until they surpass Oregon's recent history of ESPN College GameDay appearances, the Ducks are still King of the Hill.
Because we all know that the true test of "BIG GAMES," and the ultimate deciding factor in King of the Hill status, are where Fowler, Corso, Herbstreit and Princess Erin show up.
That, and maybe the actual game score.
Keep Reading

Oregon Ducks Football: Like this team?