Gary Russell Jr., Demetrius Andrade and the Progress of the 2008 Olympic Team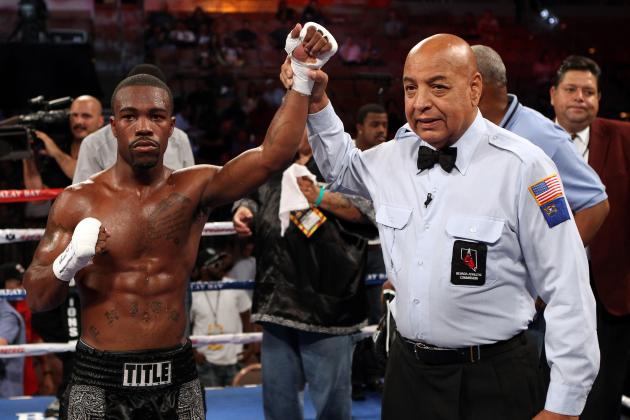 Scott Heavey/Getty Images

As the 2012 Olympics in London approach and a new crop of American boxers get set to battle for gold, it is time to look back at the 2008 Olympic boxing team and evaluate their progress in the nearly four years since Beijing.
The 2008 U.S. Olympic boxing team was the least successful in the country's history, and heavyweight Deontay Wilder was the only medalist, winning a bronze.
Still, this does not mean that the team was short on talent. After suffering early setbacks such as Gary Russell's inability to make weight and Rau'shee Warren's upset loss in the first round, the U.S. team seemed doomed from the start.
Two of the team members have remained amateurs and the rest have turned pro. While some of the 2008 Olympians seem poised for stardom, others are toiling in obscurity, and regardless of their future success, people will undoubtedly be interested in all of their career arcs.
With that said, let's see how the 2008 Olympic boxing team has fared over the past four years.
Begin Slideshow

»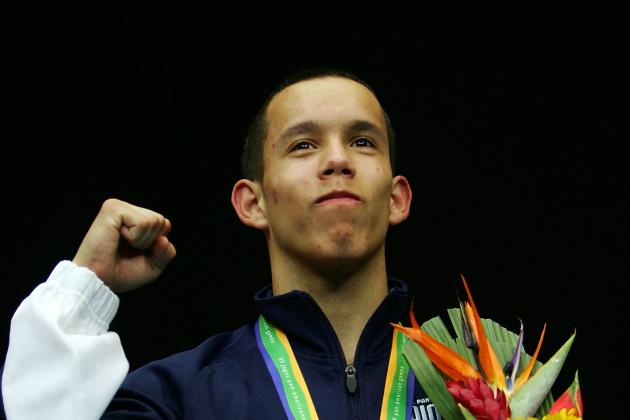 Harry How/Getty Images

Olympic Weight: 106 (light flyweight)
Olympic Result: lost in round of 16
Pro Record: 6-0-1, 0 KOs
Positives: Yanez obviously possesses quality speed and movement, as well as an excellent amateur pedigree. Other than representing the U.S. at the 2008 Olympics, Yanez won gold at the 2007 Pan American Games and was the U.S. and National Golden Gloves Champion in both 2006 and 2007. He dominated his domestic competition in the amateurs and is currently unbeaten as a pro, albeit against limited opposition.
Negatives: Yanez has had to deal with issues outside of the ring, including injuries and promotional disputes. This has stunted his development as a professional, and he has suffered from lengthy layoffs, having fought only once in both 2010 and 2011. Furthermore, Yanez, in only seven professional fights, has waged three battles with journeyman Joseph Rios (10-7-2, 4 KOs)—Yanez first won a unanimous decision, then they fought to a draw and, most recently, Yanez took a split decision.
This type of scheduling has stunted Yanez's progress, but it is encouraging to see him with a fight scheduled for July 13. Hopefully, Yanez's injury woes are behind him, and it would also be nice to see him exhibit more power as he gets back on track.
Progress Report Grade: C-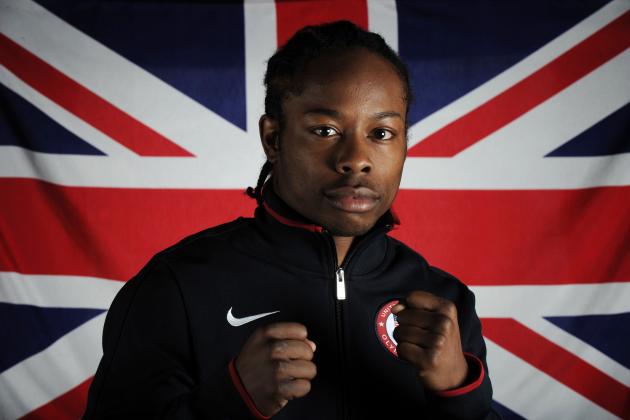 Harry How/Getty Images

Olympic Weight: 2004: 106 (light flyweight); 2008: 112 (flyweight)
Olympic Result: 2004: lost in first round; 2008: lost in first round
Pro Record: N/A
Positives: Warren is one the most uniquely accomplished amateurs in the history of American boxing. In 2004, Warren was the youngest member on the entire Olympic team (in any sport) at 17 and ultimately succumbed in the first round of the Olympic tournament.
Since impressively making the 2004 team, Warren has continued his all-around excellence on the domestic and international scene.
He won bronze at the 2005 world championships, followed by gold in 2007 (in Chicago). After becoming the first American boxer to qualify for two consecutive Olympics since Davey Lee Armstrong ('72 and '76), Warren did one better by securing his record-setting third bid for London 2012 with a bronze medal performance at the 2011 World Championships in Baku. Going into London, Warren, with his blend of speed, power and savvy, will again be a medal favorite.
Negatives: Losing in the first round in 2004 as a 17-year-old was perhaps expected. However, getting upset in the first round of competition at the 2008 Games was bitterly disappointing. Warren's surprise 8-9 defeat to South Korean Lee Ok-Sung was especially heart-wrenching, as the American spent the last 30 seconds of the final round evading punches without mustering any offense, thinking he was ahead.
Warren seems to have learned from his mistakes and anything less than a medal in London will be unfortunate. Still, Warren has given a tremendous amount to amateur boxing and will make his highly anticipated pro debut after the 2012 Games. Had he won gold at the 2011 Worlds, his grade would be a flat "A."
Progress Report Grade: A-
Olympic Weight: qualified at 119 pounds but failed to make weight
Olympic Result: disqualified
Pro Record: 19-0, 11 KOs
Positives: Russell is one of the best prospects in boxing. Blessed with freakish hand speed, Russell's punches are accurate and his movement is precise. At 23, Russell has tremendous poise and patience inside the ring, and his defensive fundamentals are improving with every fight. In terms of natural ability, there are few (if any) prospects in boxing who can match Russell. While not blessed with extraordinary power, Russell can still punch, and his speed and blinding combinations inflict extensive damage.
Russell is moving along well, and his last two wins over Leonilo Miranda and Heriberto Ruiz were clinical and impressive. Russell, in fact, might have more power than his knockout numbers suggest; his KO of Ruiz was absolutely sick.
Negatives: Failing to make weight in Beijing was obviously disappointing. After an active 2011, Russell has suffered through an injured ankle and postponements in 2012. Hopefully, Russell will continue to increase his level of opposition; as long as he does this, you can't really knock him for anything significant. Once he gets back in the ring, expect Russell to move quickly and be poised to challenge for a world title by early 2013.
Progress Report Grade: A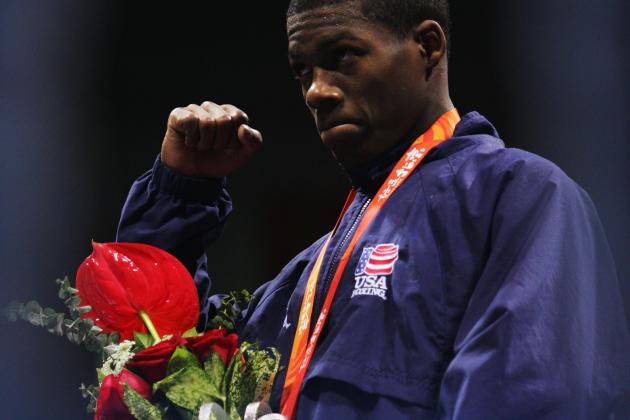 Guang Niu/Getty Images

Olympic Weight: 125 (featherweight)
Olympic Result: lost in second round
Pro Record: N/A
Positives: Considering Rau'shee Warren's successful bid for a third consecutive Olympic birth, Williams' own attempt to make a second consecutive Olympic team almost got lost in the shuffle. Williams won his first bout in Beijing handily, and his second-round defeat to France's Khedafi Djelkhir—the eventual silver medalist—is nothing to be ashamed of. The decision itself was seen to be somewhat controversial, and it was this result that ultimately gave Williams the confidence to pursue the 2012 Olympics instead of turning pro.
Williams is a quality, fundamentally sound boxer who was/is a decorated amateur. He won the National Championships in 2007 and had even upset Djelkhir at the Worlds that same year. His decision to remain an amateur was seen as a big boost to the U.S. program, and it will likely serve him well once he turns pro.
Negatives: The negatives for Williams really start and end with failing to land a spot on the 2012 Olympic team. While he fought valiantly at the trials and continued to have success since 2008, Williams was ultimately defeated by Jose Ramirez. When Ramirez failed to qualify for the Games at the World Championships, Williams was given another shot but was defeated three times by Ramirez in USA Boxing's "reload' round. Williams should be celebrated as a quality, committed amateur, yet his failure to make the 2012 Olympic team has to be disappointing.
Progress Report Grade: B-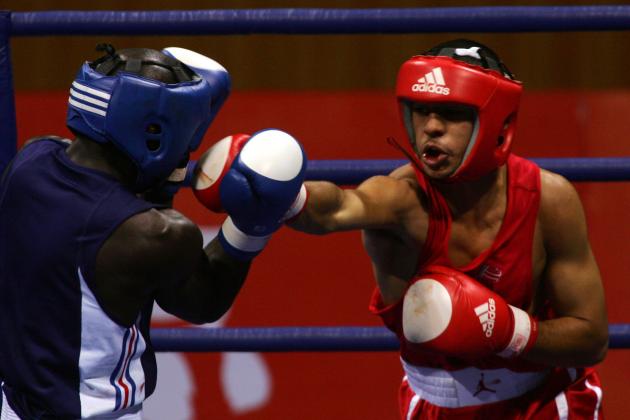 China Photos/Getty Images

Olympic Weight: 132 (lightweight)
Olympic Result: lost in first round
Pro Record: 14-0, 8 KOs
Positives: Ali is obviously undefeated and exhibits wonderful speed and movement. His power is solid, and he has had respectable activity since his pro debut. At 23, Ali has time to develop, and he has done exactly what is expected when facing inferior opposition: score knockouts or win clear decisions.
Ali is an interesting case because he has decided to build his fanbase through his own promotional outfit, and he deserves credit for this initiative. Slated to fight for the first time in 2012 on June 2, Ali—who won the Junior Olympics, the PAL National Championship and the National Golden Gloves, amongst other things—will take on Franklin Gonzalez (15-9, 10 KOs).
Negatives: Obviously, Ali's Olympic result was disappointing, as he was out-boxed by Romanian Georgian Popescu, losing 5-20. Ali elected to turn professional, and his competition to date has been underwhelming. One of his most significant wins is against trial horse Lenin Arroyo, and it is now time for Ali to start stepping up his level of opposition. It would be encouraging to see him challenging for minor titles by 2013.
Progress Report Grade: B-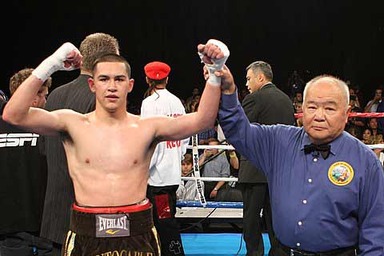 Photo courtesy of 15rounds.com
Olympic Weight: 141 (light welterweight)
Olympic Result: lost in first round
Pro Record: 10-1, 4 KOs
Positives: Molina won the 2007 U.S. National Championships when he was only 17 years old. With the backing of Goossen Tutor Promotions, Molina seems to have the support necessary to help guide his career as he moves forward. As a boxer, Molina exhibits good patience, speed and precise punching. He works well off his jab and is comfortable punctuating combinations with a solid left hook and straight right hand. With his amateur pedigree, Molina has the natural ability to make some noise.
Negatives: Molina has struggled with hand injuries and has only fought once in 2012. In his last fight of 2011, Molina was upset by Artemio Reyes (15-2, 12 KOs) in his ShoBox "The New Generation" debut. A loss so early in his career has to be disappointing, and this, coupled with sporadic activity, is underwhelming. Molina has the ability to bounce back, but he needs to be active and gradually step up to harness his potential.
Progress Report Grade: C
Olympic Weight: 152 (welterweight)
Olympic Result: lost in quarterfinals
Pro Record: 17-0, 12 KOs
Positives: Andrade is one of the top prospects in boxing. As a prospect, he has world-class pedigree, blinding hand speed, knockout power and poise inside the ring. By using a stiff southpaw jab, Andrade creates openings for sweeping left hooks to both the head and body, and this ability to vary his combinations is impressive. Andrade can also fight off his back foot, and the evidence of this was his explosive knockout of Rudy Cisneros where Andrade exploded forward with a right hand-left hook combination to knock his opponent cold.
Andrade won a silver medal at the 2007 Pan American Games and a gold at the 2007 World Championships. His undefeated record as a pro is encouraging, and he has all the physical tools and ability to be a future world champion.
Negatives: The biggest knock on Andrade is his quality of opposition. Andrade's best win might be his one-sided unanimous decision over Grady Brewer, and while this is a respectable win, Andrade's skill and record suggest he should be stepping up in class.
It would be a welcomed sight to see Andrade targeting top-15 fighters or gunning for the second-tier belts that could propel him up the world rankings. In terms of ability, Andrade is world-title ready; it is now up to him and his handlers to take some risks. Still, given how Andre Ward was carefully developed, I'm going to give Andrade's team the benefit of the doubt. Hopefully, he will be in title contention at some point in 2013.
Progress Report Grade: B+
Olympic Weight: 165 (middleweight)
Olympic Result: lost in second round
Pro Record: 14-0, 12 KOs
Positives: Estrada is a strong, aggressive fighter with knockout power. Backed by Goossen Tutor Promotions, Estrada has been a fixture in the California fight scene and is popular because of his fan-friendly style. Possessing a sledgehammer right hand, Estrada's combination of strength and intelligent forward movement compensate for his sometimes wild hooks. A decorated amateur, Estrada won his first Olympic bout before ultimately succumbing to eventual gold medalist James DeGale by decision (5-11).
Negatives: Estrada hasn't fought a high quality of opposition, which could be a contributing factor to his high knockout percentage. Like many of the 2008 Olympians, he has been brought along slowly, and it would be advisable for his team to get him fights outside of California with greater exposure.
Estrada was wildly overweight for his last fight against Terrance Woods—Estrada weighed 192 to Woods' 177, which is disconcerting. Estrada is set to return on June 23, and hopefully this will be the start of an extended run against better opposition.
Progress Report Grade: B-
Olympic Weight: 201 (heavyweight)
Olympic Result: won bronze medal
Pro Record: 22-0, 22 KOs
Positives: Wilder possesses frightening power, and his right hand is absolutely devastating. Having won all of his fights by knockout, Wilder has done exactly what is expected of him against limited opposition. At 6'7" with an 84-inch reach, Wilder has the physical tools to compete with the world's biggest heavyweights, and his physique suggests that he always comes into fights in shape.
Wilder had a short but successful amateur career, and in 2007, he was an upset winner of both the National Golden Gloves and U.S. Championships. Obviously, Wilder was the only boxer to medal for the U.S. in 2008, and "The Bronze Bomber" seems poised to build off of that success by being patient and honing his craft.
Negatives: The two biggest knocks on Wilder are his inexperience and dreadful opposition. Because of his limited amateur background—he won the Olympic trials after only 21 fights—Wilder has been brought along slowly as a professional. Despite scoring thunderous knockout after thunderous knockout, it is fair to speculate about how helpful a lot of these opponents are to Wilder's progress.
What Wilder needs now are rounds and seasoning. His next fight is slated for June 23 against Owen Beck, which, at this point, presents a step up in class. Beck has lost seven fights in a row, and, frankly, it would be shocking if Wilder doesn't stop him. Given that Wilder is only 26, it is reasonable for his handlers to be patient and careful with his matchups. However, if Wilder defeats Beck and looks good doing so, he should be pitted against more durable opposition.
Progress Report Grade: B