Formula 1: Why Pastor Maldonado Should Not Be Driving at the Canadian Grand Prix
May 31, 2012

Mark Thompson/Getty Images
The 2012 Monaco Grand Prix was a bit of a damp squib. The promised rain never arrived, and overtaking was all but impossible.
The most interesting part of Sunday's action could well have been that annual moment of wondering whether someone was going to spray champagne on Prince Albert.
Not this time, sadly.
Yes, it was a bit of a stinker. But a far more interesting event took place during the third free practice session on Saturday morning.
First, a trip back in time. During qualifying for the 2011 Belgian Grand Prix, Lewis Hamilton overtook Pastor Maldonado at the final chicane towards the end of Q2. 
Maldonado had been held up by cars in front of him and was going very slowly. Hamilton was on a hot lap, needed the time to get into Q3, and was in no mood to give up on the lap. He was within his rights to pass and attempted to do so.
They touched, and it cost both of them a bit of time. They crossed the line with the chequered flag out, meaning the session was over. Now on in-laps, they were expected to head back to the pits.
But the red mist had descended inside Maldonado's helmet. Feeling aggrieved, he appeared to do what no racing driver ever should—he intentionally barged into Hamilton as the Brit cruised down towards Eau Rouge.
The speed was relatively low and the damage caused minor, but the intent was there—and it was still dangerous. It appeared to most that Maldonado had used his car as a battering ram to get revenge on a rival he believed had wronged him.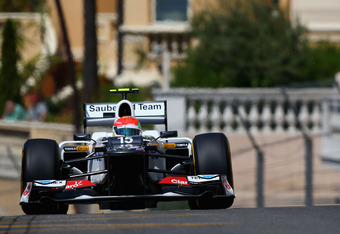 Clive Mason/Getty Images
Respected F1 commentator Martin Brundle said at the time, "If they don't send Maldonado home for that that's not right. You cannot do that."
He wasn't sent home, instead receiving an exceptionally light punishment—a five-place grid penalty for the race. That's the same penalty you get for accidentally missing a braking point by two metres and hitting another car.
Fast-forward to the 2012 Monaco Grand Prix. 
During free practice on the Saturday morning before qualifying, Maldonado was (it seems) held up by Sergio Perez around the Mirabeau-Loews/Fairmont hairpin section of the track. That sort of thing happens in Monaco—it's short, tight and congested.
And this was, remember, during free practice—times are all but meaningless.
Perez pulled to the side of the track before Portier to allow the Venezuelan through.
Shockingly, instead of simply driving past and carrying on with his lap, Maldonado veered across the track and intentionally barged into Perez.
When it happened in Spa last year, some people actually blamed Hamilton for it or gave the benefit of the doubt to Maldonado. Maybe it was a racing incident, or maybe both were to blame.
No one could say that about what happened in Monaco. There could be absolutely no doubt that Maldonado deliberately drove into Perez, or at the very least attempted to cut far too close to the Mexican as payback and misjudged the size of his car.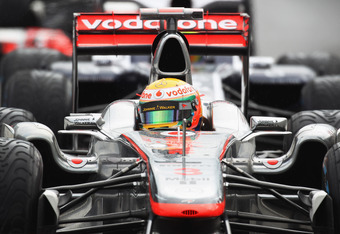 Mark Thompson/Getty Images
He denied it, of course, claiming the well-behaved car he won the Spanish Grand Prix in had developed a mind of its own at a very inconvenient time:
I was trying overtake him and I lost the car. Maybe I was too optimistic on the throttle on cold tyres, because it was my first lap with a new option and I was trying to recover the car, it got too much grip and I touched his front left wheel. That's it.
Humans are adept at bending the truth, but cameras seldom lie. And the cameras suggest he did it on purpose—see the video here or here.
The stewards came to the same conclusion—but incredibly, he got away with just a 10-place grid penalty. Maldonado complained it was unfair and that penalties are inconsistent, but in a statement on the team website, Williams Chief Operating Engineer Mark Gillan somewhat bluntly said:
I think that the incident was avoidable and therefore disappointing and that the penalty was therefore understandable.
To me, it's far too lenient. When Williams shareholder Toto Wolff complained about the penalty, former driver and event steward Nigel Mansell told him exclusion was considered.
Considering it isn't enough.
The FIA needs to take such decisions out of the hands of the stewards. Intentionally crashing into a rival is greatest offence a racing driver can commit, and at the very least a multiple race ban should be given the first time it happens.
The second time? That driver should lose his Super License and with it, his career in F1.
And that should be written down in the rules as a set-in-stone punishment.
Yes, a red mist can descend upon anyone in a motor race, and if you've never hurled furious expletives at your closest friends from inside a crash helmet, you've never been go-karting. 
But there's a world of difference between angry words and—as David Coulthard put it—using your car as a weapon.
Such behaviour has no place on a karting track, let alone at the highest level of international motorsport.
Follow me on Twitter if you wish, @JamesNeilsen