What Is the Colorado Rockies' Ideal Starting Pitching Rotation?
Use your ← → (arrow) keys to browse more stories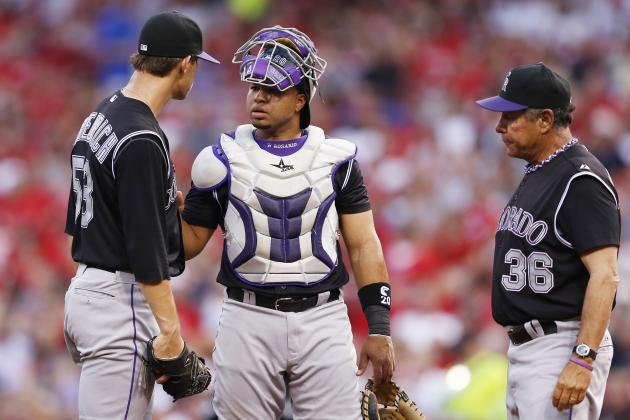 Joe Robbins/Getty Images
Christian Friedrich has started only four MLB games, but looks as accomplished as any pitcher on Colorado's roster
If E! TV ever runs out of programs featuring wildly dysfunctional families, they may want to take a trip out to Colorado. The drama of the Rockies starting pitchers would make quite a show.
A devastating injury to Jorge de la Rosa and the blockbuster Ubaldo Jimenez trade forced tremendous turnover from last year's staff. Only two return from the 2011 squad, and one is toeing the line between the majors and a demotion to Triple-A.
The remaining cast showcases, among others, a promising group of rookies and a starter old enough to be their father. Sporadic performances from the youngsters have created somewhat of a rotating door between the Rox and Sky Sox.
So who is worthy of holding down a spot in Colorado's starting five?
Barring any injuries, Jim Tracy appears to be set with a core three of Jamie Moyer, Juan Nicasio and Jeremy Guthrie.
Nicasio has probably been the best on the staff to date and has averaged the most innings and strikeouts per start.
Guthrie and Moyer both were decent out of the gates but have stumbled as of late. The pair has combined for a 1-5 record in their past 10 starts. However, both provide a veteran presence so sorely needed on the roster.
Despite their seniority, the Rockies could definitely turn to their slew of rookies if a replacement is needed. Given Moyer's advanced age and recent lackluster play, he will likely be the first of the three to fall out of favor with the coaches.
The remaining two slots in the starting five are murky. Jhoulys Chacin was expected by many to progress into one of the team's top fireballers this season, but the 24-year-old has been abysmal. His 7.30 ERA is nearly two full runs higher than any other starter, which is not surprising given his 0-3 record.
Chacin is currently on the disabled list and will surely see some rehab assignments in the minors once he is able to return. His stay may be an extended one, however, as he does not deserve a starting spot based on his work to date.
Allowing Chacin to hit the reset button and do some soul-searching in semi-pro ball may be exactly what the Venezuelan native needs.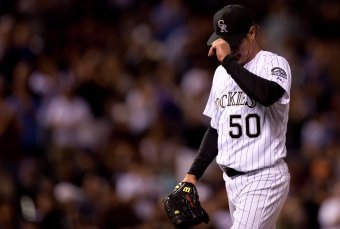 Justin Edmonds/Getty Images
Christian Friedrich, on the other hand, has taken a road opposite of Chacin. Speculation arose a couple years ago of the southpaw being a bust of a draft pick.
Since then, Friedrich's newfound dedication to the game paved a path to the big leagues. He has forced Colorado's hand and solidified a spot in the rotation based on some quality starts. Unlike so many other of his colleagues, the rookie attacks the strike zone and limits walks. He has been shaky in his past two outings, but at least for now, Friedrich deserves to be the Rox No. 4.
That creates the dilemma between Alex White and Drew Pomeranz. The two pitching prospects were the main return on the Ubaldo Jimenez trade and have been battling each other for a roster spot since arriving in the Mile High City.
Pomeranz began the season in the majors but was sent down to Triple-A three weeks ago to work on his command. White replaced him, with less than desired results.
White is trying to power through a slow start to his pro career and hasn't been too successful thus far in 2012. He was highly regarded as a strikeout pitcher in his college days at North Carolina, but his game has not translated smoothly to the majors.
Pomeranz was stellar in two of his latest three starts for the Sky Sox, and honestly wasn't too shabby while throwing for the big club. He is unquestionably one of Colorado's top prospects and deserves a promotion in the not-too-distant future.
The Ole Miss product showed flashes of brilliance to start his 2012 campaign, but inconsistency marred his chances of staying on the parent club. He may not be the most reliable starter at this point but would appear to be an upgrade over White.
The Rox starting rotation is among the worst in the league, but, to its credit, the young pitchers give fans a reason for optimism. Baseball analysts have readily claimed Colorado may possess a very solid group of arms a few years down the road, but the "potential" label is a very dangerous term.
The Rockies have been coined a potentially dangerous team many times before, and we are all aware of their mediocre track record. Let's hope, for the franchise's sake and the fans' sanity, that the team's youth on the mound can evolve into the backbone of a playoff contender within the next couple seasons. If not, the hot seat for Colorado's managers and front office will only get hotter.