Euro 2012: Why Injuries Will Derail Spain's Pursuit of Historic Run
May 28, 2012

Laurence Griffiths/Getty Images
Just over a month ago, life was good for the Spanish National team. The 2008 Euro Champions and the 2010 World Cup champions were preparing for the upcoming Euro 2012 tournament. 
La Roja  was on the verge of a historic international run, trying to win their second consecutive European Championship following up their title in the 2010 World Cup.
Spain was considered one of the favorites in this year's field, getting placed in a qualifying group with Italy, Ireland and Croatia. 
However, all of the talk happened before two key injuries that may ultimately derail Spain's chances at winning another major international competition. First, it was Carles Puyol who went down with a knee injury, followed by the announcement that legendary striker David Villa will miss the tournament as he recovers from a fractured tibia. 
Villa, who has more goals than any other player in Spain's national team history with 51, is certainly a huge loss for La Roja. The two main strikers for Spain this summer will be a quickly aging (in soccer years) Fernando Torres, and a relatively unproven Pedro who is just 24 years old. 
How will a front line such as the aforementioned one matchup against a talented side like Germany, who is home to a number of proven goal scorers, such as: Miroslav Klose, Lukas Podolski, Thomas Muller and Bastian Schweinsteiger?
On the defensive side of things, with Puyol out for the foreseeable future and the European Championship, Spain has been forced to shift things around on defense. The shift may not just be a temporary thing anymore as Puyol, 34, will likely find the recovery from the knee surgery difficult, especially for someone his age.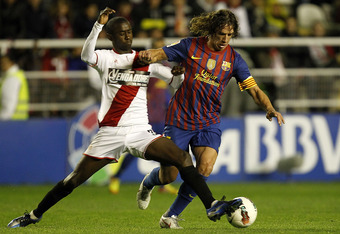 Angel Martinez/Getty Images
Granted, La Roja is not exactly in a world of trouble on defense, as Sergio Ramos, Arbeloa and Pique are still around to protect the back line. 
Ultimately, the more immediate impact of the injuries will be felt up front with the absence of Villa. I believe that Spain may find themselves struggling to score goals at points throughout the European Championship. 
Torres and Pedro are both very talented in their own rights, but we will have to wait to find out how they gel together given the absence of Villa. 
For La Roja to have a shot to win Euro 2012, both Pedro and Torres need to play at a high level.
Take someone such as Villa out of the lineup and add in the loss of Puyol, it's clear that the talent gap between Spain and the rest of the continent decreases dramatically. 
With all that being said, does Spain still have the talent to win the European championship this summer? Certainly, but there is a whole lot less room for error now than there was just a few short weeks ago.