Pacquiao vs. Bradley: Undefeated American Poised to Become a Fighting Force
May 28, 2012

Stephen Dunn/Getty Images
Timothy Bradley's record currently stands at 28-0(12 KOs), and he's a three-time world champion. However, to this point Bradley has fought in relative obscurity, largely unknown to mainstream sports fans.
Well, that would all change with a victory over Manny Pacquiao on June 9th. If Bradley can pull off the upset, his career will reach heights he could never dream of. Here's why Bradley could potentially defeat Pacquiao and become an American fighting force. 
Distractions Could Affect Pacquiao
The first big issue with Pacquiao lately is that he seems relatively distracted and has made a lot of drastic life changes. Pacquiao now hosts regular Bible studies, in which he leads the group. While there's nothing wrong with a fighter being devoutly religious, there have been reports that Pacquiao's trainer Freddie Roach was concerned he was going to "go soft."
Pacquiao has also dealt with a lot of personal issues over the past six months or so. Rumors of a rocky marriage began to swirl, culminating in a nasty story in which Pacquiao's wife served him with divorce papers the night before his November scrap with Juan Manuel Marquez. 
Pacquiao's Age
Pacquiao is also not getting any younger at age 33. He has had a lot of tough fights over the years, including November's back-and-forth affair with Marquez. Could this finally be the fight in which Pacquiao gets old overnight and gets beat? It happens to virtually every fighter, and there's no reason Pacquiao will be the exception. 
Bradley's Previous Victories
Now, onto Timothy Bradley, the undefeated American. Bradley is an excellent fighter, and it's a shame he isn't more well-known to the public. He has wins over former or current champions Kendall Holt, Junior Witter, Nate Campbell, Joel Casamayor, Lamont Peterson, Devon Alexander and Miguel Vazquez.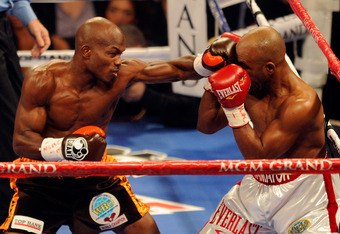 Ethan Miller/Getty Images
Simply put, for a fighter with only 28 fights, he has an excellent resumé and has clearly shown the ability to compete and win at the sport's highest level. He won't be intimidated by Pacquiao, as he has been on the world level numerous times and has yet to come away with a defeat.
Style of Fighting
Bradley possesses a style that could potentially trouble Pacquiao. Freddie Roach has said that Bradley is made to order for Manny, but I disagree. The main reason for this is that Bradley is known for using his head in fights, and if he "accidentally" opens a cut over one of Pacquiao's eyes, Manny could be in for a rough night. 
Both in the past and in recent times, Pacquiao has shown that it's hard for him to fight when dealing with a cut. His last defeat in 2005 came to Erik Morales, in a fight Pacquiao where was badly cut over his eye due to a headbutt, which really bothered Pacquiao over the course of the fight.
In his third fight with Marquez, Pacquiao was cut over the eye again, and true to form he struggled, and in the eyes of many shouldn't have come out with the victory over the Mexican slugger. 
If Bradley is able to cut Pacquiao with a headbutt or a punch, judging by past Pacquiao fights he'll certainly have a chance. 
Bradley Has the Will to Win
All of these factors are trumped by the wild card in this fight, and that is Bradley's extreme will to win. He is one of the best conditioned fighters in the sport, and he simply won't give up or stop trying, no matter what situation he's in.
Bradley has the heart of a champion, and if he is determined enough, keeps coming forward and can effectively pressure Pacquiao, he just may become the exciting American fighting force that boxing desperately needs. 
Follow me on Twitter: @rlongo924