Cleveland Indians' Hot Start Is Not a Mirage
May 28, 2012

Jonathan Daniel/Getty Images
If you are a Cleveland Indians fan or just a fan of baseball in general, you may have noticed that the Indians are off to a hot first-place start in the American League Central Division.  The Cleveland Indians currently hold a record of 26 wins and 21 losses, which has them tied for the eighth best record in all of major league baseball.
Even after just getting swept for three games by division rival the Chicago White Sox and only playing 5-5 ball over their last ten games, hope still rings eternal for Cleveland Indians fans.  Indians fans have the right to stay optimistic when you look at a few of the individual performances coming from their primetime players.
Last year's American League All-Star starting shortstop Asdrubal Cabrera is off to another stellar and well-rounded start.  Cabrera is currently hitting .301, with five homeruns, 14 doubles, 23 runs scored and 20 RBI's.
The individual production for the Indians does not end there, either.  Jack Hannahan is hitting .276 while also playing solid defense for the Indians at third base.
At only 25 years old, Jason Kipnis is hitting .275 while also leading the Indians with eight homeruns and eight stolen bases.
Speedy outfielder, Michael Brantley, is hitting .272, leads the Indians in doubles with 15 and tied for second on the Indians in stolen bases with seven.
The outstanding statistics for the Indians continue from there.  Seven players on the Indians current active roster have a on-base percentage above .350.
The Indians lead all of major league baseball in walks with 195 and as a team are in the top half of baseball in seven different major offensive categories.
John Grieshop/Getty Images
Let's take a hard look at the Cleveland Indians, though.  Not everything has been as positive as the Indians offense coming out of Progressive Field this year.
The Indians pitching staff has looked abysmal at best!  With the exception of Derek Lowe, the Indians starting pitchers have been a relative disappointment.  Even then, Derek Lowe is coming off a start against the White Sox in which he got absolutely shelled by Chicago's hitters.
The Indians currently rank in the bottom half of major league baseball in eight different pitching categories.  Within those eight categories, the Indians rank in the bottom five in baseball in six different pitching categories.
Those six categories are:
Team ERA: The Indians' pitching staff currently holds a team ERA of 4.40.
Runs allowed: Indians pitchers have allowed a total of 224 runs to opposing offenses.
Earned runs allowed: Indians pitchers have allowed 210 earned runs to opposing offenses.
Walks allowed: Indians pitchers have walked 184 opposing hitters.
Strikeouts thrown: Indians pitchers have only struck out 296 opposing hitters.
Finally, WHIP: The Indians' pitching staff has a combined WHIP of 1.40.
Actually, the only two major pitching categories the Indians have done well within are saves, where they are tied for second in all of baseball with 18, and homeruns allowed, where they rank seventh in baseball with only 38 homeruns allowed as a pitching staff.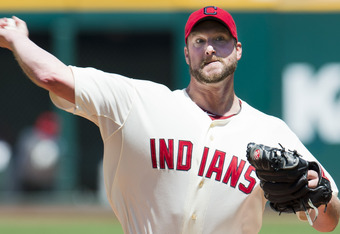 Jason Miller/Getty Images
So, after throwing all those statistics around, you may be asking yourself: How are the 2012 Cleveland Indians not a mirage in your opinion?
The answer is this: the hitting should only get better as a whole as the season continues to progress. I am not a Grady Sizemore apologist, and did not think that re-signing him was a very good decision by the Indians.  I envisioned much of the same scenario that has been going on with Grady since spring training.  But with that said, even the most adamant of Grady Sizemore doubters have to believe that when healthy he will provide more, both offensively and defensively, than current starter Johnny Damon.
Plus, Casey Kotchman is a career .265 hitter with a career .333 on-base percentage who has finished a season with over a .270 batting average six times throughout his career.   So one can only speculate that his current .219 batting average and .299 on-base percentage will only continue to climb as the season progresses with the Cleveland Indians.
My feelings about Casey Kotchman can also be applied to the Cleveland Indians currently struggling pitching staff.  The Indians are already in first place and any pitching staff that wields Ubaldo Jimenez, Justin Masterson and Derek Lowe can only improve upon the numbers they are currently producing.  Even with the Indians pitching staff struggling as a whole, one has to think that on any given day this staff can just turn things around and be absolutely lights out for the opposition.
The most telling factor for the Indians' success could be the lack of success by others within the American League Central.  The Kansas City Royals and the Minnesota Twins are not contenders this season, which leads the Indians to only really compete with the Chicago White Sox and Detroit Tigers to win this division.
The Sox proved this weekend that they will be a thorn in the Cleveland Indians' side all season, but remember when this season started most believed that the White Sox would not be real contenders and have to start rebuilding sooner rather than later.  
Plus, Paul Konerko has been on an absolute tear to open the season.  He is hitting .396 with a .473 on-base percentage.  A statistical tear that no one really believes he can keep up for the bulk of the regular season.  
The Tigers on the other hand, have been unable to take over the division in which they were anointed the winners before the season even started.  Now, currently holding a third place record, all the worst scenarios seem to have come true in Detroit.  Their infield defense is absolutely terrible, and Justin Verlander has been the Tigers only reliable pitcher.
The one aspect of the Cleveland Indians that I love more than any other is the fact that this team does not have one real superstar—a team in the truest sense.
In any facet of the game, any player can step up for the Indians, take over and win a game for them.  Any day or night, Ubaldo Jimenez, Justin Masterson or Derek Lowe can pitch a terrific game.  
Offensively, the Indians are deep and balanced.  One individual player does not need to carry the offensive load for this team.  Game-in and game-out, anyone in the Indians' starting nine can produce and make the game winning hit or play for the Indians.  
That is why the Indians are far from being a team that is just a mirage that will fade away!