NBA Lottery 2012 Start Time: Who Will Get Screwed on Lottery Night?
May 28, 2012

Ronald Martinez/Getty Images
Details: The NBA draft lottery will take place in New York at the Disney/ABC Times Square Studios on May 30, 2012 at 8:00 p.m. ET.
The bottom 14 teams in the league, those that did not make the playoffs, will be be eligible to earn either the first, second or third pick in the draft. Once the top three spots are selected, the teams are ordered in the draft on how weak their finishing record was. Because of this, a team can not drop more than three spots in the draft lottery.
To see the final lottery chances for each team, take a look here. This list is the three teams that, through their team's history and recent deals, have the best chance of getting screwed during the lottery. 
Brooklyn Nets
Lottery position: sixth  Chances of winning first pick: 7.5 percent
Many are predicting the Nets to get one of the top three picks, because they moved to a new city and the draft lottery is being held in New Jersey. That's just how the universe seems to work sometimes, and there are plenty of people who believe that David Stern manipulates the draft to make the best stories.
The Nets better hope they get one of the top three picks, because if they don't they lose that pick.
The Nets traded their pick away to the Portland Trail Blazers for Gerald Wallace, but have a top-three protection on it. This means that if they get one of the top three picks they get to keep the pick, but if it is fourth or lower, the Blazers take it. The Nets stated that they didn't think anyone outside of the top three was worth it, as they would rather have an experienced player than a project player like they would likely draft with a No. 6 to No. 9 pick.
This win-now strategy is all well and good, until you realize that it's the Nets talking about this. If Deron Williams leaves this offseason and they don't get the top-three pick, they will be in a terrible spot.
People who subscribe to the theory that the NBA draft is rigged and that David Stern is a mad scientist controlling the league may think that Brooklyn is too good of a story to not get the top pick. More than likely, however, the Nets will end up looking outside on what should be a solid draft class. 
Cleveland Cavaliers
Lottery Position: third  Chances of winning the first pick: 13.8 percent
This pick is all about history. At this point, people from Cleveland would be offended if they were not included on a list of teams about to be screwed. Cleveland is one of the most long-suffering sports cities in America, and there's even a sports blog called Cleveland Sport Torture.
In terms of where the top pick—at this point we can assume Anthony Davis—would want to play, Cleveland would certainly be appealing. Teaming him with Rookie of the Year Kyrie Irving would make for a great pairing, and the two young stars could feed off each other to make a highly competitive team. 
Knowing what we do about Cleveland's history, I'm not sure if they will be tortured by not getting the pick, or having another LeBron situation, but one thing is for certain: when talking about teams about to get a raw deal, never count out Cleveland. 
Charlotte Bobcats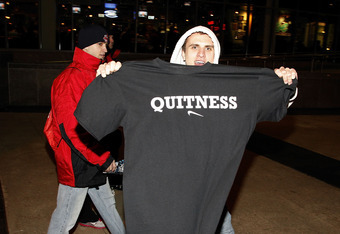 Gregory Shamus/Getty Images
Lottery Position: first  Chances of winning the first pick: 25 percent
The Bobcats have the best statistical chance of getting Davis with the first pick. At this point, it's safe to say that if the Bobcats do not get the first pick, the draft lottery will be a disappointment. 
Charlotte has been around for eight seasons now, and they have done only two things noteworthy in that time. They made the playoffs for the first and only time in franchise history during the 2009-2010 season, and this past year they ended the season as the worst team in NBA history. Not exactly a stellar resume. 
If there is such a thing as karma and the basketball gods, they will surely smile on the Charlotte fans who had to suffer through this last year. But if I know how basketball works, there will be a cruel twist somewhere. Look for the Bobcats to get the third or fourth pick, and draft yet another player who is really good, but not great, making them have yet another losing season.