Getting to Fenway Park: How Boston's Beloved Ballpark Came to Be
May 28, 2012
Today's casual fan might be under the assumption that Red Sox baseball began with the opening of Fenway Park, but of course this is far from the truth.
In fact, the first great moments in the history of Boston's American League franchise took place about a mile from Kenmore Square at Fenway's predecessor, the Huntington Avenue Grounds. It was in this humble, long-forgotten locale that the Red Sox won the first modern World Series in 1903, and then repeated as American League pennant winners a year later. It's also where they stole the hearts of Boston's raucous fan base from their inner-city National League rivals at the turn of the century, a move that would have seemed preposterous just a few summers earlier. 
Built in the first few months of 1901, the Huntington Avenue Grounds stood literally across the railroad tracks from the South End Grounds, home of the Boston Nationals, the most celebrated team of professional baseball's early years, in an attempt by the brand-new American League to gain a foothold in the hotbed of America's Pastime. First known as the Red Stockings and Beaneaters, and later to become the Braves, the Nationals were the kingpins of the National League, with eight championships since the circuit's formation in 1876 and five in the 1890s alone.
Their loyal fans would serenade their heroes with songs at the South End Grounds, and then drink with them after the games at a nearby saloon. The most dedicated devotees, the self-proclaimed "Royal Rooters," even took their pennants, pins, megaphones and drums to road games in New York and Baltimore. 
But all was not perfect in the National League, at least from a player's point of view. Boston heroes such as third baseman Jimmy Collins and first baseman Buck Freeman were frustrated by a $2,400 league salary cap and the reserve clause, which bound them to the same team for their entire career, giving them no say in where they might be traded or sold. Several other leagues had previously been formed to challenge National League superiority, but their owners lacked the business acumen or the organization to last more than a season or two.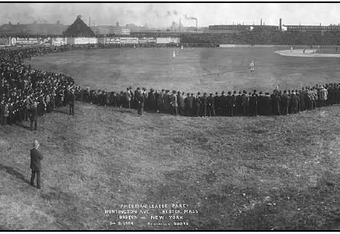 Ban Johnson was different. President of a successful, tightly run minor league, he had the business acumen and the guts to not only establish franchises in cities without a National League presence, but also to form teams in locales like Chicago, Philadelphia and even Boston where the National League was already entrenched. He enticed fans by charging them half the going National League ticket rate—a quarter rather than 50 cents—and snatched up top National League talent with promises of heftier salaries and no reserve clause.  
Despite their many successes, the Boston Nationals were primed for picking by the American League teams. They had once played at a beautiful double-decked ballpark (South End Grounds II) that resembled a castle, but after this structure burned down during an 1894 game, the replacement facility (South End Grounds III) had to be built on a far stingier budget because of a lack of sufficient insurance on its predecessor. 
This resulted in a shoddy, single-tiered ballpark and equally stingy player salaries as the ownership tried to make up for their financial losses. Players often grumbled about these circumstances with their fans/drinking buddies, so it was only natural that Collins, Freeman, and numerous teammates jumped to the new circuit—as did their patrons. 
In addition to manning third base, Collins led the Boston Americans as their first manager. The ballpark he and his charges called home was, like many of this era, nothing special. Built entirely of wood, as was the custom, the Huntington Avenue Grounds seated about 10,000 fans (mostly in uncovered grandstands) and was built on the site of a former circus lot.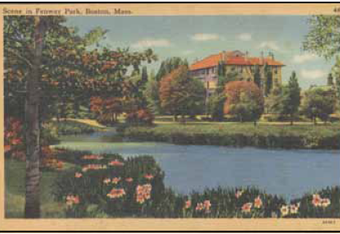 As Red Sox historian Ed Walton wrote: "The lot's biggest drawback was a deep pond which was at the base of chutes used by kids as a water slide during the warmer months and for skating in the winter. This 300,000 square feet of filled, sprawling empty lot…was no more than an expansive wasteland made up of heavily weeded bumps and lumps."
Fans didn't seem to mind, turning out in strength at the new venue as the Americans outdrew the Nationals across the tracks by nearly 2 to 1 in their first season. With Collins and Freeman leading the hitting attack and a pitching staff paced by Denton True "Cy" Young, the new boys in town were contenders from the start and the American League champions by 1903.
That fall owners Henry Killilea of the Boston Americans and Barney Dreyfus of the National League champion Pittsburgh Pirates agreed to a best-of-nine-games postseason playoff, and the Americans captured this first modern World Series in dramatic fashion. Crowds literally climbed the walls at the Huntington Avenue Grounds and crowded behind outfield ropes five deep to see the action, while the South End Grounds next door sat quiet—now home to a decimated, sixth-place team.
In 1904 the Americans engaged in a thrilling pennant race with the New York Highlanders (later the Yankees) and drew an incredible 25,000 pre-fire-law fans—well above twice normal capacity—for a single-admission doubleheader on October 8. Two days later on the last day of the season, Boston claimed the title and was declared "World's Champions by default" by The Sporting News because the National League-winning New York Giants, initially fearful of facing their crosstown rival Highlanders in a playoff series, stood by a midsummer pledge to skip the postseason.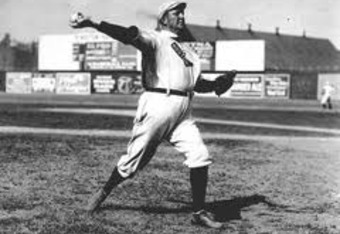 And while the next few years were not as kind to the Americans (who fell to a dismal 49-105, last-place finish in 1906), they seemed to be improving again by 1911 with some great young players on the roster and (as of December 1907) a great new name to fit a colorful uniform switch: the Boston Red Sox. 
The man responsible for the name change was team president John I. Taylor, whose father, General Charles Taylor, owned the Boston Globe and purchased the ballclub to give his young playboy son something to do outside the newspaper. Neither Taylor was much of a baseball man, but they did have an eye for real estate, and with the lease on the Huntington Avenue Grounds expiring after the '11 season they began looking for a new venue.
Fires had decimated many wooden ballparks over the previous two decades (including South End Grounds II), and the impressive new venues now going up like Forbes Field in Pittsburgh and Shibe Park in Philadelphia were being built of steel and concrete. The Taylors wanted a similar facility for Boston, and, with a strong fan base and great young ballplayers such as outfielder Tris Speaker and pitcher Joe Wood, figured they could fill many of the 20,000-plus seats it would contain.
What happened next would change the course of Boston history. A 365,308-square-foot section of land known as the Dana Lands at the corner of Lansdowne and Ipswich streets in the city's Fenway neighborhood was put up for auction in the winter of 1910-11 and wound up in the hands of the Taylors.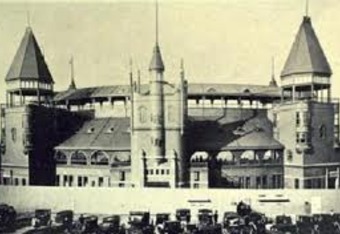 Such a transaction would have been folly just a few decades earlier. The Fenway had long been nothing more than a swampy, smelly dump, a noxious reminder of when Boston's entire Back Bay was a shallow body of salt water. In the 1880s, however, it had been built up by the famed landscape architect Frederick Law Olmsted as part of his seven-mile stretch of walkways and parkland known as Boston's Emerald Necklace. Although some still thought the land was useless, the swamps were long gone and the Taylors felt the area was capable of major growth given the right "anchor" destination. 
Several stories exist of how the 8-acre Dana Lands came to be the property of the Taylor family. One possibility was the subject of a theatrical re-enactment performed at none other than Fenway Park during ceremonies kicking off the ballpark's 100th birthday in December 2011. The short play was based on facts; in late 1910 the Dana Lands were sold at auction for $120,000 to the New England Mutual Life Insurance Co., which two months later sold them to the Taylors.
In the Fenway re-enactment, Charles and John I. Taylor are seen in the audience at the auction (although there is no proof they were there) and appear keenly interested in the property despite letting someone else snatch it up. Two months later, they meet with the New England Mutual executive (fictitiously named Samuel Williams in the re-enactment) who had placed the winning bid.
Here, directly from the re-enactment script, is how a conversation between Charles Taylor and Williams might have gone.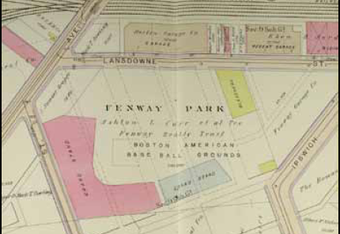 Williams: "Before we put our signatures to the papers, Charles, I do have one question for you." 
Taylor: "Of course, Sam."
 Williams: "What exactly do you plan to do with this land?"
Taylor: "Well, the plot is a substantial one. I figure there are plenty of good uses."
Williams: "But what exactly? You're not planning to relocate your newspaper headquarters there, are you?"
Taylor: "Well, I don't propose so…" 
Williams: "Another one of your holdings?"
Taylor: "I don't think so."
Williams (laughing): "Then what, exactly? John's baseball club?"
Taylor: "Now there's an idea!"
Williams: "You're not serious, Charles!?"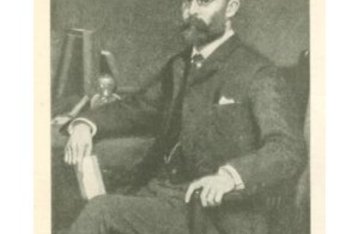 Taylor: "Why not, Sam?"
Williams: "Well, the plot, Charles. It's too misshapen! I admit there are uses for it, but a baseball diamond on that bog? Do you expect your players to field balls in a marsh?"
Taylor: "We will find a way to play ball on that plot! There is plenty of room for a diamond. Our players will not be fielding balls in a marsh!"
Williams: "They'll laugh at you, Charles! They will say you are crazy for trying to build a new ballpark there, and that I'm crazy for selling you this land."
Taylor: "Let them say we are crazy. In a year's time, they will call it the jewel of baseball!"
Williams: "And when do you plan to debut this park?"
Taylor: "April, 1912."
Williams: "Next spring? A year away!? You hope to have them build this so-called jewel of a baseball park and have it ready by next spring?"
Taylor: "We don't hope, we know! It will debut in April, and it will serve as home for generations."
Williams: "But the neighborhood, Charles. … It is not a commercial area."
Taylor: "It will be, Sam, it will be. The Fens is a growing area, and it will continue to grow around our park."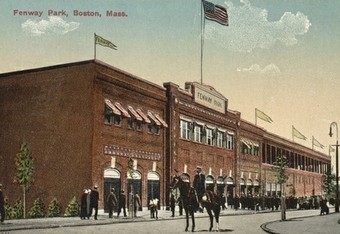 Williams: "And what of the city's leadership? Will they support this idea of a ballpark in the Fens?"
Taylor: "They certainly will. Because in 10 years' time—no, in five years' time—this area will be a bustling hub as well as any other in our fair city. After this meeting, we are meeting with the mayor—"Honey Fitz." He'll be glad to hear about this good news. 
"I am telling you, Sam. I am telling you that they will be flocking to this neighborhood. Our park will rise, and it will beckon the fans. And the name of our park will be linked to the Fens, and the hearts of every New Englander."
"Honey Fitz" was Boston Mayor John Fitzgerald, a Royal Rooter since the 1890s who had cheered on the Nationals in their heyday and like many Rooters had since switched his allegiance to the Red Sox. He would play an important role in the inaugural game at Fenway Park, but first it needed to be built.
The Taylors, true to their interests in land over baseball, devised a plan to sell the Red Sox and use the money to build a new ballpark. Then, rather than worry about running the team, John I. could just rent out the park to the new owner on an ongoing basis. 
A deal was struck on September 15, 1911, as the Red Sox, 65-69 at that point, were about to start their last long homestand of the year. John I. Taylor sold half of the club to the duo of James "Jimmy" McAleer and Robert McRoy, both really stand-ins for American League president and power broker Ban Johnson. (McAleer, the Washington Senators manager and a Johnson crony, used Johnson's money for his part, while McRoy was Johnson's secretary.) Sports editors not enamored of Taylor's ownership style heralded the sale as a sign of better things to come, with headlines like "McAleer Will Bolster the Sox."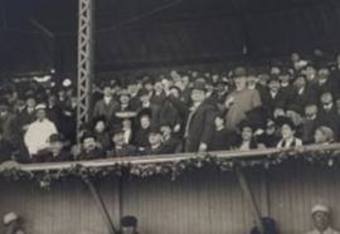 Under the terms of the arrangement, McAleer took over the team presidency, and Taylor slid into a vice presidential role in which he would oversee development of the new ballpark. He wasted no time. "As soon as the papers are signed, work will be begun on the construction of a new steel and concrete grand stand, to cost $300,000," the Boston Herald reported, while the Globe wrote that the project would "improve the grounds so that for capacity and character, the accommodations will be second to none in the country. 
On March 12, 1911, Ban Johnson had been quoted in the Globe as saying that his intent was that within two years every American League team should have a playing venue with "mammoth fireproof stands, crowded to their capacity" and "concrete and steel structures for the accommodations of the patrons." To make this a reality in Boston, the Taylors turned to architect James McLaughlin, whose original plans called for a ballpark with an 11,500-seat covered grandstand and a total capacity of 24,400.
Construction began on September 25, while the Red Sox were playing out the string at the Huntington Avenue Grounds a mile away, and although photos would surface decades later claiming to be of a Fenway Park groundbreaking, there was in fact no such official ceremony. The Taylors wanted the park ready for Opening Day 1912, and that was a little over six months away. There simply wasn't time for such niceties.
There was also no fanfare for the final game played at the Huntington Avenue Grounds, on October 7, 1911, in which the Red Sox defeated the Senators, 8-1, before just 846 paid fans on a cold, damp afternoon. Pitcher Charley Hall got the win, and Tris Speaker was hit by a pitch and carried away in an ambulance. An unofficial count of 4,000 youngsters (it may have been 400, with the extra "0" a typographer's error) were admitted free for "Kids Day," and although many of them likely had no recollection of the ballpark's glory years of 1903-04, all would have plenty of memories awaiting them at Lansdowne and Ipswich Streets. They would also have the "lucky" grass from the '03 World Series, as the sacred lawn from the old facility would be replanted at the new ballpark.
By this point, that ballpark had a name. How this came about sounds too corny to be true, but apparently it is: Although the original architectural drawings made reference to the "Boston American Base Ball Park," John I. Taylor was quoted in the press as saying his new facility would be called Fenway Park because "it's in the Fenway section of Boston, isn't it?" This is really not so creative a quip on his part, since every other ballpark in the city's history had also been named after its residential locale. Taylor could just as easily have named the new venue Lansdowne Park, Ipswich Street Park, or Taylor Park, and any of them would sound correct today. 
It could be speculated that Taylor chose Fenway Park because his father was a shareholder in the Fenway Realty Company, which helped finance the construction of the ballpark by issuing $275,000 in bonds. Putting "Fenway" on the park's entrance, he might have surmised, was as clear a case of free advertising as the names Comerica Park and U.S. Cellular Field are today. In any case, giving praise where it is due, John I. Taylor is still credited more than a century later with naming the two most important entities in New England baseball: Fenway Park and the Boston Red Sox.
Architect McLaughlin had an 8-plus-acre plot to work with, and Taylor wanted to have the field positioned in the same way with respect to the sun as the Huntington Avenue Grounds. (Boston fielders, he surmised, would thus have less difficulty adjusting to the new park's playing conditions.) This being the Deadball Era, when 300-foot fly balls were a rarity, there was plenty of room for a park to be built with more than ample outfield dimensions.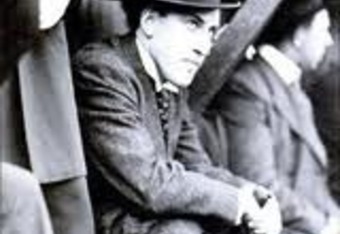 The modern tales of Fenway being crammed into the existing city streets surrounding it simply are not true; there were not yet a slew of buildings on Lansdowne Street behind left and center field to contend with, and no other buildings bordered the plot at any point. In the earliest photos of Fenway, one can see scraggly, vacant lots surrounding the ballpark, almost as if it had been picked up and plopped down in a drought-ridden Oklahoma field. 
The biggest question Taylor and McLaughlin had to decide upon was whether or not to give the new park a double deck, as had been done in Philadelphia's Shibe Park two years earlier. It was a considerable expense, and since Taylor was cautious about whether it would be needed, he decided upon one level of grandstands—with a contingency plan. He had McLaughlin build a strong enough foundation on the roof covering these seats so that a second deck could be added in the future. In another cost-cutting measure by Taylor, the original left field grandstand went only about halfway down the third base line (to today's Section 27), rather than extending all the way to the tall left field wall as it does today.
McLaughlin's influences included other baseball parks such as Shibe Park as well as Harvard Stadium, the imposing Grecian-like structure just a few miles from the Fenway, where nearly 30,000 fans routinely watched the famed Crimson football team battle each fall.
To save time, however, he did not make all four sides of Fenway Park uniform in design. Although the main Gate A entrance on Jersey Street would feature a façade of beautiful dark red brick complemented by lighter-covered accents, most of the park was far less ornate as seen from the outside. Major design and civil-engineering work was handled by Osborn Engineering of Cleveland, which would later design Boston's next grand baseball venue—Braves Field—as well as Yankee Stadium; and many local laborers and skilled craftsmen were employed on the project.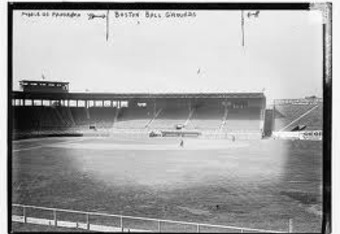 Building went on through the winter of 1911-12 and into spring training, which the Red Sox spent in Hot Springs, Arkansas. By the time the team trained its way back north in early April, construction still was not completed; when Fenway Park housed its first game, on April 9, 1912—an exhibition contest between the Red Sox and Harvard University—fans could still spot workmen in the grandstands assembling and placing seats. 
Ticket prices would make today's fans drool: Private boxes cost $250 for an entire season of 77 home games, and box seats went for $1.50 and $1.25 per contest. Grandstand ducats went for $1.00, and bleachers for just 50 or 25 cents depending on your distance from the field. Some fans and sportswriters grumbled about the deepest-placed seats, with cartoonists showing men with telescopes attempting to follow the game.
The Red Sox beat the college boys, 2-0, as about 3,000 chilly fans looked on through snow flurries. Although what people observed at Fenway in 1912 was in many ways similar to a visit to the ballpark today, there were some subtle and some not-so-subtle differences.
There were no video message boards or sound system, of course, and a megaphone was used to yell out the lineups for fans keeping track in their scorecards. Since players wore no uniform numbers, it was important to know who was in the game from the start, although batters were likely a bit more identifiable since none wore helmets or wrap-around sunglasses either. There were ushers, just like today, but they wore white uniforms and red caps. And while fans could find restrooms underneath the stands, they walked on dirt floors to get to them (concrete would not be added until 1914).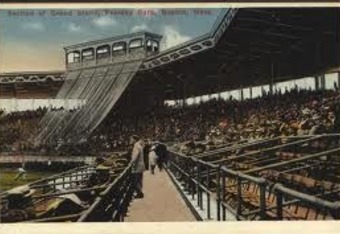 It's unlikely any fans at the opener thought of Fenway in John Updike terms as a "lyric little bandbox." Although it is considered "cozy" today, the ballpark's original dimensions made it one of the biggest in baseball for its day. It was well over 380 feet to the right field fence, 300 feet to left, and nearly 550 feet to deepest center. 
The ballpark's most famous current feature, the 37-foot 2-inch high "Green Monster" wall, was not yet on the premises, but its smaller, more colorful predecessor was—a 25-foot-high wooden-planked fence tattooed with ads for whiskey, biscuits, and taxicabs. The barrier was designed to keep fans behind it from getting a free peek at the action from windows or roofs on Lansdowne Street, not to keep home runs from breaking windows. Nobody figured to be hitting the ball over the wall any time soon.
Another quirky detail fans might have noticed was the sloping hill leading up to the base of the tall fence and extending from left field to center. This 10-foot knoll, which would be crowded with fans using it as makeshift bleachers for big games, was usually in play and presented a challenge for outfielders. Red Sox left fielder Duffy Lewis would become so adept at running up and down it in pursuit of fly balls that fans took to calling the spot Duffy's Cliff, but most defenders would just as soon it be smoothed over.
The excitement of the present and the promise of the future would extend to the surrounding streets, as the vision the Taylors had for the Fenway area came to fruition. Within a few years after the ballpark opened, an underground subway stop would bring people into the heart of Kenmore Square, where it was just a short walk to the ballpark—with restaurants and automobile showrooms to entice fans along the way. Hotels soon followed.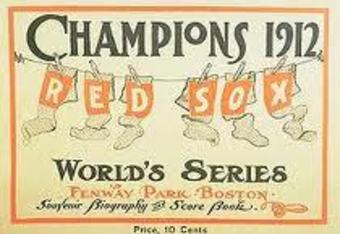 "Upon debut, Fenway was greeted with a range of opinions," a narrator summed up after the December 2011 re-enactment detailing the ballpark's origins. "Some writers lavished praise upon the park, calling it "splendid" and "magnificent," and others complained that it lacked intimacy and was too cavernous. But fans quickly fell for the place, making Fenway Park a Boston institution from its earliest days. 
"For 10 abiding decades, fans have passed through these turnstiles, entering a ballpark that has not only endured—but thrived. Closing in upon its 100th birthday, the park serves as a testament to where we've been, and a timeless compass to where we are going." 
This essay is excerpted from Opening Fenway Park with Style: The 1912 World Champion Boston Red Sox, edited by Bill Nowlin and written entirely by members of the Society of American Baseball Research. It is available through SABR at http://sabr.org/latest/opening-fenway-park-style-1912-world-champion-red-sox. Saul Wisnia's Fenway Reflections can be found at http://saulwisnia.blogspot.com/, and he can be reached at saulwizz@gmail.com or @saulwizz.