Albert Pujols Continues His Dominance of the Mariners
May 28, 2012

Otto Greule Jr/Getty Images
As if the Seattle Mariners didn't have enough problems to worry about this season, the fact that they were matching up with the Los Angeles Angels for the first time this year didn't make things any better. 
With the four-game series being their first meeting, it meant the Mariners would get their first taste of Albert Pujols as a member of their squad. 
One would assume that a slumping Pujols in a huge ballpark like Safeco Field would play in the favors of the M's. Well, that would be a bad assumption. 
Coming into the series on on Thursday night Pujols' numbers consisted of a .213 average with four home runs and 20 RBI. Heading out of town after the Sunday series finale, he had managed to up his numbers to a .227 batting average with seven long balls, and 27 ribbies. Not too shabby. 
It would be easy to say that Prince Albert has just reached that point in the season where he decides to turn it on and return to being the greatest hitter in the game. On a closer look though, it could just be the fact that he's playing the Mariners—a team he has always had great success against. 
In his 11-year career, Pujols has matched up against Seattle a total of 13 times (the last four being this previous series). 
In those 13 games, he has a batting average of .340, has hit six homers, four doubles and driven in 17 runs. Along with that he walked five times, making his on-base percentage an even .400, and has only been rung up a total of four times. 
Those numbers are good for him, but the number that will mean the most to the Angels, is the fact that his team is 10-3 overall in those games. That's very good news for the team seeing that they face Seattle 15 more times throughout the course of this season.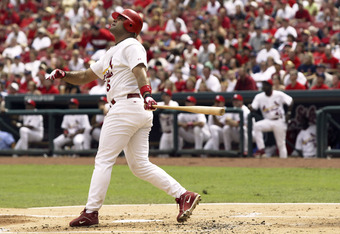 Dilip Vishwanat/Getty Images
He's also signed on for another nine years after the 2012 season, so you do the math. 
Everyone knows Pujols is capable of putting up the numbers that we saw over the past four days for the rest of the year. If this is in fact him righting the ship, than the Mariners, along with the rest of the MLB need to watch their backs. 
*Stats are from ESPN.com