Texas Rangers' Adrian Beltre: Is He the AL's Most Underrated Player?
May 28, 2012

Cooper Neill/Getty Images
The Texas Rangers (30-18) have the American League's best record, and clearly, one of the game's most talented rosters.
As the Rangers continue to roar on while rapidly approaching the one-third mark of the 2012 season, it's becoming increasingly less difficult to argue about their overall greatness. Truly, they're not only one of the best team's in the major leagues but one of the deepest as well.
On a team with this much talent, it's easy to be overlooked. Adrian Beltre is a fine example of an outstanding baseball player that has been enveloped by the awe-inducing shadows cast by such superstars as Josh Hamilton, Yu Darvish and Nelson Cruz.  
Adrian Beltre might just be the American league's most underrated player. Consider the multiple ways that Beltre can propel the mighty Rangers on a daily basis:  
Offense
Being underrated—no matter how excellent the skill set—is a piece of cake when the guy batting in front of you is Josh Hamilton.  
Clearly, Hamilton is having a fantastic season, even by his own lofty standards: .368/422/.753 with 20 home runs and 53 RBI. 
However, Beltre is having yet another fine season at the plate as well: .318/.337/.553 with 10 home runs and 33 RBI. It stands to reason that pitchers would intentionally walk Hamilton much more often if there wasn't such a formidable offensive foe in Beltre batting directly behind him.
Defense
Beltre is a three-time Gold Glover winner at third base ('07, '08 and '11). Sure, winning a Gold Glove isn't necessarily a tell-tale sign of defensive excellence. And defensive metrics haven't quite caught up with their offensive brethren in terms of reliable evaluation.  
Consider though, the Ultimate Zone Rating or UZR. Obviously, this metric isn't 100 percent either (nothing is or baseball would be pretty boring). Beltre's UZR of 11.2 last season at third base is quite formidable—especially when you consider that Michael Young is the team's primary backup third baseman.  
Young's UZR at third base last season was a well-below average -1.9. Even if Beltre didn't provide a premium bat to an already stellar lineup, his glove alone would be worthy of inclusion in the starting lineup. 
Versatility
A healthy Adrian Beltre not only solidifies one of the best defensive left sides in the major leagues, it also complements one of the deepest teams in the league.  
With Beltre on the hot corner, it enables the Rangers to use Michael Young at DH (his best defensive position), or he can be shifted up the middle or to first base to provide an off day for Ian Kinsler, Elvis Andrus or Mitch Moreland.  
With Beltre penciled in every day, he makes the Rangers better by boosting not just their overall depth, but by enhancing their versatility as well.
Leadership
I feel that the term "leader" is bandied about far too much, not just in MLB, but in the professional sports world as a whole. However, having a go-to guy for younger players who's not only approachable, but caring is an absolutely priceless attribute for a team.
Since he is a native Spanish speaker, as well as quite fluent in English, Beltre bridges gaps that might surface due to a language barrier.   
Playoffs
When healthy Adrian Beltre is arguably the best overall ballplayer on a team who boasts one of the deepest and most talent-laden lineups in Major League Baseball.  
For the best example of what Beltre can do for a team, you need look no further than his Game 4 performance in last year's American League Division Series against the Tampa Bay Rays.
With his three home runs and four RBI, Beltre was, quite literally, a one-man wrecking crew as he led the Texas Rangers into the ALCS thanks to their series-clinching 4-3 win.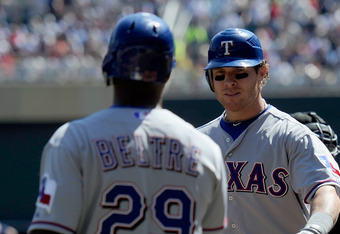 Hannah Foslien/Getty Images
When it comes to evaluating whether a player is underrated or overrated, there's no definitive answer. It's far too subjective to even hedge a guess.
But on a team like the Texas Rangers that has players like Josh Hamilton, Yu Darvish and Nelson Cruz (to name a few), Adrian Beltre's silent success has all the hallmarks of a key player who's firmly overlooked. And on one of the best teams in the American League, Beltre may just be the most underrated player.
Check out BaseballDo—A Texas Rangers Blog that's funny too