Fantasy Football 2012: Can These Former 1st Round RB's Recover from Injuries?
May 29, 2012

Thomas B. Shea/Getty Images
When it comes to running backs in fantasy football, change is always in the air. This is because most elite running backs only manage five to six great seasons before fading into mediocrity.
As the workhorses of the NFL, running backs have a tremendously short shelf life, and they are frequently subjected to horrible injuries. 
When you think about it, this isn't a surprising number. Most running backs enter the league at around 23 or 24 years old which gives them only six or seven seasons until they reach the big 30. And every fantasy football owner knows that 30-year-old running backs are essentially fantasy poison. 
While none of the following running backs are going to be 30 this season, they are all attempting to return to fantasy relevance after suffering horrible injuries. And as history shows, it can be difficult for running backs to return from injuries and get back to lighting up the fantasy scoreboard every weekend. 
The question to ask here is not if you should draft these players, but where you should draft them. Injury concerns have obviously removed them from the first round. However, don't be surprised if you still get some value and even see some great games from these running backs this season.
Adrian Peterson, Minnesota Vikings.
Adrian Peterson has arguably been the best back in fantasy over the last five seasons. For his first four seasons, he finished in the top three for scoring at running back. The ACL tear in Week 16 dropped Peterson to seventh among running backs and 33rd in overall scoring.
Though not up to his usually lofty standards, it was still a good season for Peterson. And without the ACL injury, it's likely Peterson would be considered as the top overall pick for the third time in the last four years.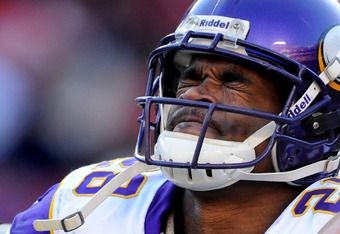 Patrick Smith/Getty Images
It's hard to get much out of Vikings injury reports at this time. While things sound optimistic considering that Peterson is already running and performing drills, he still has yet to fully participate in training camp.
His goal of shooting for opening day seems intact though especially since there's video of him working out, and in it he looks pretty recovered.
Knees are obviously crucial to a running back so drafting Peterson means you might need some patience as he could struggle to get back to ridiculous All Day type numbers. But I think that he could still go as early as the third round, especially if more optimistic reports come out of Minnesota.
Still, anyone who drafts him should consider Toby Gerhart as a handcuff—he scored more than 10 points in five of his six starts last year.
Jamaal Charles, Kansas City Chiefs 
Jamaal Charles burst onto the fantasy scene in 2009 when he became the first player in NFL history to rush for 1,100 or more yards with 200 or fewer carries. He then went on to become one of the best running backs in the game in 2010, despite Todd Haley's refusal to remove the older Thomas Jones from a starting role.
Thankfully there was plenty to go around and both Charles and Jones did well in the NFL's No. 1 running game that season.
However, 2011 was very different. Jones finally had the falloff that fantasy owners had been fearing for several years, and he became entirely irrelevant for fantasy purposes. But we were robbed of seeing how Charles would perform as the Chiefs' only starter since he tore his ACL in Week 2.
When I say we, it's because I had drafted Charles as my first-round pick in one of my leagues. Therefore, his injury was devastating to me, and I can't hear his name without thinking what could have been.
Prior to the injury, Charles was up there with Chris Johnson as one of the fastest players in the NFL, and with his pass-catching ability, this guy could have been fantasy's best running back last season.
What Charles really has going for him was the time of his injury. Since it was in September, he's had eight months to work on his rehab. Recent comments are good too as Charles has stated on his Twitter that he feels that he is still the fastest player on the Chiefs.
While Jones is gone, Peyton Hillis is in Kansas City, and he will likely split time with Charles. Still a healthy Charles will get the overwhelming carries, and at only 25 years old, there's plenty of optimism for Charles' next couple seasons.
I think that he could go in the second or third round, easily getting picked up in the top 30 for most leagues.
Rashard Mendenhall, Pittsburgh Steelers.
Although his injury took place only a week after Peterson's, there is way more pessimism surrounding the Steelers' starting running back. His ACL tear in the final game of the regular season was particularly brutal. Already, reports have circulated that Mendenhall could be out for the entirety of the 2012 season. 
Of course Mendenhall doesn't feel this way and like with many players in this situation, he is optimistic that he could be back by Week 1.
Mendenhall has recovered to the point where he is already running and cutting on the sidelines during OTA practices, according to the Pittsburgh Tribune-Review.
Still, at this point the Steelers seem ready to move on and let Mendenhall take his time recovering. Isaac Redman is a more than capable starter, and should he falter, the Steelers have talented running backs like Chris Rainey and Jonathan Dwyer that could potentially start.
My advice would be for anyone who wants to invest in the Steelers running game to pick up Redman. With new offensive coordinator Todd Haley loving to run the ball, Redman could be a fifth- or sixth-round pick with tremendous upside.
As for Mendenhall, I think he will go undrafted in many leagues unless substantial progress is made in his recovery.
There's still time so I wouldn't rule out a possible return for Mendenhall, who was a borderline first rounder in many drafts last year. But fantasy owners should remember that even before the injury, Mendenhall had been criticized for fumbling. and many Steelers fans were disappointed with him.
It's quite possible this injury will signify the end for Mendenhall in Pittsburgh. It could even be another cruel reminder of just how short the shelf life can be for running backs in today's NFL.