2012 MLB Draft: Most Likely to Hit 40 HR, Steal 60 Bases and Other Superlatives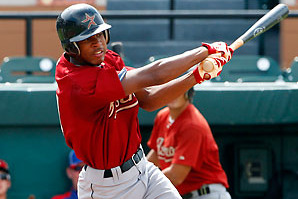 Georgia prep OF Byron Buxton is one of the top players in the 2012 draft.
Alas, it is almost June, which means the MLB draft is nearly upon us.
While the top players, including outfielders Byron Buxton, David Dahl and Courtney Hawkins, as well as pitchers Mark Appel, Kevin Gausman and Kyle Zimmer, are geared up to receive life-changing monetary offers, we the fans are more concerned with other things.
For starters, which one of these highly touted prospects is going to be the first to win a league batting title? Which one has the potential to lead the league in steals? Or home runs?
Luckily, we have all the answers you've been searching for, right here.
So let's dig in and discover who the top performers are going to be from this relatively weak class of prospects.
Begin Slideshow

»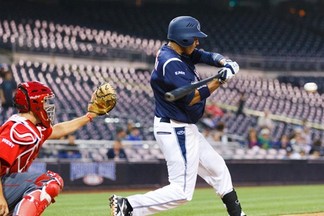 A story about Puerto Rican shortstop Carlos Correa goes like this.
Playing in a tournament down in his home province, Correa asked a coach how many home runs he'd seen hit in all his years coaching this specific tournament. When the coach told the youngster he had seen just two, Correa headed to the plate and relayed the message that the coach was about to see a third. After he hit his home run and was trotting around the bases, Correa winked to his coach and proclaimed, "I told you."
In addition to having one of the finest stories of the spring, Correa also has some of the most impressive raw power. He's already drawn comparisons to Alex Rodriguez, arguably the greatest power hitter of our generation.
If anyone could slug four homers in a game, joining the likes of Lou Gehrig, Mike Schmidt and Willie Mays, it's Correa.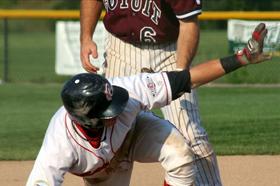 Stony Brook isn't known for much, but outfielder Travis Jankowski is out to change that. The speedster stole 77 bases over his three-year career, including back-to-back 30-plus campaigns.
Making his total more impressive is the fact that he's only been caught 11 times, leaving him with a 88 percent success rate.
Toss in the 15 steals he had in the Cape Cod League in 2011, and he's nearing 100 in less than three full years of work.
Jankowski's bat is good enough to profile at the top of a lineup, meaning he'll get enough at-bats at the next level to accumulate at least 60 steals per season.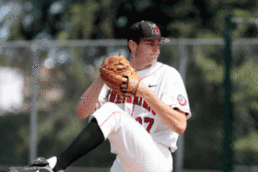 If recent no-hitter history tells us anything, it's much easier for power pitchers to achieve the historic feat. Just ask Justin Verlander, Jered Weaver, Roy Halladay, Matt Garza and Edwin Jackson, each of whom was clocked in the upper 90s in their epic performances.
Now, let me introduce this draft's top power pitcher, Lucas Giolito, from Harvard-Westlake High in southern California. Giolito has spent all but two starts on the shelf this season, but he's still a lock to go in the top-10 picks due to his impressive fastball-curveball combo.
His heater has been consistently clocked over the years in the mid-to-high 90s, and he even cracked the magical number (100 mph) in his season-opening performance. He complements the pitch with a curveball that should be a true plus pitch at the big league level.
Unfortunately, we didn't get the chance to see how many no-nos Giolito had in him this season, but my guess is that we'll see another one out of him before his career is over.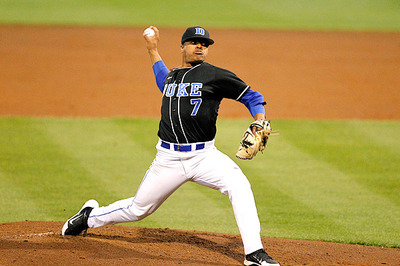 Duke ace Marcus Stroman has been a strikeout machine this season.
Starting full time for the first time in his career, the diminutive former reliever has finished the regular season as the nation's leader in strikeouts (136). He also finished second in the NCAA in strikeouts per nine innings, en route to a historic season that will go down in the annals of the university and the ACC, of which he was named to First-Team All-Conference.
This season alone, Stroman has 12-, 13- and 17-strikeout performances. When his changeup is moving and his heater is blazing, he's known to strikeout four, five and even six batters in a row.
In conference play, Stroman averaged nearly 10 strikeouts per contest.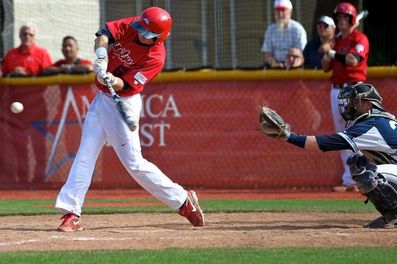 Our good pal Travis Jankowski strikes again.
Everyone who's ever hit for the cycle will tell you that the hardest part is the triple. As a result, achieving this historic moment is often about sheer luck, for example the quirky bounce of the ball or a misplay by a fielder. Sometimes, however, it's all about a player having ridiculous speed.
Enter Jankowski, a triples machine. He's legged out nine this season, and 14 for his career with the Stony Brook Seawolves. He also has some pop too, as evidenced by the doubling of his career home run total this season.
Jankowski will likely be drafted somewhere towards the end of the first round, and possibly in the second, but there's little doubt in my mind he's going to be one of the top players from this draft 10 years from now.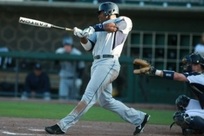 Georgia Southern outfielder Victor Roache knows plenty about hitting home runs.
Heck, he nearly hit 40 last year. The hulking slugger hit a nation's best 30 long-balls during his sophomore season and then added six more homers in the Cape Cod League, bringing his total for the year to 36. With his regular-season total he set both school and conference records, and tied for 20th all time with his single-season total.
The budding superstar was robbed of a chance to go for the record (48 set by Pete Incaviglia in 1985) by a broken wrist, sustained in just the team's sixth game.
It's all good, though, considering he's expected to hear his name called in the first round on day one.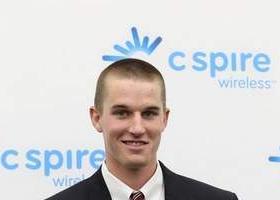 One of the most unheralded pitchers in all of college baseball this season was Mississippi State's Chris Stratton.
Pitching in the shadows of LSU ace Kevin Gausman, Florida stud Hudson Randall and a bunch of talented freshman, including Vandy's Tyler Beede, Stratton quietly put together a phenomenal year. In 16 appearances, including 11 starts, the right-hander picked up 11 victories. His 2.21 ERA was one of the best in the conference, and he racked up 123 strikeouts in 102 innings.
In the end, it was Stratton, and not Gausman or Randall, who was named SEC Pitcher of the Year, further solidifying his status as a first-round talent.
But that wasn't the only honor he took home. He helped guide the Bulldogs to their seventh SEC title and first since 2005.
Stratton has an effective, four-pitch repertoire that includes a mid-90s fastball that doesn't get as much love as it should. He has excellent control over his pitches and has a smooth delivery that should reduce his risk of injury.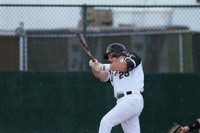 Kevin Plawecki doesn't get much love, certainly not as much as Mike Zunino, arguably the top catching prospect in the 2012 draft class.
Still, if you compare the two statistically, you'll find they are actually very similar players. While Zunino offers slightly more power (16 homers to seven), Plawecki gets the nod in terms of pure hitting ability. Even more impressive is his ability to make consistent contact. He's struck out just 29 times in his career at Purdue, who he helped guide to their first-ever regular-season conference title this past season.
Plawecki paced the Boilermakers with a .365 average this season and will finish his career as a .350 or better hitter.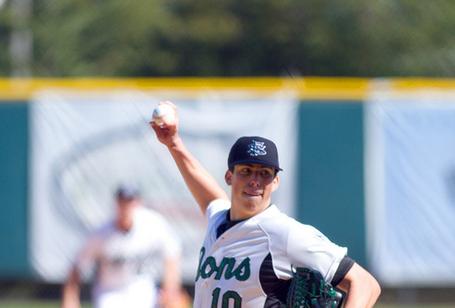 Lost in the University of San Francisco's dismal season (29-30) was the epic performance of right-hander Kyle Zimmer, who is expected to be one of the first pitchers taken in a little less than a week.
Zimmer somehow managed to escape the 2012 season with a winning record (5-3) and he paced the WCC in just about every pitching category. His ERA of 2.85 ranked ninth, but that is in no way a testament to the kind of performances he strung together. Keep in mind that in addition to the Dons' losing record, they also gave Zimmer some of the worst run support imaginable.
San Fran scored at least 10 runs only five times all season and scored three or fewer on 30 different occasions.
With just a little more run support, Zimmer could have easily won 10 to 12 games, and pitching with a little less pressure might have allowed him to lower his ERA below 2.00.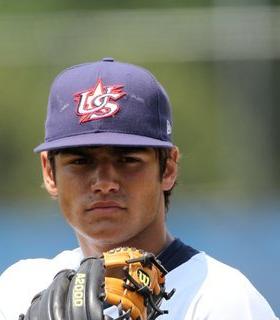 Scouts are torn over whether or not Lance McCullers Jr. will be able to remain a starter as a professional. He lacks the prototypical starter's size and each of his secondary pitches pales in comparison to his fastball, which is capable of reaching the high-90s.
Since he's likely to be a top-15 pick in this year's draft, McCullers will no doubt be given the chance to start early on, but I'm with the group that has him destined for an impressive career as a closer. He has the heater and the mentality to put together a Billy Wagner-type of career.
If any one of the heralded starting prospects from this class is likely to save 30 games someday, it's McCullers.
This draft's top overall prospect, and the most impressive power-speed combination to come along in quite some time, Georgia high school outfielder Byron Buxton has the best shot of any player in this year's class at putting together a 30-homer, 30-steal campaign.
He's already shown the kind of tools necessary to complete such a feat, including elite speed and impressive raw power. He's been compared to B.J. and Justin Upton, as well as Dodgers superstar Matt Kemp, who coincidentally is the last player to put together a 30-30 season.
Post-draft, Buxton will still be at least four years away from the big leagues, but as of right now he's as good a bet as any to put his name alongside Kemp, Barry Bonds, Willie Mays and Hank Aaron.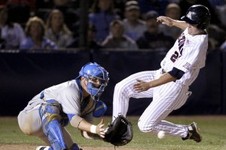 I'm going to cheat a bit here and choose a catcher, UCLA's own Tyler Heineman, as the top bet to win a Gold Glove from this class.
One would have to be blind to not see the massive impact he's had not only on developing a young Bruins staff and helping turn UCLA into one of the top teams in their conference, but also the effect he has on the running game.
Heineman has thrown out 44 percent of runners attempting to steal, including 47 percent in conference play, and has committed just two errors all season in 325 chances. Combined with his errors behind the plate from his first two seasons, he now has...just two.
It would have been easy for many to label Heineman as a defense-only catcher, but he's taken his offensive game up a notch this season, ranking among the top two or three on the team in nearly every offensive category, including batting average (.359).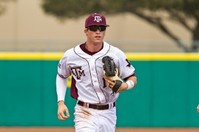 For all the standout tools possessed by some of this year's class, there are few that would argue that the most impressive is Tyler Naquin's throwing arm.
The Texas A&M standout has used his cannon to rack up 15 outfield assists during his three years in College Station. After throwing out eight runners as a freshman, he nailed seven last year. He has just one assist this season, which is more of a testament to the reputation that follows him and his right arm around.
There's no doubt that whoever Naquin laces up his spikes for will be getting a bona fide assist machine in right field, who also has more than enough range to get to any fly ball.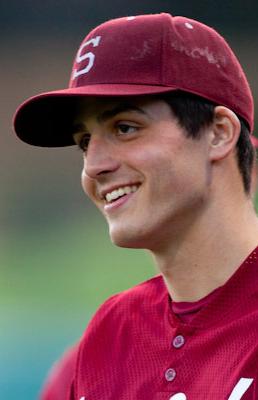 Mark Appel entered the 2012 season as the top-ranked player and the projected No. 1 overall pick. Months later, he's still having his name tossed around by the teams picking in the top five, but he's no longer considered the sure-thing he once was. So what happened?
For starters, Appel has always had some traits that scared teams. His throwing motion isn't the smoothest, and some wonder if he'll end up dealing with arm issues, or at worst, major surgery.
Second, he hasn't performed as well as teams had hoped. He got off to a great start, but had some uneven performances in the second half of the season.
Third, there's the curse of Mark Prior, the last Stanford ace to get drafted with one of the first few picks. Prior was similarly touted as one of the top college arms available, only to succumb to arm ailments that limited him to just a couple of strong seasons in the majors.