Indy 500 Results: Drivers Who Should Be Encouraged with Strong Finishes
May 28, 2012

Nick Laham/Getty Images
Not everyone can be Dario Franchitti. 
While many drivers are jealous of seeing Franchitti drink milk in the winner's circle at the Indy 500 for the third time in his career, they should be encouraged by a strong finish.
To further make my point that there is more to this race than first place, I'll turn to Reese Bobby.
That's right. You can be second, third, fourth, even fifth. 
So, even though some drivers think they may as well have finished last, here's a look at the ones who should actually be happy with where they crossed the finish line in Indianapolis. 
Tony Kanaan
Kanaan finished in third place, but there's no doubt he's sick of Top 5 finishes.
In fact, Kanaan ranks 46th all-time in laps led at the Indy 500 even though he's never won the race once. He's finished in the Top 5 five times, and has had all kinds of bad luck.
This year, Kanaan was close again, as he led with just eight laps to go, but once again, he couldn't hold on. It has to sting for Kanaan to keep coming so close without a win, but he needs to take a step back and realize he finished third at the biggest race of the year.
That's nothing to be upset about.
Ryan Briscoe
It's been a while since Briscoe has won a race and his career has been very up-and-down, so going from the pole position to fifth place is undoubtedly going to be another disappointing finish for him.
Especially when you consider this was his 12th pole in his career, and it has resulted in just two wins. 
But hey, he won the pole at the Indy 500 and finished in the Top 5. Not many drivers will ever be able to say that.
Additionally, Briscoe is often looked at as the No. 3 guy for Penske Racing behind Helio Castroneves and Will Power. Well, Castroneves finished 10th and Power wrecked after 79 laps.
And if that' not enough to calm Briscoe's anger, the $100,000 from winning the pole will probably help. 
Oriol Servia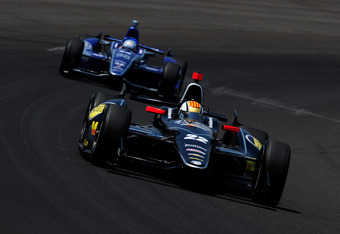 Robert Laberge/Getty Images
Servia hasn't made a ton of noise in the IndyCar Series in his career (zero wins, three podiums), but I bet he was imagining how sweet it would be to see his first win come at Indianapolis.
And when he started getting close to the front, I bet he started thinking about it a lot more.
It was all for naught, though, as the Spaniard finished fourth. 
Still though, for the 37-year-old who has yet to win a race in four seasons and hadn't finished Top 5 at the Indy 500 before, a fourth-place finish under a new team is incredibly impressive.
I feel comfortable in saying Dreyer & Reinbold Racing is happy to have him.