London 2012: 5 Things We Learned from US Women's Soccer Team's Rout of China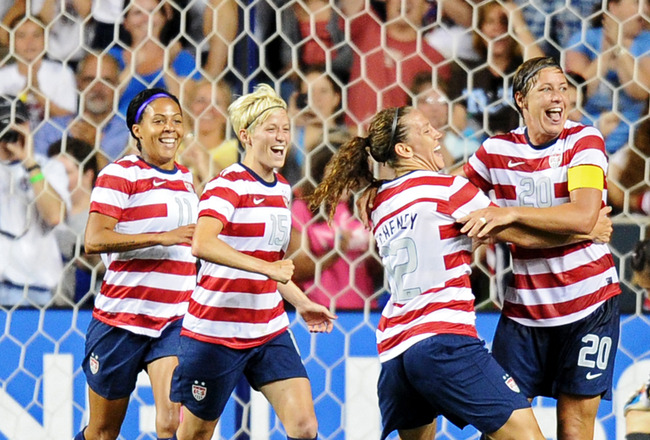 Drew Hallowell/Getty Images
Get used to the red and white, Waldo-esque stripes, America. They'll be around for a very long time.
Both the men's and women's national teams debuted their new kits this weekend, and both notched impressive victories.
The U.S. women's national soccer team's 4-1 victory over China at PPL Park in Philadelphia on Sunday was easier than the scoreline indicates for much of the match and that score could've been even prettier if the US had stayed out of its own way at times.
Alex Morgan scored two goals for Team USA, her fifth multi-goal game, while strike partner Abby Wambach notched her 135th international goal (look out, Mia Hamm) as the USWNT continue their preparations for the London Olympics, kicking off in just under two months.
What did we learn from their friendly victory over China? Let's discuss...
Everyone Is Getting Forward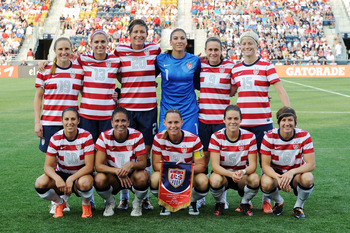 Drew Hallowell/Getty Images
Pia Sundhage is not afraid to push her team forward, and on Sunday, the USWNT reaped the rewards of playing attacking football.
While Team USA's second goal was technically an own goal, it came as a result of the US throwing everyone minus a couple defenders into the box for a free kick about 30 yards out. And that wasn't the only time they did that.
Shannon Boxx and Carli Lloyd were pushing forward from the midfield constantly while wide players Megan Rapinoe and Heather O'Reilly were moving all around the pitch and into the box as often as possible.
The US is clearly an attack-minded team, and while the strikers are hogging most of the goals these days, the fact that everyone but Hope Solo is getting forward is a very good sign heading into London.
They Stay Organized in Defense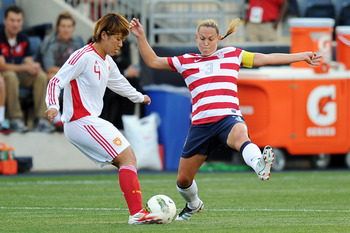 Drew Hallowell/Getty Images
When the whole team is pushing forward, it can leave holes at the back and make the team vulnerable to the counter attack. That wasn't the case for the USWNT Sunday night.
China is not the quickest team in the world, but they weren't afraid to challenge the US and go at them either. They were rewarded for it too when they took the lead in the 23rd minute thanks to quick movement from Zhang Rui.
For most of the match however, the US were in control, and when they lost possession, they knew just what to do to get it back.
The backline, marshaled as always by captain Christie Rampone, stood together while the midfield in front of them remained organized. The wide players and outside backs overlapped nicely, and the forwards were always willing to come back and help out.
While the USWNT looked a little shaky and unfamiliar with each other at the start of the match, they quickly got back into the groove they've had for much of 2012.
Alex Morgan Can Do It All...Almost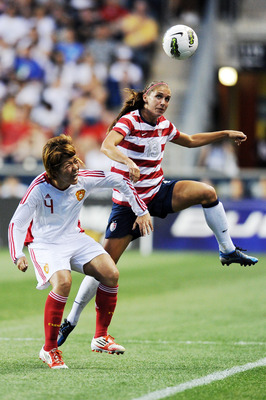 Drew Hallowell/Getty Images
Alex Morgan may wear the No. 13 on her jersey, but she is the definition of a true No. 9. She's tall, she's quick, she has a great eye for goal, she can score with either foot or her head, and she's always right where you want to her to be.
She's even getting it done with her arms. Morgan had a perfect throw-in toward the end of the match, and her striker partner Abby Wambach duly put it in the back of the net to put the finishing touches on the 4-1 victory.
Morgan can collect the ball at the halfway line and take it all the way to goal with her, and she has a wicked shot if given just an inch of space.
One thing Morgan is still lacking slightly is her distribution. At times she drifted too far back to help her midfield and would play an errant pass, or she went too far out wide and could not find any of her teammates in the box.
Those things will come with time though. Morgan is a lock to start each game in London, and at just 22 years old, she has 24 goals in just 39 caps and is raking in the assists as well. Wambach and Mia Hamm better both watch out.
Pia Sundhage Has so Many Options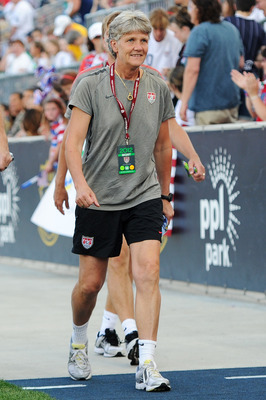 Drew Hallowell/Getty Images
Pia Sundhage named her roster for London 2012, and it's one every other coach would dream of having. Not only is the USWNT loaded with talent, but it's loaded with options as well.
Amy Rodriguez and Lauren Cheney both came on in the second half against China and showed that the US can attack teams from up the middle just as easily as they can going out wide with Heather O'Reilly and Megan Rapinoe.
Against tougher, more attacking sides like Brazil or teams that clog the midfield like Japan, Sundhage can turn to Shannon Boxx and Carli Lloyd who have formed a dominant partnership in central midfield and protect their backline very well.
Up front, the US has an embarrassment of riches. Alex Morgan and Abby Wambach just won't stop scoring, while Cheney, Rodriguez and new girl Sydney Leroux are always in front of goal as well. Not to mention the delivery and performances of Rapione and O'Reilly keep getting better and better.
There's no telling what formations Sundhage will put out in London, but she almost can't go wrong.
Still Wasting Chances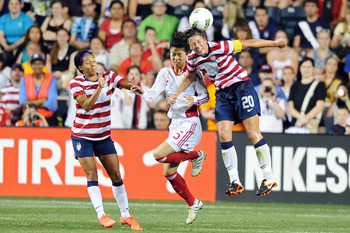 Drew Hallowell/Getty Images
The only negative takeaway from Sunday's victory is that the US never should've trailed, and they should've put it away much sooner than they did.
Again.
This US side has been known to not finish their chances or kill off games when they should, something that cost them the World Cup trophy last summer, and it was evident again against China.
Before China took the lead, the US missed a handful of chances, some right in front of goal, and they didn't force many saves either.
The US kept the pressure up and got the goals they deserved, but a stronger, better side than China wouldn't have given in so easily.
The US can't afford to waste chances this summer, especially if they come up against a Brazil or Japan. Those teams will take advantage of missed opportunities and punish their opponents dearly.
Keep Reading