Indy 500 Results: Did Takuma Sato Make His Final Move Too Early?
May 28, 2012

Andy Lyons/Getty Images
For the second year in a row, jubilation was turned to heartbreak on the final lap for a driver just moments away from earning his first Indianapolis 500 victory.
Last year, it was JR Hildebrand. This time around, it was Takuma Sato.
The Japanese driver out of the Rahal Letterman Lanigan Racing stable put together a stellar performance in the 96th running of the Indianapolis 500.
After starting 19th, the third-year Izod IndyCar Series driver put together a masterful effort as he quickly moved up through the field like a seasoned veteran. Sato spent most of the 200-lap race inside the top five and led 31 laps.
Unfortunately, that did not include the last one.
After a restart with six laps to go, Sato quickly moved passed Tony Kanaan and into the third position. Moments later, Sato slipped by Scott Dixon for second and set his sights on Dixon's teammate Dario Franchitti.
On a day where passing proved to be of little difficulty (there were a record 35 lead changes), Sato had Franchitti right where he wanted him going into the last lap: directly in front of him.
Sato pulled right up to the rear of Franchitti's car upon taking the white flag, then quickly darted to the inside of the Scottish driver entering Turn 1.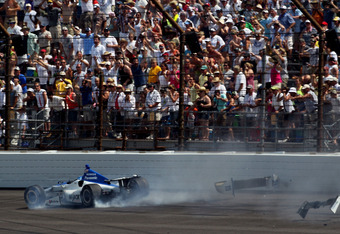 Nick Laham/Getty Images
Neither driver blinked as they raced side-by-side into the first turn, before Sato's car clipped the apron of the track and broke loose, slamming head-on into the outside barrier.
Franchitti would go on to win, while Sato exited his car physically unharmed, but left wondering what could have been, among other things.
Including the timing of his move.
Franchitti had shown just moments prior to Sato's failed attempt at the winning pass that it was possible for a driver to make the move going down the front stretch and beat the other car to the finish line, as he had just done it to teammate Scott Dixon.
Should Sato have waited to try that instead of pouncing at Turn 1?
Hindsight is 20/20, and surely Sato will have his critics when it comes to that fateful move. Especially since it didn't work.
But while Sato may have been better off trying the move three-quarters of a lap later, there's a chance he may not have had that option.
Franchitti's car had tremendous speed on the straightaways all afternoon, and as a three-time winner of the Indy 500 there's no doubt he would not only have defended Sato's move, but that Sato may not have been able to even make the move with as much ease on Franchitti as Franchitti did on Dixon.
Furthermore, when a chance to make a pass that could possibly put you in the Winner's Circle at Indianapolis Motor Speedway presents itself, you don't pass it up.
Especially on the final lap.
Sato saw such an opportunity when he got the draft off Franchitti going into Turn 1, and he tried to take advantage of it.
Unfortunately, it didn't pay off.
But such is life in racing. Risks are meant to be taken, especially when a win in the Indianapolis 500 is on the line. If Sato hadn't tried to make the move in Turn 1 and never got another opportunity to make the pass on Franchitti, we'd be talking about the move he didn't make as opposed to the one he did make.
Did Takuma Sato make his move for the Indianapolis 500 win too early? Absolutely not. He saw a chance to win. He took it. It didn't work.
At least he gave it everything he had.