Why Cincinnati Bengals' QB Andy Dalton Could Be in NFL MVP Discussions in 2012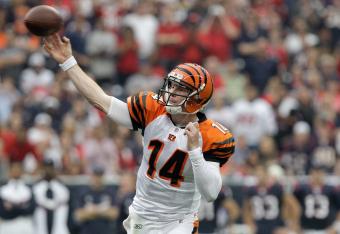 Thomas B. Shea/Getty Images
Cincinnati Bengals quarterback Andy Dalton could find himself in NFL MVP discussions during the course of the 2012 NFL season.
This should not be all that surprising after Dalton's electric rookie season in which he passed for 20 touchdowns and 3,398 yards while leading the Bengals to a playoff berth in the toughest division in football.
Dalton failed to receive the recognition he deserved thanks to Carolina Panthers' quarterback Cam Newton having arguably the best rookie season in NFL history. Dalton subsequently missed out on the NFL Rookie of the Year Award.
For a rookie quarterback that had to deal with a shortened offseason of preparation thanks to a lockout, Dalton performed much better than expected. There's no reason why Dalton's progression can't continue at this alarming rate.
Thanks to the lockout, offensive coordinator Jay Gruden admitted that he kept the playbook simple all season for the rookie quarterback. That will change drastically in 2012.
The West Coast Offense Gruden runs in Cincinnati perfectly suits Dalton. He can effectively make quick reads and throw crisp short to intermediate routes to receivers. Dalton now also has a running back that can actually catch passes out of the backfield in BenJarvus Green-Ellis.
Last year's number one receiver, A.J. Green, will of course be back. Dalton's favorite security-blanket, tight end Jermaine Gresham will continue to develop into the red-zone weapon Dalton needs him to be.
More importantly, the ever-dependable Jordan Shipley will return from injury and hold down the slot receiver position, a spot that is critical to Dalton's success with teams rolling coverages toward Green.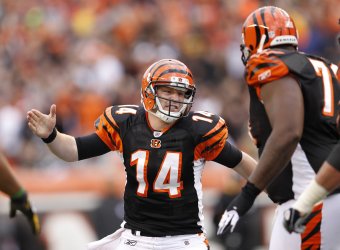 Joe Robbins/Getty Images
Add in a trio of receivers fighting for the number two spot in Armon Binns, Marvin Jones and Mohamed Sanu, and Dalton has all the weapons around him that he needs to succeed. The addition of tight end Orson Charles, who is a similar player to Gresham, allows Dalton and the Bengals to have one of the scarier red-zone offenses in the entire league.
This was a sore spot for Dalton and the offense last season. The Bengals only scored touchdowns on 50 percent of their trips to the red zone last year, and their record suffered because of it. Scoring touchdowns instead of settling for field goals will not only ensure a winning record, it will allow Dalton to truly compete for an MVP award.
The addition of new weapons, further developing chemistry with last year's targets and drastically expanding the playbook will do wonders for Dalton. Add in a top-10 defensive unit from last season that added more quality pieces this offseason and Dalton is poised for a big year.
With the numbers Dalton put up last season as a rookie, it isn't all that outlandish to think he'll keep up with some of the better quarterbacks in the league next season.
Last year's MVP, Green Bay Packers quarterback Aaron Rodgers, had a ridiculous season while leading his team to a 15-1 record. He threw for 45 touchdowns, six interceptions, 4,643 yards and a jaw-dropping 122.5 rating.
For comparison, as a rookie Dalton threw 20 touchdowns, 13 interceptions, 3,398 yards and an 80.4 rating.
Clearly, Dalton isn't in Rodgers' stratosphere yet, but it's interesting to see such veteran-like numbers from a rookie with a shortened offseason and a run-first offense. Keep in mind both quarterbacks made the playoffs but failed to win a game.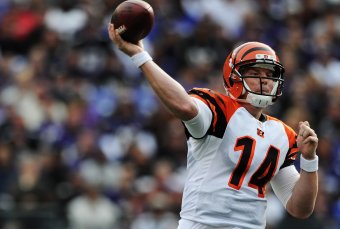 Patrick Smith/Getty Images
Rodgers' MVP victory is actually a good sign for Dalton.
There were four quarterbacks who threw for more yards than Rodgers, three of those being over the 5,000 yards mark. What won Rodgers the MVP was his eerily low interception tally and outstanding rating.
Dalton appeared to be strong in both categories as a rookie. An 80-quarterback-rating is solid for a rookie, and throwing seven less interceptions than touchdowns in an encouraging sign. As the offense moves more towards a pass-first approach, Dalton should see all of his numbers jump.
A major weakness getting in Dalton's way was his inability to throw the deep ball effectively and consistently last season. Dalton has been working hard all offseason to put on more muscle and improve his footwork, which will allow him to throw the ball deeper and with more accuracy.
This combination of factors could allow Dalton to put up close to MVP numbers next season. Thankfully, the Bengals don't need Dalton to put up MVP numbers for the team to make the postseason again next year.
Dalton's hard work this offseason, the addition of talent by the organization and natural progression thanks to a full offseason could result in Dalton vastly improving on his campaign from a year ago.
Don't be surprised to see Dalton's name out there at some point during the season as an MVP candidate.
This article is
What is the duplicate article?
Why is this article offensive?
Where is this article plagiarized from?
Why is this article poorly edited?

Cincinnati Bengals: Like this team?